Newton was forced to fight some 'small ball' and a couple of game-changing decisions by the umpires.  But in fact, the Indians had to fight a Russia team that's finding itself at just the right time.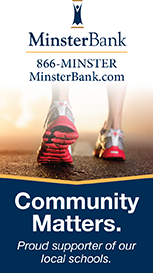 Versailles – The Newton Indians baseball team has every intention of reaching the Division IV district championship game again next season. They just hope the Russia Raiders aren't in the opposing dugout for once.
For the third time in the past five seasons Russia ended Newton's season in the district title game. This one ended in a 3-1 win for the Raiders, who matched their longest winning streak of the season with their second straight victory.
Sixth-seeded Russia (13-16) makes its third straight regional semifinal appearance 2 p.m. next Thursday at Springfield's Carleton Davidson Stadium. Second-seeded Newton (22-5) was denied its first district championship since 1995.
"Those guys, they put pressure on you," Newton coach Jordan Kopp said. "When you face Russia you know what you're getting. You know they're going to play good defense. They're going to make the spectacular play. That's what (coach) Kevin (Phlipot) does. They put pressure on you bunting the ball. They executed so a lot of credit to those guys. Yeah, hopefully next year we'll see a different foe and it's not the Russia Raiders."
The Newton Indians hope to see a different umpiring crew, too. Luck sometimes plays a role in winning titles. Indians Nation might say it was blind luck – as in three blind mice.
Newton took a 1-0 lead in the top of the first off Russia starter Evan Monnier. The Raiders responded in the bottom of the inning.
Newton starter Colin Tackett started off with a strikeout. Jordan York then hit a grounder to short that was bobbled. First baseman Mitch Montgomery gloved the wide throw that had him off balance, but he did a nice balancing act to stay on the bag. Or near the bag, depending which side of the bleachers you sat on.
York was called out to bring Phlipot out of the dugout. After an umpires discussion they reversed the call and York was ruled safe. That brought Kopp out of the dugout, but York stayed at first.
Instead of having two outs, Russia had one out and a runner on first. The next five Russia batters reached base on a single, force out at third, single, intentional walk and single. York was forced out at third but the two batters after him scored on RBI singles from Grant Saunders and Gavin George.
"We don't score if we don't get it reversed," Phlipot said. "I'm happy they got together and they talked it out. That's the way we saw it. Obviously (Newton) disagreed. I appreciate them getting together and talking it over. That's all you can ask."
Said Kopp: "That first one is a tough one. In a situation like that it's a tough one to change. I'm proud of our guys for not letting it affect them too much. I'm really happy with how they competed after that."
Newton fans chided the umpires for giving Russia four outs in the inning. They also voiced their displeasure in the third when Russia took a 3-1 lead.
Will Sherman led off the third with a single. He was tagged advancing to second but the base-path umpire ruled Sherman was interfered with rounding first base. Saunders then reached on a bunt, moving Sherman to third. With no outs, Daniel Kearns fouled out to the catcher. Saunders broke for second and reached, but Kopp argued Saunders never tagged up. Saunders was ruled safe.
Sherman became the second out when he got caught in a rundown between third base and home on a failed squeeze attempt. Saunders, now on third, then scored on a Newton error for the 3-1 advantage.
That was all Monnier needed. After a shaky first inning where he allowed three singles and the Indians' lone run, he settled down to retire the next 15 Indians. Newton had three base runners in the first inning. They managed three more the next six innings.
Monnier gave up five hits, struck out seven and walked one. He received help with two defensive gems in the fourth. Carter Francis sprinted after a foul ball down the left-field line and made a diving catch. York followed with a diving catch in shallow center to end the inning.
"It's a big confidence booster when your defense is playing good behind you," Monnier said. "Shout out to Carter Francis for making a couple great plays. Jordan York, too, making some plays in the outfield. Everybody on the team is working hard."
This season has certainly been laboring for the Raiders. They opened the season losing their first seven games to a Murderer's Row of Piqua, Minster, Fort Loramie, Anna, Coldwater, Botkins and St. Henry.
As of April 27 the Raiders were sitting at 5-11 following a 4-0 loss to Tri-County North.
"We believed all year," Monnier said of turning the season around. "I think we all rallied around and kept working every day. As the season went on we came together. … With all the adversity we've faced, I think we've come together as a group more than in years past. Going this far, this has been a great run to get here our senior year."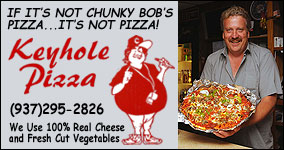 Assuming Russia has no make-up games or adds games early next week, the Raiders would have to win their next four games – which would result in a state championship – to finish with a winning record.
Considering Russia upset defending D-IV state champion Fort Loramie 1-0 on Monday, it would be unwise to count the Raiders out. The team did go through a little bit of soul searching, though.
"We did question ourselves. How good are we? Or how bad are we?" Phlipot said. "The next thing was – it's cliché – but one day at a time. We had to find ways to play better and play consistent. … If you're playing your best ball toward the end of the season you always have a chance.
"I believed in them. They believed. It was a long shot but they believed."
Monnier hit the corners and worked ahead in the count often with a first-pitch curve to keep the Indians off the bases. Tackett, meanwhile, allowed seven hits, walked two (one intentionally) and struck out three. Russia stranded six base runners against him.
"He doesn't have a blow-by fastball but what he does have is confidence and command," Kopp said, adding Tackett wasn't rattled by the controversial first inning.
"We talk about controlling the controllable and things early on probably didn't go our way. They didn't focus on it. They got back to the grind of a long game and sticking to the process.  I can't be more proud of the guys."