If you believe in the adage of good things that come from small packages, they don't any better than Professional bowler Norm Duke, who took the time last week to talk with Press Pros about his sport now, and about its future.
Norm Duke took on my interview request like he would attack a 10 pin spare. He called me last week from his home in Clermont, Florida, minutes before I was supposed to call him for our scheduled interview appointment.
Long considered one of the best and most competitive in the history of the PBA tour, Duke's record has afforded him front row status in the Professional Bowlers Association Hall of Fame, where he was inducted in 2009.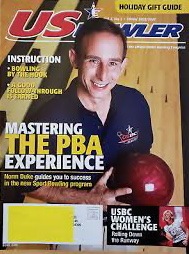 He's won forty titles on the PBA tour, including seven major championships. And since turning 50 (on March 25, 2014) he has won another five titles on the PBA Seniors tour, including two more majors. He is one of only three players in the history of bowling to achieve 40 PBA titles and his career earnings top the $3 million dollar mark.  And how has he done all this?  Well, among his most impressive stats…he's rolled an incredible 71 perfect games (300) in PBA competition.
Ask any good amateur bowler about the 'unachievables' in the sport of bowling and many will point to that accomplishment…or Duke's tour record of 36 consecutive strikes thrown in competition.
"Actually, I've thrown quite a few more than 36," he confessed. But 'just' 36 in competition.
All of this from a guy who stands 5'5" and weighs 150 pounds, dripping wet, hardly the profile of your average professional athlete. And yet, Norm Duke is still, at age 55, at the pinnacle of his sport and his game.
"I train now (practice) more than I bowl because I don't need as many games as I once did to get my game sharp," he admits. "But, at 55, I can still go in and bowl 25 games in a day and have my last three be my best. But I spend a lot more time in the gym than I used to."
An acknowledged spokesman for the sport of bowling, people listen when Norm Duke speaks, because he not only talks the talk, he can still walk the walk.  And forget about him looking over his shoulder.  He sees what's already here, he knows what's coming, and he couldn't be happier.
"I'm so excited to see what the younger players are doing," he says. "Because like with every sport, bowling needs to evolve.  I'm excited to see that so many young athletes are choosing bowling over other sports.  I'm delighted that there are scholarships available to help them pursue it in college as a future.
"I look at what Jason Belmonte has done in promoting the two-hand style of bowling, and the impact it's had on young bowlers.  It's given people a power game who didn't have a power game.  When you put all these things together I think we're going to see and enjoy a perfect storm over the next twenty to thirty years."
So, is he surprised by the uptake of youth and high school bowlers who are consistently posting high scores and rolling 300s in competition?
"No, because as early as ten years ago I saw young athletic couples bringing their kids to the bowling centers. And when I'd ask why they'd tell me that this was their thing – that their kids liked bowling better than some of the other sports.
"So, I was taken aback because at that point bowling was at a very low point. But, it made me recognize that better athletes are coming to bowling. It used to be the non-athletes that took up the sport, but no more. When you look at what Tiger was, and what Brooks Koepke is to golf, and their commitment to that sport with diet and a fitness, now you're seeing that with bowling."
That said, Duke equates bowling to other sports in terms of athletes who appeal to the masses, and who attract the attention of the next generation of would-be bowlers.
"There's no question that Jason Belmonte (from Australia) is the Mike Trout of bowling," he says. "And why wouldn't you want to watch and listen to Jason…or Kyle Troup (son of PBA legend Guppy Troup), or Marshall Kent? Jason is our biggest superstar right now and he represents the sport of bowling as well as anyone ever has. His popularity and ability allows him to stretch the brand over all kinds of platforms that weren't available to us twenty years ago, and it's gonna' continue to grow because he's still getting better.
"Jason represents the power hitter in baseball with his two-hand style of bowling. The scoring pace in bowling has gone up over the years with the way oil is applied to the lanes, and Jason Belmonte can dominate in bowling like Mike Trout in baseball.  The two-hand style is so sexy to everyone who's new to bowling because they see all those pins fall. So of course, people are copying him and not Walter Ray Williams or Norm Duke.  The youth group is picking it up.
The evolution of bowling bodes well for the sport. Big names, star appeal, and youthful acceptance paint a rosy future for a sport that was once assumed destined to remain out of the limelight.  Personality, television, training, and career opportunity are driving young talented athletes to heights at a blistering pace.
"I'm not surprised at all," admits Duke, who won his first PBA event in Cleveland, Ohio at the age of 19.
"I was right of high school back then and some of us had the skills, even then.  So no, it doesn't surprise me at all to see these young bowlers perform so well, and it's a beautiful thing to watch. It's wonderful to see an E.J. Tackett and Marshall Kent do what they're doing because they seem to do it with such ease, like they're not even trying."
Pausing for a second, he added, "But again, they have to because in every sport we all get better over time. If they don't get better than (Pete) Weber and me they're not going to last very long."
Our conversation ended as it started, with the legendary Duke paying tribute to evolution and change.
"Like any sport there are so many factors involved with bowling," says Duke, including the 'luck' factor. "Actually, it's the non-luck factor sometimes, but every sport has that," he laughs.
"But I want to add that college bowling now has provided a platform that we never had thirty years ago. Now you can go from high school into college and benefit from that extra instruction and experience – where you can not only hone your physical skills, but the mental ones, as well. You learn to deal with pressure, where we didn't have that advantage back when I started.
"This is why we're seeing so many great young players because they're coming to this level with everything they need. And hats off to those programs."
His message to young bowlers everywhere? What they're doing – what you're doing – is a wonderful thing, a beautiful thing to watch.
And why wouldn't you believe a guy with 71 perfect games, all those titles and a name like Norm 'Duke'?