Three-run homer in 4th by Todys gets team on way to 2nd win in series.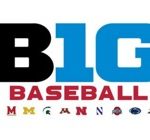 West LaFayette, Indiana – It was the biggest start of Seth Lonsway's young baseball life, and, oh, how things went badly for him in the first inning against Purdue in what amounted to a Big Ten tournament elimination game for Ohio State.
The first pitch he threw was a rocket into the right field corner for an opposite-field double by Skyler Hunter.
Then third baseman Nick Erwin, who has been something of a vacuum cleaner these days, couldn't glove a short-hop ground ball hit by Ryan Howe that went for an error.
Lonsway looked to be in the clear for a moment when he struck out Ben Nisle swinging, but the pitch handcuffed catcher Dillon Dingler and went to the backstop allowing Hunter to score.
There was no panic in him.
"I felt confident where I was and knew my stuff was good enough to get outs,'' he said. "I took some deep breaths. I knew I could execute my pitches and get outs.''
Coach Greg Beals had a feeling Lonsway did a lot more than avert disaster. It got him juiced up for the rest of the ballgame.
"I thought he did a great job in that first inning to keep them to one run,'' he said. "That was critical because one run certainly is more manageable than them getting a crooked number.'
The crowd at Alexander Field had no way of knowing that would be the Boilermakers' last chance at a victory.
It was out go the lights for them as Lonsway struck out 14 in throwing a two-hitter over eight innings in the Buckeyes slam dunk 6-1 victory Friday night in the second game of the series.
The run support largely came from redshirt sophomore designated hitter Brent Todys with a long three-run homer in the fourth.
There is much more work to do for Ohio State (30-24, 11-12) in its quest to qualify for one of the remaining two spots in the eight-team Big Ten tournament.
But even if they sweep Purdue today in the series final, there is no guarantee the Buckeyes will be hopping a jet to Omaha. Maryland and Northwestern also won yesterday over Iowa and Minnesota, respectively, and can clinch playoff spots by winning because both hold the tiebreaker.
The tiebreaker is how each team fared against the other two contenders for a particular spot in the standings. Ohio State won two of three games against Maryland, but was swept by Northwestern.
The players and Beals say they can't be scoreboard watchers today.
"What we talked about in the outfield after the game is that our work is not done and to keep doing what we've been doing,'' Todys said. "We have to get down to business and take care of it.''
Frustration could have mounted for Ohio State when it left the bases loaded in the second inning, but the third proved to be decisive in taking the crowd and Boilermakers out of the game.
With one out, Matt Carpenter had an infield hit and starter Patrick Smith hit Dingler with a pitch. Brady Cherry followed with a line single to left to bring in the first run.
Then up stepped Todys, a player Purdue probably wishes missed the bus for this series. In the first game, he hit a solo home run for a 2-0 lead in the seventh. Last night, he hit the first pitch he saw from Smith to left for a no-doubt-about-it home run to make it 4-1.
"He competes. He gives us quality at bats,'' Beals said of Todys. "Another big hit for him and another quality at bat.''
Smith came in having walked 34, thrown seven wild pitches and hit seven batters.
Todys sensed that Smith was fighting himself again.
"I knew he was struggling with command of his breaking ball, so I told myself, 'Throw me the fastball. I'm not going to get beat,''' he said. "He threw a fastball a little in and I was able to make a move on it. Honestly, I was just happy for Lonsway because he was giving it his all and we wanted to get some runs for him. We broke it open there.''
The stadium is beautiful and the power alleys look inviting at 368 feet from the plate. But the walls seem to be much farther away to batters.
"It's kind of a graveyard here and it takes your mind off trying to hit the long ball,'' Todys said. "I was trying to hit line drives – putting good swings on the ball – and getting good pitches to hit.''
Todys has been a godsend in that he has provided power with eight home runs and 35 runs batted in. He ranks fifth on the team with 10 multi-hit games and eight multiple RBI games.
He transferred to Ohio State from NAIA team Andrew College.
"It was just determination,'' Todys said. "I went NAIA, but I wanted to better myself and thought I could go beyond that. I got in touch with Coach Beals through Noah West. Noah was kind enough to pass my name along and showed coach my numbers.''
There looked to be a mini crisis during the non-conference season when Dingler was out after having hand surgery to remove the hamate bone, but Todys came to the rescue by starting 19 straight games at catcher.
"Before the season, I knew catcher was Dingler's spot. He earned that,'' Todys said. "But I also knew I had to be ready and wanted to get an opportunity to play.''
The leading man in this game, though, had to be Lonsway. He was so good that he made things look so easy.
The redshirt freshman from Celina was determined to follow up his masterpiece against Penn State last week in which he struck out 13 and gave up five hits in five innings in a 2-0 victory. That made him Big Ten pitcher of the week.
Too many times he has followed an outstanding start with a clunker.
This time, he overmatched the Boilermakers right down to striking out the side in the eighth in giving way to Thomas Waning.
"I found a lot of stuff out about myself,'' Lonsway said. "I had a couple of starts where I didn't have success and learned some things about being mentally locked in and where I needed to be physically. I think I responded with confidence.''
It was as simple as throwing a fastball and breaking ball over the plate with regularity. Purdue never got a chance to put multiple runners on base and make him pitch from the stretch.
"Early on, I was just trying to establish first-pitch strikes on some guys and to throw my curveball for strikes,'' Lonsway said. "That allowed me to get some chase strikes later in the game. I had a lot of confidence in my two-pitch mix. I was happy to see the guys play defense behind me and get the outs that we needed.''
Did he have a lot going on in his brain in the hours leading to the game?
"I treated it like a normal day, another start,'' he said. "I knew what I needed to do. I wanted to give my team the best performance that I could. I just attacked the day.''
Beals was excited that the Buckeyes got clutch starts on consecutive days from freshmen. On Thursday, Garrett Burhenn was dazzling in a 7-0 victory.
"Seth obviously gave us a great outing,'' Beals said. "He was just really, really good and it's just what we needed. Again, if he's able to pitch ahead in the count when that breaking ball forces them to have action, he's going to be tough. And that's what it was tonight.''
Todys said the Buckeyes knew Purdue players wanted to pull off the upset as a lame duck team.
"We heard through the grapevine that because their season was ending that they wanted to come in and ruin ours,'' he said. "We didn't like that. We said, 'We'll show you. We'll get you.''