Strong effort from Cole Brogan — plus a few timely hits — sends Troy past Wayne and gives Trojans a rematch with Butler in the Division I district semifinals. 
Troy – With his intimidating slider running away from hitters and at times in the dirt, Troy High School senior pitcher Cole Brogan makes life tough for his catcher. He wasn't any easier on the Wayne Warriors' offense on Thursday, either.
Brogan, the Trojans' strike-zone pounding ace, held the Warriors in check for an 11-1 victory in the Division I sectional tournament at Market Street Field. He also hurt Wayne from the plate, nearly outhitting the Warriors himself.
Brogan had a pair of doubles and knocked in two runs, while holding Wayne to four hits and the lone run in the sixth inning.
The Trojans knocked three Warriors' pitchers around for 13 hits, including five for extra bases. The biggest blow came from senior second baseman Austin Kendall. His three-run triple to right field gave Troy an 8-0 lead in the fifth inning.
Sophomore right fielder Caleb Fogarty ended the game in the sixth when his two-run double to center run-ruled Wayne. Not bad for a team that Troy coach Ty Welker thought was a little tight prior to the Trojans' first tournament game.
"I guess I underestimated some of these guys who haven't done this," Welker said of playing in the postseason. "We have a large group of seniors but half of them were on JV last year. I had to remind myself even though this is game 25 this is their first tournament game."

Troy went down in order in the first inning against Wayne junior starter Caleb Mervar. Mervar wasn't so lucky in the second, third or fourth innings.
Troy senior first baseman Braeden Snider led off the second and drilled Mervar's first pitch over the left fielder's head. Brogan took Mervar's second pitch over the center fielder's head for the 1-0 lead. After Mervar hit a pair of batters with one out, Troy made it 3-0 thanks to a wild pitch.
In the fourth, senior third baseman Matt Bigley and junior center fielder Weston Smith led off with singles. Fogarty sacrificed them into scoring position and Kendall followed with an RBI bloop single over the shortstop's head. Snider then single to left for the 5-0 lead.
That lead seemed almost insurmountable against Brogan and his slider. Junior catchers Quenton Shepherd blocked a half dozen breaking balls in the dirt and threw to first base a handful more after the Warriors' chased a third strike in the dirt.
"He throws a breaker and a slider and he's at the knees constantly," Wayne coach Joe Yount said of Brogan, who threw 55 of his 72 pitches for strikes. "We swung at a lot of pitches in the dirt. He mixes speeds up and did a good job keeping us off balance. We weren't patient enough to hit the ball to right field. It's easier said than done."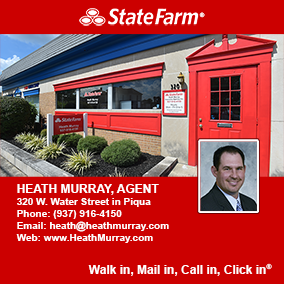 Wayne batters reached base five times against the Trojans. One was picked off first and three were stranded. Brogan (8-1) struck out seven and walked none.
"Today my slider was working pretty well," Brogan said. "I just felt confident with all my pitches. We got it to work out. Our catcher has been working all year behind the plate. He's done a great job and did great today, too."
Fifth-seeded Troy (19-6) advances to play No. 4 Butler (21-6) in the D-I district semifinals at Centerville High School on Tuesday. Butler beat Northmont 3-2 on Thursday.
Butler beat Troy twice during the regular season 10-4 and 10-0 on May 5-6. Butler won the Greater Western Ohio Conference American North Division, while Troy finished third. So, what will be the difference for the Trojans this time?
"I know what won't be different – they'll be good and competitive," Welker said. "I know that about Butler. Hopefully what's different is we'll come out and play our game. I think we were on our heels the first two games and never really got it going. It ended up getting away from us."
Not t0 that degree, but Welker had concerns about Troy's nerves prior to Thursday's game, too. Brogan echoed that, saying the dugout was flat and quiet early. That changed when the Trojans put a couple runs on the board.
"We just need to play like ourselves," Brogan said. "We're playing as a team right now. If we keep doing that I think we can give them a good game."
The Trojans scheduled a pair of games before Tuesday's rematch with the Aviators. Troy is at Centerville on Friday to help get a feel for the field. Troy also hosts Fort Loramie, the defending Division IV state champions, on Saturday.

No. 13 Wayne (10-14) won its last five games, including a 6-3 win over Xenia in the first round of the sectional tournament. The youthful Warriors struggled against Brogan even as Wayne's coaching staff reminded their hitters before every inning to stay back and wait on the breaking balls.
"We knew we had a tough task in front of us. We felt we could play and compete," Yount said. "After the first inning it was obvious to us we had to try and go up the middle and to the right side. Some of our kids weren't able to do that. He's a tough pitcher. Man, he's a tough pitcher.
"As a coach you have to love a pitcher (that throws strikes). You're not over there with your hair going gray saying (a full count) again? We didn't think he was going to blow us away, but we really only hit one ball hard.  I wish them well. I don't takes sides but I wish Troy the best."