For the sake of percentage of improvement, few area high school baseball teams in 2019 can top Andy Johnson's Covington Buccaneers.  Tuesday afternoon they sought to put the cherry on top of their season.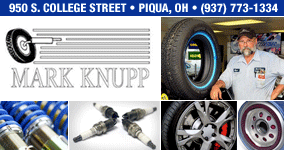 Covington – It will go down as one of the most overlooked first round games in the 2019 OHSAA baseball tournament – a 7th seed playing an 11th seed, and just nine wins for the season between them.
That was the setting Tuesday in Covington as Andy Johnson's 5-15-1 Buccaneers played Middletown Christian in a rescheduled game from Monday's rainout.  Ho-hum, right?
Well, in typical perspective, yes.  There are those who argue that teams that don't win a requisite number of games in basketball and baseball don't even qualify for the tournament.
But this was far from typical.  In fact, Tuesday's game, and Johnson's 2019 baseball team signify every good attribute of competition, because…in his second year as coach at Covington their five wins this year represent a 500% improvement over last year, when they won just ONE game.
And by day's end you could cut another notch in their belt, because with their 8-0 shutout over Middletown Christian that represented Covington's first tournament win since the Mitch Hirsch days, in 2017.

Schwieterman Custom Body Shop is pleased to support youth baseball on Press Pros.
You want more?  On a team fraught with sophomores (four), juniors (three), one senior (Gavin McReynolds) and a freshman (Kody Nelson), 0ne of those sophomores, Jake Hamilton, pitched a complete-game, 2-hit shutout, the first in his brief varsity career.
"This really feels good,"  said Johnson afterwards, wearing a satisfied smile.  "This is like baby steps, but we've come a long way from last year.  We had one win last year, and now we've won six this year, and we've really improved as a program.  The kids have more confidence, they're having more fun, and frankly we could have had four or five more wins this year.  We've had some really tough losses over the last couple of weeks."
Crazy things happen to a baseball team learning to win, but none crazier than what happened to Covington last week.  Trailing Houston (at Houston) by a run late in the game, Covington had runners on second and third with two outs when Houston walked the hitter at the plate to load the bases.  But the runner on third thought the bases were already loaded, and ran in to touch home plate with what he thought was the tying run, only to be tagged out for the final out.  They lost by that one run!
"The kid felt terrible,"  said Johnson.  "But every one of his teammates came to his rescue, to let him know there'd be another game, and another day.  That's how far we've come as a team."
Granted, Middletown Christian will not remind anyone of the '61 Yankees team that had Mantle and Maris, but Covington won't remind you of the '64 Cardinals, either, with Bob Gibson and Lou Brock. But Tuesday they came out looking like a good baseball team, scoring four runs in the first inning to take a commanding lead and stake Jake Hamilton to all the support he'd ultimately need.  They made plays behind him – sound defense – and added to their margin with three more runs in the fifth and a final run in the sixth when second baseman Colton Francis hit the hardest ball of the day, a ringing double into the left field corner to drive in their eighth run.
Along the way Francis would have a two-hit day, freshman Kody Nelson would have a two-hit day, and Jake Hamilton supported his own cause with a pair of singles.  Combined, those three had six of Covington's eight hits.
This has not been easy, playing with freshmen last year, and sophomore this year, and lacking many of the requisite facilities necessary to build a competitive program.  At present they have no outdoor batting cage on school property, due to a variance with city zoning.  And they hardly pack the stands for Buccs games.  Tuesday's game drew a sparse 57 fans, by actual count.  But baseball matters to Andy Johnson, and that message is being absorbed by osmosis, with a group of kids that believe in one day at a time.
"Today's win makes me feel pretty great,"  admitted Jake Hamilton.  "I mean, this was the seniors' first tournament win, so I'm happy for them and happy for us as a team.  I worked a lot in the off-season, with my dad, and anyone else that I could get with.  This is so much better than last year, now I just hope we can win against tomorrow (at Cedarville).  But I'm definitely going to enjoy this tonight."
If they don't win tomorrow it doesn't diminish their accomplishment one bit, says Johnson.
"Not at all.  We win a game in the tournament because you want to keep playing,"  he said.  "You want to keep having fun together.  But if we lose tomorrow it will not diminish today.  From going 1-19 last year to 6-15 this year and winning a tournament game is measurable.  And we've had some close losses, as well.  We've tied or had the lead in 75% of our games this year.  We just haven't finished enough games."
Sadly, no one will notice.  But if you believe in all those baseball cliches' – in all those positive thinking posters – you have to believe that no one in area baseball has had a better year, considering the previous year.  And yes, Andy Johnson knows that 600% better than nothing won't make the earth spin backwards.  But we're talking baby steps here, people.
Rome wasn't built in a day.