Needing every possible win, and every other possible scenario to go their way, the Buckeyes play the final week of the season thinking about what could have been…and that one series in particular.
It is the most maddening scenario on sports. Win, and wait…when you have to win EVERY game, and yet, it may not be enough.
It's the worst-case nightmare of playing your best, but if someone ahead of you in the standings doesn't lose…your best goes for naught.
That's the scenario this week as the Ohio State Buckeyes (27-24, 9-12 in Big Ten) prepare for a Thursday through Saturday trip to play Purdue, hoping against hope, actually, that sweeping Purdue, and having teams like Maryland and Rutgers (the teams directly ahead of them in the Big Ten Standings) will either lose or get swept.  If that were to happen…"We'd be in a pretty good place,"  said Buckeyes coach Greg Beals yesterday, following the Buckeyes doubleheader split with Penn State.
But actually it's not that simple, because as it happens so often in sports the Buckeyes had the opportunity long before now to not be in this position – to be in control of their destiny.  And the buzz among media, some fans, some parents, and even the 'redcoats' manning the portals yesterday at Bill Davis Stadium was this.  "If we hadn't lost that series to Northwestern we wouldn't be here."
And likely that's true.  For back on April 5, 6, and 7 the Buckeyes hosted a struggling Northwestern team that everyone expected them to sweep… a team that at the time was 11-15, and being outscored at the rate of 5 runs per game.  But on that weekend they scored plenty…in a 13-5 Friday night win, a 7-2 win on Saturday, and a crushing finale stunner, 10-4 on Sunday.  The Wildcats flipped the script.  Five weeks later that series – that one series – is still the one that haunts, despite winning against Michigan and Maryland, and losing to Iowa and Minnesota.
"What it teaches you is you can't take any series for granted,"  said Buckeye redshirt freshman Seth Lonsway on Saturday, following the Penn State series win.  "But you can't dwell on it.  You have to play on."
"It's hard to believe,"  added teammate Dillon Dingler.  "But it happened.  Now we have to go to Purdue and win."
And while Greg Beals DID NOT mention Northwestern on Saturday, he knew the score of things as he considered every possible scenario going forward…of how he got here, and what needed to work in order for the Buckeyes to somehow secure that eighth and final spot in the Big Ten Tournament two weeks from now.  He had to know as he said, "We wanted the sweep over Penn State…but I'm happy with a series win.  Now we have to win the series against Purdue, and if we can do that I think we're in a pretty good place."
In the next breath he added, "But it would be nice if we get some help."
They didn't get much of it on Saturday.  With the Buckeyes sitting in 11th place, behind Maryland, Rutgers, and Purdue, they moved up a spot ahead of Purdue as the Boilers lost to Illinois, 5-4.
And Maryland lost to Minnesota, 9-3, to even their weekend series being played in Minneapolis.  Maryland's league record now stands at 9-11 entering Sunday's finale with the Gophers.
Rutgers, a team that Ohio State beat two out of three in the Big Ten's first week, split their doubleheader with that same Northwestern team, losing the opener 4-0 before winning the nightcap 5-4.
"And who knew?"  asked OSU radio man Bob Spears, a former Buckeye pitcher.  "Back when we played them Rutgers didn't look like a very good baseball team.  You wondered if they'd win a league game."
But now they sit one spot ahead of Ohio State, in the ninth spot, while Maryland sits ten prior to Sunday's game with Minnesota.  Rutgers is idle on Sunday, having played yesterday's doubleheader.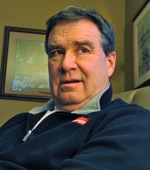 So it boils down to one final, wrenching weekend.  Ohio State, with a 9-12 league mark must sweep (in reality) at Purdue.  There's no reason to say it any other way.
Northwestern (7th), Maryland (8th) and Rutgers (9th) all have 11 losses in the Big Ten.  And on the final week…Northwestern hosts Minnesota, Maryland hosts Iowa, and Rutgers travels to Indiana.  It won't be easy for any of the three.
"It's about as clear as mud,"  said Big Ten Network baseball analyst Mike Huff.  But this much IS clear.
"We gotta' win,"  said Dillon Dingler.  "That's all we can control."