The Buckeye freshman from Mason celebrated his college baseball ascendancy on Friday with his first win as a collegian.
Columbus – Honestly, he didn't even bring it up. He might not have known.
When freshman Will Pfennig came into the interview room following Friday night's 4-2 over Penn State he made no mention of "Hey, it's good to finally get a win", or "I'm gonna remember this one for a while", or "Thought it would never come". Nope, all Will Pfennig talked about, generally, was pitching – and getting more comfortable with it.
"It's actually taken me a while this year to learn how to come in to an actual relief role and go a couple of innings, then come back in a couple days and do it again," he started. "But now I'm really comfortable with what I'm doing, and with my stuff."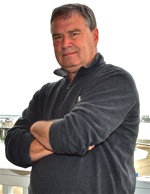 He paused for a second to gather his words, flashed a broad smile, and admitted, "I threw my curveball a ton today for strikes. I got a lot of swing and misses."
You have to have pitched, or understand pitching to appreciate the magnitude of those words – making the baseball move in the strike zone so as to be hard to hit – deception. It's the age-old quest of everyone from Cy Young to Cy Ryberg (whoever he is)…to make the baseball move and control it in the strike zone. That has all come together for Will Pfennig, and on a bigger stage, in what seems like the past few weeks.
Friday marked his first win as a college baseball player. Taking over for an injured Garrett Burhenn with two outs in the third inning, he pitched the next 3.1 innings of no-run, 2-hit baseball, striking out four and walking two, holding down a Penn State team that's much more formidable than their 3-17 Big Ten record would indicate. Seven of the Nitany Lions' losses have come by two runs or less.
"Will has started to create an identity," said Greg Beals, following Friday's win. "Obviously he had an identity at the high school level, and that's why he's here.
"But now he's creating an identity with the role he's in at this level. And we have trust in him, obviously, because we've been putting him in there since the middle of February. So he's a freshman by class, but Will Pfennig is pitching with a season's worth of maturity now."
Slight in stature, he surprises with a fastball that seems sudden – on top of hitters at the plate, in the 90 to 92 mph range. But it's been his command of the secondary pitches – the changeup, the curve – and his willingness to throw them as a complement that's suddenly made him more reliable.
But in a day of 'slow' baseball, what sets him apart the most is the pace with which he pitches. Will Pfennig does not waste time. He gets the ball and he throws it – bang, bang, bang – attacking the hitters and creating the sense of them being on the defensive.
"I did that all through high school," he says with that ever-present smile. "I don't like to standing out there and thinking on the mound. I just get the ball back, get some dirt on my hands, and get right back on the rubber and pitch. TJ Brock does that, too, and we're actually the same kind of pitchers in a lot of ways. We're not huge guys, we have quick arms, and we work fast. It's a part of our game."
They say in baseball that winning your first as a pitcher is a little bit like shooting a man in Old West gunslinger terms…that the first one's always the hardest. That's been the case for Pfennig, perhaps, as Friday marked his 21st appearance and his 47th inning;  and 46 strikeouts now in those 47 innings, along with 23 walks, probably the most important statistical ratio in pitching.
But that margin is widening to the good side, and the footnote of Friday, May 10, 2019 will no doubt juice his ascension as a college pitcher just a bit more.
That first win – finally – for Will Pfennig!