Off to a exciting start, the once-beaten Minster girls are relying on themselves and the support of the community as they press forward with their best softball season in years.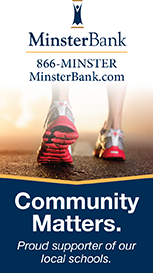 Minster – It seems apropos, almost, for a community that's known nothing but winning over the last two schools years – state titles in football, girls basketball (twice), baseball, cross country and track and field.
Or, could be unfair that one school, one community, should claim to be on the threshold of similar success in softball, as well?
But that's how it stands as the #1-ranked and 23-1 Minster girls softball team added to their impressive list of wins Thursday with a five-inning, 16-1 run-rule thumping of league rival St. Henry in front of 200 brave souls who stood in a steady rain to watch it.
They are the talk of the town, the latest in a string of teams going back to the 2014 state football finals that saw Minster win its first football title in a quarter century.  And since then…football won again in 2017, baseball won that same year, girls basketball has won back-to-back titles, cross country and track have triumphed, befitting that proud tradition.  And up until last week the Minster girls were actually undefeated before falling to Lima Bath in a non-league affair that if anything, magnified their focus on the final week of the regular season, and then post-season tournament play.
"We really have a good group of seniors that have played here now for four years,"  says Minster coach Robb Hemmelgarn.  "This is my third year coaching here, and some of those girls had been here a year before I came, when it wasn't so good.  They've worked, they've improved, and they've supported each other.  And now they've turned things around."
They're winning convincingly, to say the least.  Thursday's 16-1 win was their 13th run-rule verdict of the season, and they did it by scoring 5 runs in the first, 3 in the second, and 6 more in the third…on the strength of 9 base hits and too many St. Henry free bases, via walks and errors.  Senior Jenna Poeppelman was dominant again on the mound, before being taken down after three innings.
"This has been so much fun,"  said Poeppelman after Thursday's win.  "And it's fun because the community has gotten behind us, encouraged us, and they lift us when they come out the way they do.  Right now I'd say that we're gaining in popularity with the other sports, football, basketball, and baseball.  All of sudden softball seems to matter more and that helps us support each other.  Maybe it really does take a village,"  she added with a broad smile.
But like the other successful sports at Minster, Hemmelgarn points to the importance of a 'culture'.
"We're really trying to build it here, like they have for the other sports,"  he added.  "Our JV team is like 23-1, and our junior high kids are winning.  That's important if you're going to sustain a program from year to year."
And, culture is important when winning comes hard…something besides a run-rule game.
"We knew there'd be some easy ones,"  says Hemmelgarn.  "But we beat a very good Bradford team last week by one run.  Lima Bath has been good over the years, and we have Greenville next week and they have a great tradition.  We're pointing toward the next six games now."

And if it really does take a village, to borrow from Jenna Poeppelman, consider the names on the roster.  Bergman, Albers, Homan, Richard, Wolf, Hemmegarn, Olberding, Schmiesing, and yes, Poeppelman – building block names in Minster for generations.
With beautiful facilities, and energetic coach, and a new sense of belonging, it's little wonder that people come out and stand in the rain to see a 16-1 softball game.
"It's a lot louder and there's a lot more cheering than there used to be,"  admits Jenna Poeppelman.
And if they get to Firestone Stadium, in Akron, on June 1st, there'll be a lot more than 200 to see it.  They'll ALL be there!