After 48 years Minster's Community Lanes is under new direction and no one could be happier than both the old management, and the new.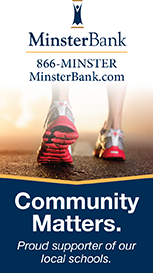 Minster – Most people don't grow up dreaming of owning, or operating, a bowling alley.
Someone once said that having one is like owning a dairy.  Those cows have to be milked every day, and most days the only person you can count on to do it…is YOU!
But to Joe Baumer, 89 years young, it's been his dream and life's calling since about 1960, a year after Community Lanes was built just off the main drag in Minster, on 3rd Street.
"It was built in 1959 and I think it kinda' struggled at the beginning, and needed someone to come in and run the place,"  says Versailles' Jim Raterman, who grew up in Minster and worked with Baumer in those early years at the bowling alley.  Raterman later became a shareholder in Community Lanes.  "Joe was the perfect caretaker.  He had a lot of fun over the years, and a lot of people, including me, had fun with him at Community Lanes."
But time is as time is, as we all know.  And last Friday night Community Lanes changed hands.  Businessman Doug Davidson, and proprietor of Bowlerstore.com, in Versailles…along with his wife Lori…assumed ownership of the 18-lane establishment and fulfilled a dream of his own.
"I had explored the possibility of maybe purchasing another 'house', but that never came to pass,"  says Davidson.  "And as the Bowlerstore business grew that put owning a bowling center on the back burner.  It was still in my mind, but just not a priority.
"But a couple of years ago there was talk of Community Lanes being for sale by the shareholders, we started talking about it, and it looked like a possibility.  It's always been a focal point in the community, the people have supported it, but over the past few years it had gone down hill a bit.  Of course I love the sport of bowling, so part of the dream for me was to revitalize Community Lanes.  I wanted it to stay a big part of the community.  I didn't want to see it become apartments or a condominium.  I love the bowling industry, I love the customers, and I love business.  I like revitalizing things and this was something that I wanted to do."
So on Friday, May 3rd, there was the ceremonial passing of the torch between Baumer, his family, friends and well-wishers in the community to Doug and Lori Davidson – along with a lot of smiles, probably a few tears, but most of all…a lot of good feeling and best wishes from people like Jim Raterman, people who grew up around Community Lanes.
They unfurled a new logo declaring the bowling center as "your local gathering place", and Davidson, along with a couple of partners (Mike and Steve Henry), has plans to make it just that…a gathering place for family fun, recreation, and as a competitive tournament venue for high school bowling.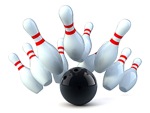 "One nice thing about it is it has 18 lanes,"  adds Davidson.  "A lot of other area houses are smaller, 8 and 12 lanes.  It's big enough to hold high school sectional tournaments, and it's also the right size to hold youth tournaments. Because of the size of the concourse and having 18 lanes, it's a perfect tournament venue.  We'd like to develop a strong youth program – starting with the bumper leagues and going up through the 7, 8, 9 and 10-year-olds.  For bowling to catch on you have to generate interest in the younger ages.  Some will drop out, of course, but some will really love it and they're the ones that'll take it to the next level."
But for all the future plans, Friday's passing of the torch included acknowledgment from Davidson and everyone who attended…that Community Lanes "will always be the house that Joe (Baumer) built."  And the highlight of the evening was Baumer throwing out the ceremonial first ball, signifying a new beginning, new dreams, and new investment in the community and its youth.
A new chance to build something, and not unlike Joe Baumer did…in about 1960!