Versailles benefits from timely hits, and a few Milton-Union miscues, to rebound from Friday night's loss to Russia.
Versailles – The Versailles Tigers' offense struggled in a 4-2 loss to the Russia Raiders on Friday night. And to rebound on Saturday they had to face the Milton-Union Bulldogs and its staff ace, who has been Stone-walling opponents this season with what's thought to be a school record for strikeouts.
Milton-Union senior Aaran Stone entered the non-conference game seven strikeouts shy of 100. He got off to a good start striking out the Tigers' first batter. But the Versailles line-up – in a solid tune-up for the Division III postseason – rallied to reach Stone and Bulldogs for a 13-4 victory.
The game was originally scheduled for Milton-Union. The infield was playable but the outfield still retained a few puddles of water. The Bulldogs, though, found themselves in a quagmire at Versailles, too.
Six errors contributed to the Bulldogs' loss, including a wild throw to first base with two outs that turned the Tigers' two-run lead into an 8-4 advantage in the fifth inning. Versailles tacked on five more runs in the sixth inning off freshman relief pitcher Nate Thompson.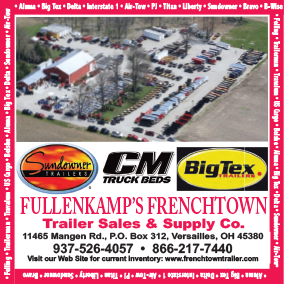 "We had a tough game with Russia (on Friday night) so we talked to the boys and that was uncharacteristic how we played," Versailles coach Ryan Schlater said. "We came out in the first inning a little flat but after that I was proud how they came out. We made adjustments at the plate as we needed to.
"It doesn't have to be anything major just small adjustments from at-bat to at-bat, whether it's adjusting to the curve ball or what. (Stone) threw a lot of off-speed pitches today. We stayed back and hit the ball."
Versailles spread around 13 hits, led by senior Ethan Kremer's 3-for-4 effort. Seniors Zach Griesdorn, Braydon Robinson and Zach Schlater all had two hits as did junior Conner VanSkyock.
Stone, whose fastball tops out around the mid-80s, finished with two strikeouts to give him 95 in 66 innings pitched. He allowed eight runs (three earned runs) and six hits in five innings pitched. Stone (5-6) walked three and hit four batters, including Versailles senior Will Eversole three times.
"He's just a hard thrower. He has good command. He can throw where he needs to," Milton-Union coach Mark Gunston said. "I think he's one of the hardest throwers in the SWBL."
Milton (10-9) trailed 4-1 after three innings but tied the game in the fifth against Kremer. Junior Cayden Galentine cranked a lead-off double to left to start the fifth. Junior Kayge Thwaits singled to pull the 'Dogs within 4-2. He scored
Junior A.J. Lovin hit into a fielder's choice attempt to throw Thwaits out at home. Thwaits got caught in a rundown and scored when the toss home was wide, also allowing Lovin to reach third. He then tied the game on Stone's single.
The lead was short lived. The Tigers (12-6) batted around in their half of the fifth sending 10 batters to the plate for four runs on three hits and two Bulldogs' errors.
"Kind of the story of our season," Milton coach Mark Gunston said. "One mental error affects the whole team. They're a good ball team but I think we could have hung with them. But you get a couple mental errors (and it snowballs).
"That's what I told them after the game – if we get rid of our mental errors we'll be okay."
Milton's infield to start the game included a sophomore at first base (McKinnah Rupp), a freshman at second base (Paul Lucente) and a freshman at third (Thompson). Lovin, who Gunston called the best defender in the Southwestern Buckeye League, anchors the infield at short.
"That's a typical Saturday game," Gunston said of a usual non-conference lineup.
Kremer allowed five hits and four runs (three earned) in six innings pitched. He struck out five, walked two and hit one batter.
"I was proud of how he came out," Schlater said. "He hasn't thrown for a week or two so we wanted to keep him in the 90-pitch range. He worked really well for us."
Junior Nathan Wagner allowed one hit and walked one in the seventh.
Both teams meet again Sunday … this time for the Division III sectional tournament draw. The super sectional has 23 teams including Anna (13-3), Arcanum (13-5), Dayton Christian (14-3), Greenon (15-4), Middletown Madison (17-4), National Trail (12-4), Tri-County North (13-5), Troy Christian (11-4) and Waynesville (13-5) among those competing for the top seeds.
Versailles gets a couple tough tournament tune-ups with St. Henry on Monday, Coldwater on Friday and Arcanum on Saturday
"With the exception of (Russia on Friday) the last few games we've played well. Coming back today was good for coming into the tournament," Schlater said. "We're hoping for a decent seed and to play at home in the first round."