The New Bremen Cardinals appeared to have early momentum towards snapping Coldwater's 16-game win streak.  But a breakdown in pitching and defense, and a 6-run fourth, fueled a Cavalier comeback that kept the string intact.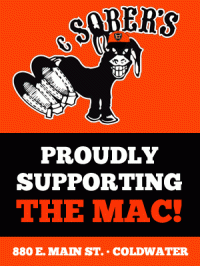 New Bremen, OH – For three innings and about 45 pitches it appeared that the New Bremen Cardinals and starting pitcher Ryan Bertke had the drop on the 'streaking' Coldwater Cavaliers and their 16-game win string.
Facing Cavalier ace Cole Frilling, Bremen got on the board quickly in the second inning after two were out with a single by Tyler Overman followed by a double to right field by Brice Blickle that went over the head of Cavs' fielder Ross Weigel, scoring Overman.
They added a run in the third on a leadoff single by Grant Selby, a sac bunt and a throwing error that put Selby on third base…then scored on a groundout to second base.  Very tidy, and it seemed in perfect harmony with Bertke's work on the mound.
But it all came undone in the fourth as Coldwater sent ten to the plate, scored six times, and went on to cruise to an eventual 11-3 win…their 17th in a row after losing their first three games of the season.

"The free bases (walks) helped,"  said Coldwater coach Brian Harlamert.  "But we also had a couple of huge at bats by Austin Riethman and Cole Frilling.  Those were senior at bats because they worked the count, got a pitch to hit, and made them pay for those walks."
Riethman's blow in the top of the fourth inning followed a bout of sudden wildness from Ryan Bertke, who up to that time had pounded the strike zone after a pair of harmless walks in the top of the first.  After that, he appeared to settle into a comfortable rhythm.
Jake Hemmelgarn led off the fourth with a single, advanced to second on a sac bunt, and then stood by (or moved base to base) as Bertke proceeded to walk the next three hiters – the bottom three in the order.  With the sacks juiced, Riethman jerked a line double to the corner in left field to clear the bases, push the second, third, and fourth runs of the inning across home plate, and for all intents that was the game.
Except, they added three more in the fifth on a single by Myles Blasingame, a pair of errors, a pair of stolen bases, and by the time Hemmelgarn batted for a second time and grounded out, the score stood 6-2.
Justin Tenkman had relieved Bertke with one out in the fourth, and in the fifth Coldwater found the mark against him, as well, scoring three more times on a walk, Frilling's double that scored Weigel, a single by Will Broering that scored Frilling, a New Bremen error on a throw from the outfield…and then the scorebook really started to get messy.  By the time Tenkman retired the final out the score was 9-3.
Coldwater, for sure, hit some balls hard, and ended with eight hits in the game.  But eight hits don't necessarily account for 11 runs (they added two more in the top of the seventh).  The point being…the recurring walks by New Bremen pitchers, Bertke, Tenkman, and Nick Wells, eleven of them in all, really fueled Coldwater's fire.
On top of that…five errors by New Bremen, a pair of hit batsmen, and aggressive base running by Coldwater – the Cavaliers stole seven bases – kept the heat on and made for a very frustrating day for Bremen coach Chad Wells (13-5, 5-3 in MAC) and the Cardinals.
Final line: Coldwater won with 11 runs on 8 hits, committed one error and left 8 men on base.  New Bremen lost it with 3 runs on 4 hits, committed 5 errors and left 7 men on base.  The game took a drippy, dreary 2 hours and 32 minutes to complete.
"It was a hard game to play because they put a lot of pressure on you and we gave them too many extra opportunities,"  said Wells.  "And good teams capitalize on those kind of opportunities.  They're known for aggressive running so you expect the stolen bases.  They teach that, they have athletic players who run the bases well, and if you give them extra bases they're going to take those opportunities and score."
Ryan Bertke's breakdown in the fourth came as a surprise.

"I really don't know why, things just seemed to unravel for him,"  added Wells.  "Then when you have a lapse like that they end up hitting the double to left, they score three on that play, and that changed the momentum of the game.  Up until that point we had the momentum."
Cole Frilling was vintage for Coldwater, but he was Cole Frilling, winning for the fourth time in as many weeks.  His command wasn't as sharp, he walked five while striking out a like number, and he threw a hundred pitches to complete the game.  But to the point of seniors playing like seniors, there was little doubt after the fourth inning that he was taking matters to a winning conclusion.
"He showed some senior leadership,"  said Harlamert.  "It almost seemed like he lost something because he had to sit for so long in the fourth and fifth innings.  But that's a senior battery between him and Austin Riethman and together they battled through it.  I know he buried some curveballs, but Austin kept them in front and they kept battling until he got things going."
Coldwater, of course, improves to 17-3 on the season and remains unbeaten in league play.
New Bremen drops to 13-5, and 5-3 in league play.  Still, Wells counts the day as a reset opportunity, and object lesson if you will, before the tourney draw and post-season play.
"This was a great game for us to have now before tournament time," said Wells, able to smile.  "They're a very good team, Cole pitched a nice game, and you're not going to see many any better than that without going out of the area.  But as dominant as he can be at times we also put some good swings on some balls.  We did some good things today and throughout the tournament we're not going to see much better than what we did today."
And to his point…they're not going to see many, if any, who can claim 17 wins in a row.