St. Henry used classic St. Henry baseball to do it – pitching, defense, and some timely hitting on Tuesday – to beat Minster on the road.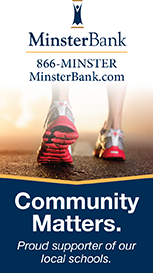 Minster – These are not the best of times, as Charles Dickens wrote about once, for Mike Wiss and the Minster Wildcats.
Notwithstanding their 10-6 record (3-4 in the MAC) they're missing some key components currently due to disciplinary measures, and have had to play through some tragedy (loss of a teammate).  But frankly, this is a team wanting for the likes of components past from their championship teams – an Adam Niemeyer, a Devon Poeppleman, an Ethan Wolf.
That said, their 6-1 loss to visiting St. Henry on Tuesday came with no excuses, or issues other than their own play.  And the first words out of Wiss's mouth were, "Rylee Deitsch pitched a heckuva' game for them.  He gave them a senior effort."
Exactly!  The 5'11", 180-pounder scattered three hits, struck out six (walked five), and kicked in a base hit that drove in the first run of the game in the third inning.  Not a bad day.
He probably won't pitch in the major leagues.  But what makes Deitsch so intriguing to watch is his ability to compete – to find a way.  And to that end he throws a pitch that's seldom seen in high school baseball…the knuckleball.  And of his six strikeouts Tuesday probably half of them were swinging strikes when he was ahead in the count…and somewhere in the at bat he made Minster look at, and respect, that very inordinary 'out' pitch.
"I've thrown it for years,"  says Deitsch.  "It's just that over the winter I started throwing it better, so I thought…let's put it in there and see what it does."
And when it "does", it does plenty.
Locked in with Minster's Ethan Lehmkuhl for the first two innings, St. Henry broke through in the third on an RBI single by Deitsch (the first of his two hits), and a second run that scored on a ground out to second base.
Minster would answer in the bottom of the inning with an unearned run by Jack Olberding, who reached on a grounder to second, then advanced on a passed ball, and ultimately scored on another St. Henry error to cut the lead to 2-1.
But Minster could not survive the top of the fourth…when St. Henry strung a pair of hits together by Andrew Lange and Isaac Ontrop with two outs in the inning.  What appeared to be third out, a majestic fly ball to left center field, wasn't the third out at all.  Jack Olberding got to it, got a glove on it…and dropped it, scoring both Lange and Ontrop with a pair of unearned runs.
"I think we kind of Cadillac'd that ball,"  said a frank Mike Wiss about the play, and the inning.  "We didn't get to the ball and get behind it like we should.  It was a tough inning for Ethan (Lehmkuhl), because I think he really pitched better than the box score will show."
As it turned out that's all the support Deitsch would need until the top of the seventh, when St. Henry again parlayed a pair of hits, a sac bunt, and an error into two more insurance runs.  Deitsch did the rest, giving up just one hit over the final five innings.
"I wasn't as sharp as I could have been,"  he would admit later.  "I was having some trouble hitting my spots."
But if he had he might have no-hit the Wildcats.  As it was St. Henry improved to 13-3 overall, and 6-1 in the league standings.
"There's things we can do to get better,"  said St. Hank coach John Dorner.  "But you have to feel good about beating a good team like Minster.  Mike will have them ready for tournament because they're one of the best teams in the area.  So when you beat a solid team that's coached well, and on the road, you're happy with that."
And without even asking, he was happy with the effort of Rylee Deitsch, despite the five walks.
"Rylee made some pitches, he changed speeds well, but he wasn't hitting his spots like he usually would,"  added Dorner.  "But, he made some pitches when he needed to make pitches, and we had the defense step up behind him.  We got out of a couple of innings with the double play, so there were times tonight when we just played good MAC baseball."
Cruising into the bottom of the seventh, needing three outs to seal the win, Deitsch locked up with Olberding, the Wildcats' leadoff hitter.  Olberding got down two strikes, and here it came…the knuckleball, and the best one Deitsch had thrown all night.  The Minster centerfielder attacked it, only to have it disappear down around his shins, and he went down in a heap as he missed it for strike three.
"I've been throwing that pitch since Little League,"  he smiled trying to explain it afterwards.  "It just never moved like it did today."
No argument…from Jack Olberding, Mike Wiss, or Minster.