After opening the season with three consecutive losses, Coldwater's Saturday win makes fourteen straight wins and the impression that  the Cavaliers are on their way to another deep tournament run.
Eaton – On Saturday, Coldwater High School ace Cole Frilling made a deal with Cavaliers' baseball coach Brian Harlamert.
"I told him if I have a no-hitter through five innings at the state tournament you better not pull me," Frilling said, grinning. "He said, 'No, I'm not pulling you.'"
Frilling didn't mind getting the hook in Saturday's 9-0 win against the Eaton Eagles despite tossing four innings of no-hit ball. Frilling retired the first nine batters he faced before allowing a walk to start the fourth. A pop up and 6-4-3 double play kept Frilling's four innings of no-hit ball intact.
Relievers Jake Hemmelgarn and Will Broering completed Coldwater's 14th-straight victory after opening the season with three straight losses.
Eaton managed two hits – a single and double in the fifth inning – and stranded six base runners. Four of those reached base by walk.
Coldwater, meanwhile, banged out seven hits and benefited from six Eaton errors, four walks and two hit batters. The Cavaliers led 5-0 after two innings, 8-0 after four and tacked on the final run in the fifth.
Consider it another Marvel-ous effort from the Cavaliers, including from Doctor Strange himself … aka Frilling. The fun-loving Cavs – anticipating the blockbuster hit "Avengers: Endgame" like much of the country's movie goers – have given each other nicknames from the Marvel character universe.
Frilling earned the moniker Doctor Strange, a surgeon who inherits powers making him the Sorcerer Supreme. It was appropriate Saturday as Frilling all but made the Eagles' bats disappear as he improved to 4-1 and lowered his earned-run average from 1.16 to 1.00.
"I was spotting pitches for once. (Catcher) Austin (Riethman) was working behind the plate well with inside-outside," Frilling said. "I didn't have to throw too many curveballs or sliders. But when I did they dropped in. It was mostly fastballs."
The Cavs backed him up with solid defense. Catchers Will Broering and Riethman were backstops behind the plate. Shortstop Jacob Wenning turned in a couple all-star efforts at shortstop. And Riethman, playing left field, ran down a long drive down the line that would have ended up foul had it escaped Riethman's glove.
Team speed, strong hitting and solid defense have earned the Cavaliers' rave reviews, too. Coldwater is ranked No. 6 in Division III by Prep Baseball Report. Last season Coldwater reached the D-III state final before falling 3-2 to Canfield South Range.
"It's Coldwater on the front of the jersey and that means more than the name on the back. Our goal is to keep playing hard every day," Harlamert said. "It's a matter of our guys needing to work hard in practices and get better. It doesn't matter who you play. You have to come to play hard and practice hard. Our guys have done a great job doing that."
It's no spoiler alert the Cavaliers are just as strong this season.
"This team is very solid," Harlamert said. "I think this team is a little faster than last year's team and stronger overall one through nine. Our offense is better, but it the bottom line is defense and pitching. That's what we have to get better at every day. It's not about winning this game here on Saturday. We want to get better every day and play hard toward the end of the year."
Six different players had hits for Coldwater, including Riethman – who lived up to his Captain America nickname to rip a double down the right-field line on the game's second pitch. Riethman, who leads the team with a .400 average, scored three runs. He was also hit by two pitches.
"Everybody is swinging really well. It took a little bit but we got going," Riethman said. "The first three games started out a little rough. Not much hitting. We couldn't get any pitching going. We've really come around and found ourselves these last 14 games."
Myles Blasingame, Jacob Wenning, Noah Miller and Josh Hrycko all had two runs batted in.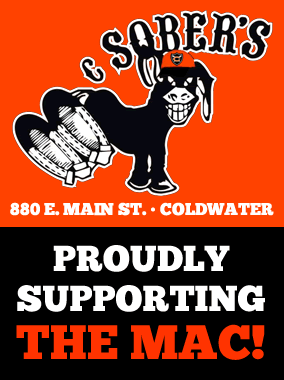 Frilling threw 38 pitches – 25 of them for strikes – in his four innings. He struck out three and walking one. Hemmelgarn threw 48 pitches in two innings, allowing two hits, striking out three and walking two. Broering closed out the game with 13 pitches in the seventh inning, striking out one and walking one.
Coldwater returns to Midwest Athletic Conference play next week hosting Marion Local on Tuesday and at New Bremen on Thursday. Coldwater, which has won a conference-high 30 MAC baseball championships, sits in first place with a one-game lead over St. Henry and a two-game lead over both New Bremen and Fort Recovery. The Cavaliers finished tied for second in the MAC last season.
"It's always the goal. You want to be the best in the area, especially the MAC," Frilling said. "This team is as good if not better (than last season). There's a little less senior experience but we're still as solid. … My last two baseball seasons have probably been the most fun I've had playing the sport. It's fun being around these guys."
Coldwater knocked around starter Owen Baumann (0-2) and held an Eagles team hitting .285 in check. Eaton (9-7) is tied for fourth in the Southwestern Buckeye League's Southwestern Division.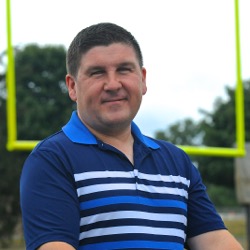 Frilling fared better against the Eagles and didn't allow a ball out of the infield.
"He was spotting his pitches with the inside fastball," Riethman said. "He really got in on a couple people with his slider. He worked away with the curveball. … He really trusts me back there to bury an 0-2 curve ball (in the dirt). If he needs a strikeout pitch he can throw it in the dirt and try to get someone to swing rather than leave something over the plate.
"It gives you confidence knowing the kid behind you is going to make a play when you're pitching or when you're hitting you need someone to step, they step up for you. … It's awesome. Seeing the ball fly off the bat. Seeing the defense making plays behind us. Jake Wenning is making great plays at shortstop and made a couple more today. Everybody is having fun."