They're yelling about the the New York Giants drafting Duke's quarterback, Daniel Jones, sixth in the first round of the NFL draft.  I ask the question, who's to question – Mel Kiper, Todd McShay included – before he ever plays, and why should we believe them?
Once again we see the power and arrogance of TV and the media, and their presumed expertise, as everyone on Friday is criticizing the New York Giants and general manager Dave Gettleman for choosing Duke's Daniel Jones sixth in the first round of the NFL draft.
Steven A. Smith (the expert on everything), Max Kellerman, Mike Greenberg, Ryan Clark, and Sal Palontonio…the list goes on and on as to why Daniel Jones was a stupid pick, when Ohio State's Dwayne Haskins was available and dropped ultimately to 15th, taken there by the Washington Redskins.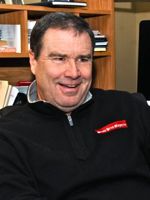 Here's what I'm questioning myself.  When, and how, did media people like Smith, Greenberg (of Mike and Mike) and Kellerman become an expert on player evaluation and a 'Carnac the Magnificent' on forecasting the future?  What makes us think we know so much about athletes and competitive attributes when a lot of us in the media never even played?
I've written about this often as it pertains to the curious fascination we have with recruiting high school football players.  How many experts are there out there telling us that so-and-so is a two-star, a three-star, a four-star, or a five-star prospect…when they're 15, 16, and 17 years old?  Yes, I buy physical attributes – foot speed and a strong arm.  I buy the argument that someone who bench presses 300 pounds is a better prospect than someone who can lift 200.
But I don't buy someone predicting what that player will be when he's three or four years older…because no two kids develop mentally and emotionally at the same rate, or from the same stimulus.  Want an example?
When Ohio State was recruiting linebackers a few years ago they brought in a five-star prospect named Mike Kudla, and another top prospect named Bobby Carpenter.  They were both rated higher than a 'three-star' prospect named A.J. Hawk, from Centerville, and neither Kudla or Carpenter had near the college career that Hawk did.  And more, Hawk went on to a stellar career in the NFL with the Packers.  Carpenter played for eight seasons with New England, Detroit, Miami and Dallas, making 126 career tackles.  Kudla was not drafted, and tragically died prematurely at age 34.  But Hawk was drafted #5 overall in 2006, made 798 tackles in nine seasons with the Packers and played in the Pro Bowl twice.
But back to Daniel Jones.  I know these people get paid to talk, but you really do hope that a guy like Jones, who had a great career at Duke, makes them eat their words.  No, Duke is not Ohio State or Alabama.  And yes, there were times when Jones had bad days during his three years as a starter.  And yes, there are the obvious comparisons to the remarkable season that Haskins had in one season at Ohio State.  But Haskins had a lot more to work with in that one season.
But, the record books are full of college quarterbacks of high promise who came up empty when they tried to play on Sunday.  Johnny Manziel comes to mind, as does Tim Couch and Ryan Leaf.
The point is…no one knows until they get there and try.  But until then, I personally turn the sound down on Stephen A. Smith, Max Kellerman, and ESPN.  There's an A.J. Hawk born every day.
………………
Our congratulations to Piqua football coach Bill Nees, about whom it was recently announced that he'll be inducted into the Ohio High School Football Coaches Association Hall of Fame in June – and rightly so.
Nees took over the Piqua program in 1992, succeeding Mike Magoteaux, and has since guided the Indians to a Division II state title in 2006, a Div. II runner-up in 2000, and has amassed a record of 195-100 in 27 years.
But more, what you respect about men like Nees is his loyalty to a community, and his commitment to working with the hand he's been dealt over those 27 years.  They haven't good, or full of Brandon Saines, Quinn Pitcocks, or Matt Finkeses, all of which went on to play in the National Football League.  That hasn't detracted Nees from giving his full attention and anticipation to some teams that went 4-6 along the way.
And if you want another indication of how good this man has been in coaching, ask his contemporaries…like recently hired Miamisburg coach Lance Schneider, who has for years maintained that no one coaches and prepares the offensive line better than Bill Nees.
Congratulations Bill.  Any hall of fame is better for you inclusion.