The latest batch of readers' questions for Hal McCoy…and if you have one you'd like to submit, by all means do.  Just send it via the 'contact' link here in the story.  So…enjoy!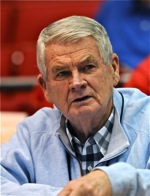 From Dave in Beavercreek (this week and a dog groomer of your choice): While shopping at your neighborhood Kroger store, as a hall of fame baseball writer do you disguise yourself to avoid autograph seekers?
DAVE: Some people say I should cover my face at all times, but I don't do it. Ever since I was inducted into the Hall of Fame in 2003 people have asked for my autograph, but never on a blank check. I don't refuse any autograph request or a photo request. If fans think enough of me to ask for an autograph or a photo or just a conversation, I am more than happy to oblige. My wife, Nadine, laughs at me and says I just crave attention. She's right.
From Joe B: Hal, greetings from the Cottage (sure you've been here) and my question is why major league baseball is playing games in Mexico and Japan, spending money that could be better used in repairing the infrastructure of amateur baseball state-side? Do they have that much money to throw away?
JOE: They are playing the game in Mexico and London to expand their footprint and spread the game internationally. Hey, if the NFL does it, MLB is sure to follow. It would not shock me if baseball eventually expanded into places like Mexico City, London, Tokyo and other foreign venues. They probably will form an International Division and include Toronto and replace Toronto in the U.S. with Las Vegas or San Antonio. Money? Thanks to television, baseball has more money than Scrooge McDuck. They do spend a lot of advancing amateur baseball. And sending teams to Mexico and London doesn't cost them that much in the long run. I wish I was seeing that fabulous sunset on Siesta Key beach with a cigar in one hand and a Tito's & Tonic in the other.
From Dennis in Columbus: First time to write to you and wondered who's job Nick Senzel will take when (not if) he's called up? Is his long-term prognosis outfield or infield?
DENNIS: When he finally he arrives, assuming he doesn't break his ankle getting into his car, he won't immediately take anybody's job. After seeing how manager David Bell operates, he'll play him here, there and everywhere. But eventually he'll land at second base. It is so obvious. The Reds have not extended Scooter Gennett's contract and are barely talking to him, so they will let him walk via free agency after the season, if they don't trade him before then. That opens the door for Senzel, if he doesn't get his thumb caught in the door. I assume you know of what I speak. Senzel doesn't appear to be able to get out of his own way when it comes to injuries.
From Doug in Versailles: There's a list online of the best and worst major league stadiums, and some of the newest ones are rated pretty poor. What are your picks for best and worst, and where does GABP rank?
DOUG: I love PNC Park in Pittsburgh, I like whatever they are calling the park in San Francisco these days and Petco Park in San Diego is a favorite. As you can see I favor some of the newer venues. While most people love Wrigley Field, I hate it. It is a great place to watch a baseball game, but a nightmare for baseball writers to work in. Great American Ball Park is nice, but it is about in the middle of the pack for me. I even like Dodger Stadium and Kansas City's Kauffman Stadium better than GABP, which loses some of its flavor for me because you and I could hit home runs there.
From Tim in Troy: My question is one of finance. I read recently where TV accounts for more than 60% of MLB's revenues. If that's the case, why does it cost so much to see a major league game in person. It seems like double jeopardy for the fan to me.
TIM: Because of TV, baseball could function and make a profit if the stands where empty. They could have Studio Baseball and the owners still would drive Mercedes and BMWs. So why are ticket prices so high and why does beer cost $10 a cup? I call it greed. As much money as they make, they still have to pay those obscene salaries they pay the players. Marage Schott's $1 hot dog has gone the way of the Edsel and Zenith TV.
From Kevin Cooney: Hal, I read where there is a shortage of wood to make bats with. If this is true, will there be a day soon when MLB goes to aluminum or another alloy for bats?
KEVIN: I hope not. Third basemen will have to wear armor and the mortality rate on pitchers would be staggering. The disappearing wood is ash, due to disease. Most bats these days are made out of maple and there is no shortage of maple trees. Yet. The way bats seem to shatter and break these days you'ld think the bats were made of balsam or bamboo.
From Jeff Urbaugh:  Hi Hal, first time to write to you and really enjoy the Press Pros site.  My question is…when the Reds were in Mexico whose home game(s) was that?
JEFF: Welcome aboard and glad you like Press Pros Magazine. I like it, too.  The two games in Monterrey, Mexico where both Cincinnati home games and St. Louis road games. That meant they took away two home games in Great American Ball Park from the Reds. And if you been there or watched on TV, it was probably a blessing. They aren't drawing enough fans in GABP to make it worthwhile for mosquitoes to show up and draw blood.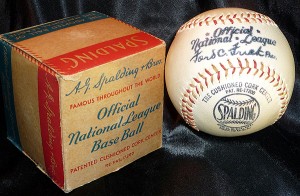 From Terry in Dublin:  Believe it or not I just saw you at Phoenix Bats last week and that was very cool.  And I have a copy of your book that I got from you a couple of years ago.  My question is…as baseball equipment evolves, has the baseball improved over the years, or is it pretty much the same as it was in the 50s and 60s?
TERRY: I remember meeting you at Phoenix and enjoyed our conversation. Since the 50s and 60s they've changed the cover from horsehide to cowhide. But the size, shape and weight have never changed. What has changed is the inside. Despite denials, they are winding the guts of the ball tighter and tighter to make the ball fly farther. Hence all the home runs these days. A couple of years ago the Reds players conducted an unscientific experiment. They had a new, never used baseball from 10 years ago and a ball that was in use that day. One of the players climbed a ladder and dropped the balls simultaneously to a concrete floor. The current ball in use bounced about two feet higher than the ball they once used. They say the balls aren't 'juiced.' They aren't. The insides are just wound tighter than my cheap uncle's grip on a quarter.
From Mike in Sidney:  Hal, I always wondered how teams choose a home dugout.  Is there a reason why the Reds sit on the first base side over the third?
MIKE: There is no rule as to which side of the field a home dugout much sit. It varies throughout baseball, some home dugouts on the first base side and some on the third base side. It is usually the way architects design the stadiums. What is always the same, though, is that the home clubhouse behind the dugout is palatial, as comfortable as it can be made. Meanwhile, on the other side, the visiting clubhouse is usually small and spartan. After all, the home team doesn't want the visiting team to be comfortable. The visiting clubhouse in Great American Ball Park is about one-fifth the size of the home clubhouse and there are few creature comforts in the visiting clubhouse.