He taught me a lot, including how to enjoy and appreciate the outdoors. But the best things that my Uncle Mel taught me was what to eat…and where to find it.
(Ed Note:  After nearly a year's absence from Press Pros, we're happy to welcome the return of free lance writer Tom Cappell, whose style and reminiscences of hunting, fishing, and the outdooors has been a popular addition to the Press Pros pages for the past five years.  One of the country's best story tellers of days afield, enjoy one of his latest…sponsored by our friends at Olde English Outfitters, in Tipp City.)
By Tom Cappell
On a warm April day in about 1962 the phone rang in our living room and I could tell in a moment that my mom was talking to Uncle Mel.
"Hey Sis, what's Tommy doing this weekend?" he asked. "If he doesn't have a ballgame or something I'll come up and get him. Fish are bitin' in the creek. We'll catch a bunch and clean 'em up for supper."
Now a call from Uncle Mel to me was like hearing from God himself. Nothing was more fun, or more interesting, than hanging out with him on his 250 acre arm down in Amlin. When it was fishing season he took me fishing. When it was hunting season he took me hunting. And when there was no season he took me out back of the barn and taught me how to shoot clay targets with a shotgun…and walnuts sittin' on top of a fence post with a .22 rifle. There was no shortage of things to keep a twelve-year-old like me interested, and that man loomed large in my eyes.
For sure, no Little League game could take the place to time with Uncle Mel, and I was waiting in the living room when he pulled up at our house after school the next afternoon.
"We can get to the creek by 5 o'clock," he said as he turned out on the interstate heading south. "And it shouldn't take us long to catch a mess of shell crackers. They've been runnin' twelve inches, easy."
There was a wide creek that cut across the back of Uncle Mel's farm…with a big curve in it that had over time cut Into the outside bank. It was about sixty feet wide and ten feet deep with a couple of big sycamore trees that had fallen across the water. Fish – blue gills, bass, and catfish – craved the nooks and crannies that lay beneath those trees.
It didn't take long once we got to the farm to get rigged up on the creek bank. Couple of poles and a handful of jigs and wax worms and we were in business within minutes. And true to his word, those big pan fish (a shellcracker looks a lot like a bluegill) were twelve to fourteen inches big. Perfect for a suppertime fish fry.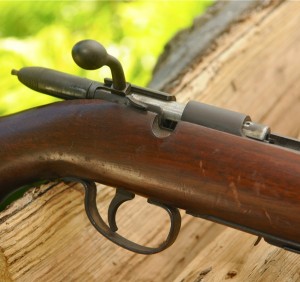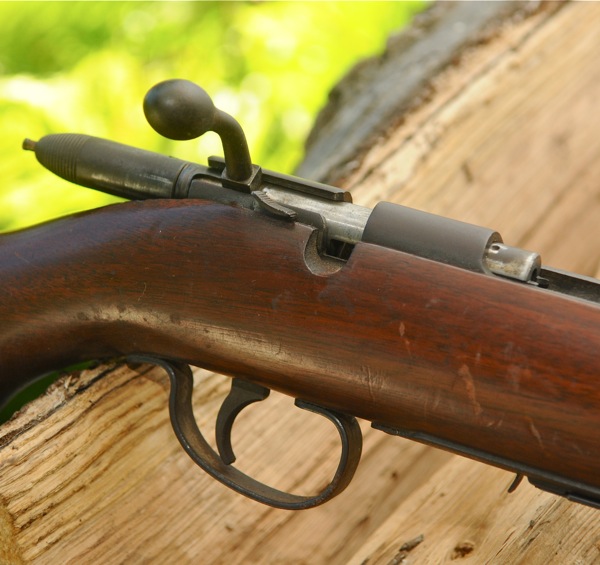 But what got Uncle Mel really excited were the bullfrogs that were singing up and down the creek, sunning themselves in the late day rays – big ones, with deep voices, and sitting out in plain view.
"You stay here and catch the rest of our limit," he said. "I'm gonna' run back to the house and get the .22. We're gonna have fish and frogs for supper."
By the time he got back I had caught almost our limit, but not quite.
"Doesn't matter," he said. "We're going to do some frog huntin'. Nothing in the world as good as frog legs, you know. I call 'em kings of the creek. Tastes like chicken!"
"But what about the fish?"  I asked.  "Save 'em for tomorrow.  You don't see frogs out like this everyday."
Now that might have been the first time in my life that I heard that phrase – tastes like chicken – and I was highly dubious. I liked Aunt Floy's fried chicken, sure enough, but I couldn't imagine why you'd even want to eat a frog. Personally, I had never been that hungry.
"You'll see," Uncle Mel winked as he handed me his trusty old Remington bolt action rifle. "Your eyes are better than mine and I want to you shoot those frogs just like you've been shooting those walnuts off the post. Shoot 'em in the head so you don't spoil any of the meat."
We sneaked along the creek bank looking for victims, made conspicuous when they croaked. "Take your time," Uncle Mel told me. "And don't miss. If you do they go back in the water and don't come back out.  And if you hit the water the bullet might ricochet."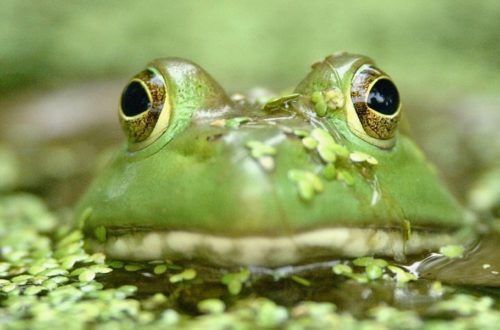 We were shootin' .22 shorts because they didn't make much noise, and at 50 feet it was easy pickins'. Uncle Mel had brought a burlap bag with him and within 20 minutes we had a dozen big, slimey bullfrogs, and just in time as the evening sun was fast vanishing behind the horizon.
I had seen Uncle Mel clean fish many times, but frogs was another matter. You fillet fish…you SKIN frogs! And within an hour after he finished Aunt Floy had 'em battered and fried golden brown.
"Dig in, Tommy," he said as we sat down for supper. "Tell me if they don't taste like chicken, only better."
I watched him first, to see how it was done. And when Aunt Floy joined in I grew bold enough to try one myself.
Lo and behold, they were good – sweet, tender, and odd as it seems…they did taste a lot like chicken. Uncle Mel broke out in a wide grin, as he always did when I discovered something new, and good, that came from the outdoors.
Afterwards we toasted the frog legs with a piece of Aunt Floy's apple pie before we cleaned the Remington and set it back in the corner.
"When can we do this again?" I asked, excited at the prospect.
"It's gotta' be the right day," he shared. "They're not always out. That's why it's a treat when they are."
And to this day i think about that first day, about fishin' on the creek, and I'm prompted to throw that old .22 in the car when I go down to Amlin.  Most people gig them nowdays, and you might want to check with your local state regulations to see if shooting is allowed.
But what I do know is…frog legs DO tastes like chicken.  Better, in fact!
Our comprehensive selection includes over 1500 guns, a full line archery "Pro Shop", shooting & hunting clothing, boots, ammunition, reloading equipment, gun cases, holsters and a multitude of other shooting & hunting accessories.
Olde English Outfitters meets the needs of serious sportsmen and casual enthusiast alike. This is truly a store for all your shooting and hunting needs.
Open this year's hunting season with a trip to Olde English, proud to sponsor outdoors columnist Jim Morris on Press Pros Magazine.com!