Fort Loramie tacks on two more wins, knocks off host Versailles in its own tourney, and gives Troy Christian first loss at Saturday's Zac Richard Classic.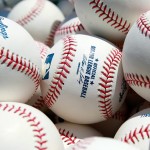 Versailles – For the Fort Loramie Redskins baseball team, it's not about staying undefeated – well at least not through the regular season. It's about executing.
The Redskins continued doing both Saturday at the Zac Richard Classic. Fort Loramie added two more victories this time against Versailles, 7-2, and Troy Christian, 9-5.
How good are these Redskins, now 13-0? Pitchers Griffin Meyer and CJ Billing didn't have their best stuff in the opener. They still beat a talented Tigers' team behind clutch hitting and defense. And in the second game they handed Troy Christian its first loss this season.
"It's pretty hard trying to defend (last season's Division IV state championship," said Fort Loramie second baseman Shane Hilgefort, who went 3-for-4 with three runs batted in hitting in the No. 9 spot against Versailles and added an RBI double against Troy Christian. "But it's fun. You know you have to play your best games. It's fun because you grow as a team and want to become the next state champion. We want to go back to back."
They'll get no arguments from Troy Christian (6-2). The Eagles entered Saturday outscoring opponents 115-2. The Redskins were outscoring opponents 102-12. Something had to give. And considering the Eagles' Metro Buckeye Conference isn't the grind that the Shelby County Athletic League is … it was the Eagles.
Eight of Fort Loramie's nine starters had at least one of the team's 10 hits. Seven of them had at least one run batted in to support Mason Kemper, who pitched four innings of two-hit, one-run ball for his first victory. Loramie led 9-1 entering the seventh thanks to a six-run third inning and additional runs in the fourth and sixth. The only blemish was Troy Christian scoring four unearned runs in the seventh to make the score closer.
Fort Loramie opened the Zac Richard Classic with a methodical win against the Tigers. They scored single runs in the first, second, third, fifth and sixth innings to lead 5-1. In the seventh they plated two more on Hilgefort's single.
"Both (Hilgefort and Darren Hoying) have been working a little extra on their hitting, doing some things to get better on their approach and plan at the plate," Fort Loramie coach Jeff Sanders said. "They're good hitters anyway. They stepped up today."
And just like against Troy Christian, eight different players had at least one of the Redskins' 10 hits … including doubles by Carter Mescher, Billing and Hoying.
For the Tigers, starting pitcher Garrett Toops had his team's lone extra-base hit with his 314-foot solo homer to left field in the seventh. Unfortunately for Versailles it didn't come in the second or third inning when they left the bases loaded.
"We just have to come up with that big hit. We had a couple guys who made some good hits, just at the wrong time," Versailles coach Ryan Schlater said. "With Toops' home run at the end – yeah it was a solo home run – but if one of those hits comes earlier in the game it really gets our momentum into it."
Toops was 3-for-4 with both of the Tigers' RBIs. He scored Will Eversole with a single in the third to pull Versailles' within 3-1.
Versailles loaded the bases in the second on Toops' single and Matthew Niekamp's one-out walk. Zach Schlater was hit by a pitch to load the bases with two outs. The inning ended with a pop up to short.
Versailles put its first six batters on base in the third with a single, fielder's choice for the first out, error, fielder's choice for the second out, RBI single and hit batter. The inning ended with another pop up to short.
"The biggest thing is not to get down on each other or not to get down on themselves for making errors or making mistakes," said Schlater, whose Tigers improved to 8-3 after beating Troy Christian. "They have the confidence and they know they're a good team."
Fort Loramie left nine runners on base. Versailles, which had eight hits, stranded 12.
Like his counterparts, Toops struggled at times with his control. In six innings he allowed eight hits, walked one and hit four batters. Conner VanSkyock pitched the seventh.
Meyer, who pitched Friday night and was expected to pitch a couple innings Saturday, lasted 1.2 innings. He allowed one hit and one walk in the second before Billing relieved him. Billing finished the game with seven hits, five strikeouts and four hit batters.
"We just didn't know how (Meyer) could go," Sanders said. "From the get go he just didn't seem like he was real sharp. The second inning he was kind of laboring. … we knew we were going to go to CJ, we just didn't know how soon. Griffin gave us what he had those two innings and CJ pitched well in relief."
Versailles became just the fifth team … and Troy Christian the sixth .. to score on Fort Loramie this season. The Redskins have seven shutouts, including an impressive 23-0 win against Anna on Thursday.
"We don't necessarily look at staying undefeated," Sanders said. "We look at executing and doing the right things offensively and defensively. And the result is a by-product of that. Let's take care of business and the result will take care of itself. We don't want to look at that big of a picture. Look at your responsibilities and what you can do to help the team and the rest will take care of itself."
The Redskins' two biggest challenges have come in the last week. Last Saturday against Minster, Mescher's ninth-inning drive down the left-field line bounced past a diving fielder to give the Redskins a 4-3 win on his walk-off, inside-the-park homer.
On Friday, Nathan Raterman's two-run single in the bottom of the seventh gave Fort Loramie a 5-4 walk-off victory over New Bremen.
"We kind of feel the pressure sometimes," Hilgefort said. "(Friday night) we trailed but we kind of play scrappy and fight back."
Added Billing: "I guess we're the team to beat right now. I definitely think we can be just as good, if not better (than last year). If we all play together we should be just fine. … We think about (going undefeated) a little bit. We don't like to talk about it and jinx it. We're just going to keep going. We know what we have to do every game."
And Saturday they did it again. Twice.