A gesture by the Wolverine's center fielder after 1st inning home run riles up the Buckeyes.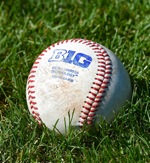 Columbus – Michigan center fielder Jesse Owen Franklin had a major college-type brain cramp when he approached home plate after hitting a long home run to right-center with one out in the first inning Friday night.
That's the only way to describe what the sophomore did against his team's biggest, most despised rival, and on that team's turf, for that matter.
Franklin took off his batting helmet, held it high above his head and completed his trot with an emphatic stomp on the plate with one foot.
At the time, he probably thought it was pretty clever and cute.
But for Ohio State players desperate to get within hailing distance of the leaders in the Big Ten, it was as though Franklin squeezed their noses and honked.
Then it was game on – times 10.
"That fired us up a little bit coming in,'' second baseman Kobie Foppe said. "That was something that was brought up that first half inning. You do that in the first inning and that's going to fire guys up. That's pretty ballsy on his part.''
Captain Dominic Canzone said Michigan paid for it.
"We just retaliated and put them into the dirt,'' he said. "You don't do that on our turf. We just came out and put it to them after that.''
There was more helmet raising and foot stomping, but the next time it came from Brent Todys running the bases on his three-run homer in the fifth as the Buckeyes swamped the Wolverines 10-5 before 1,815 at Bill Davis Stadium.
Todys looked directly into the Michigan dugout after his stomp.
And, really, who needed the fireworks show when it was over?
Canzone went 4-for-5, including a home run and second baseman Kobie Foppe, first baseman Conner Pohl and shortstop Zach Dezenzo each had two hits. Foppe and Pohl each drove in two runs.
Let's not forget center fielder Ridge Winand crashing into the wall snagging a towering drive by Jimmy Kerr with the bases loaded for the final out in the sixth.
With rain expected Sunday, the teams will play a double header beginning at 2:05 p.m. Saturday.
Buckeyes coach Greg Beals wanted to talk about the present.
"That's the ball club that I've been fighting for, and have known that it's in there,'' he said. "I think with the rivalry and the intensity the guys were just flat out into the game and into competing and not necessarily into themselves and trying to do too much. They did what they could do to make a difference.''
Franklin's showmanship probably threw dry kindling on the team's bonfire.
"Let me just say that everybody who wears this uniform noticed it,'' Beals said. "In our locker room and it's called karma. We believe in karma. Take care of the game and do what you are supposed to do and play with respect. That was something different.''
Beals doesn't need any handbook on how to play against Michigan (23-10, 4-2). He hiked his personal record to 13-4 in the series and to 7-0 at home.
He did get a little help from former Buckeye greats Jonathan Sweet (1994) and Michael Estep (1996) about playing the Wolverines.
What did they have to say?
"A lot of not too kind things about Michigan,'' Canzone said. "They got our minds set right and we played the best game of the year. We need to continue to build on that because that's Buckeye baseball.''
Canzone said the alumni might have brought something out in the players emotionally that they haven't always displayed.
"I just feel maybe we haven't had quite that attitude this year and we're starting to get it a little bit,'' he said. "Those guys brought some great energy.''
The ballgame might have begun to turn in Ohio State's favor immediately after Franklin's home run when starter Garrett Burhenn plunked Jordan Brewer with a pitch.
For the record, Burhenn said the pitch slipped. No one believed him.
Ohio State answered the homer in its half of the first when Foppe doubled to left and scored on a single to left by Pohl.
Burhenn, a true freshman, admitted he was nervous going in. But there were no yips. He gave up six hits, three runs and two walks and struck out seven in 6 2/3 innings.
"Garrett Burhenn took the ball in his first rivalry game and was up for the challenge, wasn't he?'' Beals said. A great outing, 6 2/3. It was a quality start and set the tempo for us.''
Burhenn executed his plan with a changeup, slider and cut fastball. He also mixed in a straight fastball.
"It was the first pitch against a good hitting team and they're going to be ready for it,'' he said of the home run. "I was really nervous going into the game, but you can't be scared and I wasn't. He hit a mistake. I sort of settled in and hit my spots. After that, I said, 'Okay, it can't be much worse than that.' He just smoked that ball.''
Experiencing his first Ohio State-Michigan game was a lot more than he expected.
"I knew the rivalry was real, but I didn't know it was that intense,'' Burhenn said. "That was really fun.''
The Buckeyes took a 2-1 lead in the third on a sacrifice fly by Foppe, and run-scoring singles by Dezenzo, Nick Erwin and Foppe in the fourth and Todys' three-run bomb in the fifth put Michigan into a deep hole.
Wolverines starter Tommy Henry came in with a 1.67 earned run average and left with none out in the fifth with that figure having risen to 2.64.
"We had a game plan to be on the fastball,'' Beals said. "If we could beat him with his fastball, make him have to use the slider and if we can make the slider up in the zone and not chase it down that we could give him fits. We executed a game plan offensively. We stayed on balls and hit balls in different directions on the field.''
Before Beals left for his office, he offered a comment.
"I can't leave this without talking about Dom Canzone,'' he said. "Your big-time players have to play in big-time games, and Dom Canzone was big-time tonight.''
Henry was 6-2 and had 65 strikeouts and only 34 hits allowed in 54 innings.
"Getting that first guy – we heard a lot about this guy pitching today – getting that first win is good for our confidence,'' Foppe said. "Especially when you are playing Michigan, everyone is amped up and the intensity is more than a regular season game sometimes. It's more a concern about helping your team win – to do the little things – whether it's hitting to the right side moving a guy over.''