A week after the death of teammate Jackson Hogenkamp, the Minster Wildcats struggled in every phase Thursday to represent baseball and their legacy in a lopsided loss to Coldwater.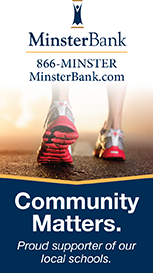 Minster – There are no words, actually, to describe it…to even justify it, outside of the fact of raw human emotion.
And emotion was at hand Thursday afternoon for Coldwater vs. Minster, one of the MAC's classic baseball matchups. Except Thursday, it turned out to be anything but a classic.  Just six days after the death of teammate Jackson Hogenkamp from osteosarcoma, it was a far different, and removed Minster lineup that took the field and ultimately fell in run-rule fashion, 14-2.
With due respect to Coldwater (8-3, 3-o in MAC), it was an aberration, not the game you typically expect between two of the MAC's best in baseball.  Aberration?  Minster committed 9 errors, officially, in a five-inning affair, and could have easily been charged with three, or four, more.
"We've struggled with Jackson's passing for the past week,"  said Minster coach Mike Wiss, prior to the game.  "And all I asked of the players today was to give the game of baseball what it deserves, the respect it's due.  This is tough, but you still do your best to play the game the right way."
With 16, 17, and 18-year-olds, that's easier said than done.  Minster committed three errors in the first inning alone as Coldwater scored a pair of unearned runs to take a 2-0 lead off Wildcat starter Jack Heitbrink.  With the memory of their teammate so fresh in their minds…it was easily obvious that their minds were hardly on baseball.  First baseman Augie Boehnlein completely overlooked covering the bag on a ground on a ground ball to third base, one of those three errors, as the throw went past him and down the right field line.  It would get worse.
Coldwater scored 6 more runs in the second, aided by two more errors, as Coldwater continued to put the ball in play and the miscues mounted from Minster.  To their credit, the Wildcats would answer with single runs in the first and third innings, but Coldwater would negate that answer with 4 more in the fourth and 2 in the fifth, necessitating the run-rule outcome.
"This was not what you expect when you play Minster,"  said Coldwater coach Brian Harlamert.  "We've had games like this ourselves, and we tried to play aggressive baseball.  We've faced similar lefthanders for the past four games, we knew what we'd see from him (Heitbrink) because he's pitched against us before.  Our senior leadership stepped up tonight."
To the fact of Minster's 9 errors, and an obvious distraction from the manner in which you expect a recent three-time state champion to play, Harlamert was understanding.
"It's baseball, and we had several errors in our first three games (all losses),"  he added.  "You tend to find your team after things like this.  Mike will find his team and they'll will come back.  And they'll probably be a good friend for us and beat some MAC foes that'll help us down the line."
Lost in the emotion of the moment was another solid starting performance by Coldwater senior Cole Frilling, who scattered 7 hits, struck out 4, and didn't walk anyone on his way to his third win of the year.  He had plenty of support.
Shortstop Jacob Wenning went three for three, reached base four times, and scored 4 runs.
First baseman Noah Miller went three for four, reached base four times, and scored 3 runs.
As a team Coldwater scored their 14 runs on 10 hits and played error-free baseball, officially.
And also lost in the outcome was the performance of Minster's Jacob Niemeyer, who relieved Heitbrink in the second and pitched the remaining five innings, giving up 6 runs (three earned) on 6 hits, but was also the victim of 5 of his team's 9 errors.
It was, in fact, somsething out of character to those familiar with Minster baseball, and a point that Mike Wiss would address immediately after the final out.  "C'mon Orange," he said as he headed for short left field.  "Let's go for a walk."
They spent a good fifteen minutes together, addressing the issues of their performance, their emotional situation, and the manner in which they would move forward.
"First, I can give you one reason why we didn't play well, and most everyone knows what that is,"  said Wiss, words coming hard.  "I just don't like it when Minster's not Minster.  You have to be good on a given day to beat Coldwater.  But if you make the easy plays and catch the ball when you're supposed to catch the ball…it's like making your free throws and making your layups in basketball.  It is what is, and we're just better than what we showed today, and since the second half the Delphos game last week.
"I'm disappointed that I can't help the kids more, and that hurts.  I feel like I'm the one that needs the psychologist.  I know that it's tough for kids to do, but you have to move beyond this and you have to give baseball what baseball deserves.  And baseball doesn't deserve this kind of effort, regardless of how you feel on a given day.  When you love something you give it a hundred percent, and I can't tell you that there were a lot of people that gave it that today for the two hours that it takes to play, and that's all I can ask.  I just told them that whatever it takes it can't get on the bus with us tomorrow when we go to Anna.  It's something we have to do."
Jackson Hogankamp was the topic of a number of those who witnessed Thursday's game.  "He fought to the end, and had incredible faith,"  said one Minster parent.  "He never gave up and made the most of the time he had."
And hard as it is…the calendar, the schedule, and the process of living dictates that you must move on, regardless of emotional pain.  You give life what life deserves, and therefore you give that which you love equal benefit.  In the case of this one day, and tomorrow, the chance to play baseball again offers healing.
You make the most…of the time you have.