Piqua starter Owen Toopes took Tippecanoe's best shots — two of them ricocheting off his foot — and helped the Indians knocked off the Red Devils 5-1 on Tuesday.
Tipp City – The Tippecanoe Red Devils did their darnedest to knock Piqua Indians starter Owen Toopes out of Tuesday's Greater Western Ohio Conference baseball game.
They ripped two shots right back at Toopes, with both hard grounders ricocheting off Toope's foot. Toopes was also hit in the back by a pitch from Tipp starter Ian Yunker, who struggled with his control much of the game.
Toopes persevered, just like his Indians teammates did following a 7-1 setback to the Red Devils on Monday night at Fifth Third Field. Piqua had just enough offense to back Toopes and his four-hit, complete game for a 5-1 victory at Clawson Field.
After the game Toopes was shaking off the stingers to his foot. Tipp coach Bruce Cahill was shaking his head.
"Just flat. And it's hard to understand why," Cahill said. "We don't hit the ball on a windy day. And again we had no extra base hits.
"Just kind of a disheartening loss. Last night I thought we hit better than we have all year. Then today we hit nothing. As coaches we have to figure out what we're going to do to change this."
Tipp entered the game with four extra-base hits (three doubles and one triple) in nine games. That ranks No. 17 in the GWOC behind only Sidney, Wayne and Trotwood-Madison. And for comparison sake, GWOC American North leader Butler has 26 extra-base hits (23 doubles, one triple, two homers).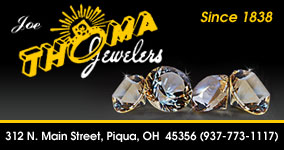 Piqua nearly had as many extra-base hits on Tuesday as Tipp has had all season with doubles from Zach Booker and Iverson Ventura. The Indians had seven hits and benefited from six walks and a hit batter. Another Indians' batter reached base on a dropped third strike.
The loss wasn't what Cahill expected coming off Kenten Egbert's 14-strikeout performance Monday night. As for Piqua coach Brad Lavey, he wasn't quite sure what to expect.
"If you're throwing a guy at the Dragons' stadium who is throwing 91 mph – something we haven't seen – you gotta make adjustments and keep battling," Lavey said. " Today we stayed back and swung at things we were supposed to swing at."
Added Cahill: "Ian wasn't sharp by any means. He just didn't have any pop. It's his fourth start and I don't know if he just had a dead arm today. He just didn't have his normal pop.
"This is kind of who we are (offensively). A lot of people think because you have Egbert and Yunker you're going to go out and win games. You still have to hit the ball and you still have to play defense. That's where we are."
Yunker allowed two hits, walked four, hit a batter and struck out four in three innings. Troy Taylor and Matt Salmon pitched in relief.
Tipp fell to 6-4 overall and 4-1 in the GWOC American North division. Piqua improved to 3-5 and 2-3 with the confidence-boosting win for Lavey's short-handed team. The Indians had 11 players on the varsity roster Tuesday. With just two substitutes on the bench that put a little more concern into Toopes' taking two hard grounders off his foot.
"He's a tough young man," Lavey said. "If there's anybody that will compete, Owen Toopes will compete. Unless he had a broken bone I don't think I could've pulled him off the mound."
Tipp scored in the bottom of the second on an Egbert single, Yunker sacrifice bunt and Salmon's single. But the lead was short lived.
Piqua scored twice in the third inning with a two-out rally, starting with Blane Ouhl's walk. Lead-off hitter Cameron Deal singled and Zack Lavey walked to load the bases. Mick Karn walked for the 1-0 lead and Toopes was hit by a pitch for the second run.
The Indians added two more in the fourth. Ethan Pohlschneider struck out but reached on a dropped third strike. Booker doubled for the 3-0 lead to chase Yunker. Ouhl's one-out sacrifice put Piqua up 4-0.
They tacked on another in the fifth on Karns' one-out single, Toopes fielder's choice to advance Karns and Ventura's double to the wall.
"He put a ball to the fence when we really needed it. That certainly helped," Lavey said.
"It's a big win for us. Tipp City is an excellent program. To come into their field and compete the way we did, it's a big confidence builder. We've been playing some good baseball but haven't always ended up on the right side of the scoreboard."
Piqua ended the game with a double play. Pinch-hitter Nolan Mader reached on a walk. He was then doubled off second on a hard line drive that Pohlschneider gloved, then stepped on second with his momentum carrying him that direction to beat Mader back.
"We played well in all three phases – pitching, defense and offense," coach Lavey said. "We stayed in and battled. Tipp City is a good ball club and they've got good pitching. We did what we were supposed to at the plate. We hit the pitches we were supposed to. I'll give my guys all the credit in the world at the plate tonight."