Ethan West gave them a strong starting performance on the mound…and Braedon Snyder drove in the winning run in the bottom of the seventh with an RBI double to give Troy a Monday win over Sidney.
Sidney – They had it.  They lost it. They got it back in the top of the seventh inning, and then Matt Bigley closed the deal in the bottom of the seventh to earn a well-deserved save.
That's how the 6-1 Troy Trojans beat the 1-6 Sidney Yellowjackets Monday afternoon, 4-3, in 70-degree weather…and even a little sun.
It was nearly idyllic…even the baseball, as starter Ethan West pitched with a 2-0 lead through the first five innings, giving up no runs on just one hit while striking out nine and walking four.
"He would have liked to have had better command,"  said Trojan coach Ty Welker.  "He gave up more walks than he liked, but be battled.  It was a grind, we made some plays behind him, but the bad thing was he did a good job and didn't get a decision for it."
It looked like he would from the start.  Troy used some sloppy play by Sidney in the top of the first to plate a couple of runs off an RBI single by Cole Brogan – 2-0 – and they added one in the fifth on a hit by Austin Kendall and an RBI single by Braedon Snider.  Still, Sidney was within striking distance because after the sloppy start 'Jackets' starter Trey Werntz settled down and pitched well enough to give his team a chance.
But by the sixth West had reached his limit and senior Luke Severt came out of the 'pen, ostensibly to retire the final six outs to preserve that 3-0 lead, and ultimately the win.  Sidney had other ideas and quickly used a walk, a fielder's choice, a base hit and a hit batsman to break up the shutout (and chase Severt), and threaten another reliever, Nate Henderson with the tying runs on second and third base.
Sidney third baseman Brandon Rose had not had a good day up until then.  He'd walked twice and struck out off West, but came to the plate against Henderson with a chance to atone.
And atone he did with a line single to center field that scored Caleb Harris and Darius Boeke with the tying runs.  Lead lost, momentum lost, and Boeke on the mound for Sidney with a nasty slider and some motivation to make quick work of the Trojans in the top of the seventh and get his team back to the plate in the bottom of the inning.  The 'Jackets, with just one win, could smell a win.
Boeke quickly retired the first two outs, but centerfielder Jacob Adams beat out an infield single, then stole second base, and was standing there when first baseman Braedon Snider came to the plate.  Boeke had showed a nasty right-handed slider, but he threw a fastball to Snider and he lined it to the gap in left center for a double, his second hit, scoring Adams from second.

"That felt good,"  said Snider.  "All I wanted to do was get up to bat and do something to help us win.  I just tried to do my job.  We had a guy out there and all I wanted to do was drive in that run.  That's how the game is supposed to be played.  Get an RBI when it's supposed to be done."
But the drama wasn't over.  Matt Bigley came on for the bottom of the seventh and put Werntz on first base with a one-out walk.  EJ Davis came on to pinch-run for Werntz and quickly stole second, then third after a fly ball to center for the second out.  But first baseman Carson Taylor hit a soft liner to third for the final out and Troy had its win…and Bigley his save.
"This was a reality check for us,"  added Ty Welker.  "A win is a win and we're pretty happy with that.  Maybe not the way we got it, but give credit to those guys.  They never gave up and certainly didn't play like a team down by three runs.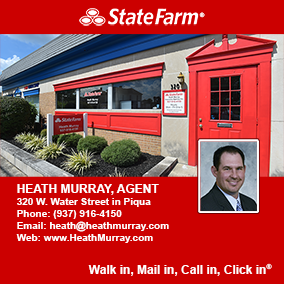 "We like to carry ourselves like a team that expects to do well, and sometimes we rest on that. The problem is we don't always do the things we need to do to be good on a given day – we think it's going to happen magically.  So today was a reality check for us because we expect to win games with good pitching, timely hitting, and guy to come in out the bullpen and shut things down.  It didn't happen like that today.  We didn't expect to be in that situation."
Troy won it, though, on 4 runs, 5 hits, and committed no errors. Nate Henderson, the pitcher of record when the winning run was scored, got the win.  Bigley, of course, got the save.
Sidney lost it with 3 runs, on 5 hits, and committed two errors.
The two teams play again on Tuesday, at 5 pm, at Market Street Field.