Sitting out because of a pulled hamstring, Buckeye infielder Matt Carpenter is anxious to return to duty…and an opportunity that took its time to knock.
Columbus – They say that opportunity knocks when and where you least expect it. And that's true where Buckeye second baseman Matt Carpenter is concerned.
Because…not in his wildest dreams did he think in February that come mid-March he would be the club's starting second baseman after the year incumbent Kobie Foppe had in 2018. Foppe hit .335, played steady defensively, and in Carpenter's words, "He just had a helluva' year."
But the JUCO transfer from Phoenix, Arizona (Foppe) did not have a helluva' start to the 2019 season, languishing around the .125 mark after the first three weeks of the season. So, needing a change of energy, and to give Foppe some time to catch his breath, Greg Beals inserted Carpenter at second base during the Greenville, South Carolina weekend, when the Buckeyes played Michigan State, Western Carolina, Furman, and Wofford.
He didn't bring them wins (they lost four in a row on that trip), but he did show that he was ready to play. Matt Carpenter was there when opportunity knocked. And since then, and up through the second game of last weekend's doubleheader with Rutgers, he's made the most of that opportunity. The redshirt junior from Aurora, Ohio has hit .308 (24 for 78), smacked three doubles, and has driven in six runs.
Then, during the second game of that twin bill in New Jersey, he popped a hamstring – a pull, actually – and has spent the ensuing days this week rehabbing and anxiously waiting to mend enough to return to the lineup.
But there's more to it than that, actually. Matt Carpenter, in college baseball terms, has been around a long time – three years, in fact, doing the work, displaying a good attitude, respectful of the process and his teammates.  He's been more than patient for his chance to play.  And as impressively as his short-term stats would suggest, he's made the most of it.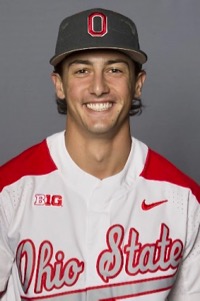 "I never thought of it as being pushed back or passed over," he said following Saturday's game with Northwestern. "My focus has always been on working hard, being patient, contributing in other ways when I'm not on the field.  I just want to be a good teammate.
"One way or another you're part of the team.  When you're in the lineup you've got to do whatever you can do to help the team win.  And when you're not in the lineup…you've still got to do what you can to help the team win. There's ways…pushing other guys, talking to other guys, helping them out. You can be on the bench and study the game, picking up tendencies from the other team. Any little thing you can do can have an impact on the game. You can be a good teammate every single day, whether you're in the lineup or not."
Staying ready. In the course of a ten minute conversation Saturday Matt Carpenter used the term a half dozen times. Because the fact of the matter is Matt Carpenter has always impressed during fall baseball that he's a pretty good player. His time was just not at hand. And yet, he stayed ready.
"Kobie did a tremendous job last year, pure and simple," says Carpenter. "The two of us have always had a great relationship, we've pushed each other, and I think we're going to be happy for each other regardless of who's playing.
"I've always taken the approach of working harder, being ready, and trying to find ways to help the team win. There's was never one of those 'what do I have to do moments' because I'm not the most talented guy on this team.  For me it was a matter of being patient and working harder.  My parents have always told me that all I can control is my effort and my attitude. And if they're both there everyday then things will work out. So I've just tried to stay positive."
The medical staff has told him that it's a matter of days, and not weeks, and the week since Rutgers has been torturous – waiting, rehabbing, feeling for a twinge or a sign of progress. When you're hitting .308 and playing .977% defense (two errors in 46 attempts) time is not your ally.
But impressively enough, Carpenter is still doing the work, happy to be involved any way possible…as long as the team is winning.
"This weekend's been tough because I really believe we should be beating these guys (Northwestern)," he says. "But I think we've got the guys…we've got the talent here to flip things and have success in the Big Ten. It's plain to see that it's anybody's conference this year. We just have to find ways to win. We know how, we just haven't strung it together yet.
"But that's how it goes with sports.  So what can you do now? You work on your game as much as you can. I need to be a better bunter, so I've been working on that. It's been similar to sitting on the bench the last three years. You've got to find ways to help the team."
Count on it.  He'll be ready when his named is called…again!