Not the Coldwater of the past, still the Cavaliers have fought their way back from an 0-3 start and evened their record with early 'small ball' Thursday…against rival St. Henry.
St. Henry, OH – This is not your Coldwater baseball of the past.  No thunder and lightning, no Corey Klenke, no Malave Bettinger, no Brody Hoying.
This 2019 edition puts you more in the mind of Smith-Barney and the old John Houseman commercials.  What they get these days doesn't come easy.  They 'EARN' it.
They stumbled out of the gate ten days ago to an 0-3 start, albeit against three very good teams…including Fort Loramie, the presumptive #1 team in the state in Division IV once polls are taken.  But since then they've won a couple, including a Tuesday decision over another Shelby County League team, Russia, and entered MAC league play Thursday night looking to even their record.  And to make it more challenging…they faced St. Henry, never an easy date on your schedule if you're Coldwater.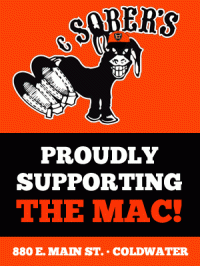 In case you don't see it tomorrow on Sports Center…they won it, 3-1, on a hearty five-hitter by starting pitcher, and ace, Cole Frilling, about whom coach Brian Harlamert swears…"All he needs to pitch in Division I baseball (in college) is for someone to give him a chance.  He knows how to throw strikes, and he competes."
Frilling doesn't throw 90, but HE DOES throw strikes with the fastball, the curve, and the change, and until St. Henry managed to squeeze home their only run in the fifth inning on a pair of hits by Daylen Froning and Andrew Lange, a sac bunt by Kent Buschur, and a ground out to short by Jay Knapke…the Cavaliers' senior pretty much had his way.
Granted, he could afford to groove a few because the wind was howling in from left field at Wally Post Field to the tune of about 20 miles per hour.  But he really didn't need to.  15 of his 21 outs recorded were via the ground ball.  He struck out another 5 (he walked one) and allowed only on fly ball out…Ethan Thieman's fly ball to right in the sixth inning.

He smiled at the mention of his effectiveness afterwards, but just as quickly paid tribute to another factor that made his job all the more easy.
"It's nice when you get an early cushion – runs,"  said Frilling.  "It helps you relax and settle in.  Those three runs in the first three innings."
And indeed the Cavaliers did score single runs in each of the first, second and third innings…by playing "small ball".
With two out in the first shortstop Jacob Wenning singled to center of St. Henry starter Rylee Deitsch, stole second, and scored on a Noah Miller single to center.
In the second Frilling, himself, led off with a single of Deitsch, advanced to second on a sacrifice bunt, and scored on a single by Austin Riethman to center…diving for home plate just before the throw and tag by St. Henry catcher Kent Buschur.
In the third Wenning again singled to lead off and scored on a double to right over the head of St. Henry's Matt Siefring.
That was it.  3 runs on 5 hits and no errors for Coldwater (3-3), while St. Henry (2-2) countered with 1 run on 5 hits and one error.
"The three runs early were huge because we knew they were going to get a good game out of Deitsch,"  said Brian Harlamert.  "He's a senior competitor, he's done this before, and he knows us.  This was a big challenge for us after the rough start we've had.  But now I think we've found some pitching, we're in a little better shape overall, so to come out and get three runs early today was a key to winning."
It was cold, and it was windy – a tough day to play, and in particular, a tough day to pitch.  It's hard to have a feel for the baseball when it's 42 degrees and the wind chill feels ten degrees less.  But after surrendering St. Henry's only run in the sixth, Frilling quickly found himself in a hot spot in the seventh after giving up a walk to start the inning and a one-out single to Buschur to put the tying runs on first and third.  Harlamert came to the mound…but he had no intentions of taking Frilling, his horse, out of the game.
"None at all," smiled 'Harley'.  "He pitched against them last year, he's capable of going seven innings and he was sitting on 84 pitches.  He was warm, he was in rhythm, and a three-year guy in that position.  He and Austin (Riethman) as a battery came up big for us."
With one out he induced centefielder Austin Knapke to ground to shortstop Jacob Wenning, who quickly got the ball to second baseman Jake Hemmelgarn for a force at second…and Hemmelgarn's throw to first to retire Knapke is subject to debate as to what, or who, got to the base first.  Nonetheless, the base umpire called Knapke out to end the game…but with an asterisk.  He might have been safe.
"Tough to play on a day like this,"  added Harlamert.  "But again the luck of our getting those early runs.  The wind was blowing and he [Will Broering] really tagged one in the sixth inning that the wind blew down in left. But we can run and we took advantage of some stolen bases in the first two innings.  We were aggressive and those two stolen bases got us a couple of runs.  I'm sure it put the idea in their heads that they're all gonna' run."
As important was the fact of evening their record.  Coldwater's not accustomed to being on the frowning side of the scoreboard, and Thursday's win puts them in position now to take a breath, rethink things, and go forward in a positive frame of mind.
"I think so,"  said Harlamert.  "We know every day's going to be a challenge.  We know we're going to get everyone's best.  But when you've got a good team going in, and you know you can't replay the first three games, you focus on winning at the end, and that's where we're going."
As we said at the open, it's not your Coldwater team of the past.  But if they win no one but Lou Brunswick (legendary Coldwater coach) will probably notice the difference.
Or care!