Senior Jared Middendorf was as good as you could possibly want, dominating in a cruise-control 4-0 win Tuesday over the Marion Local Flyers.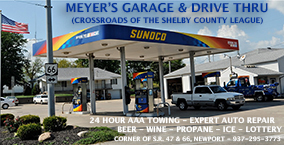 Fort Loramie – At the risk of hyperbole – of even minimal exaggeration – one could sum up Fort Loramie's 4-0 win Tuesday night over Marion Local in two words…Jared Middendorf.
Middendorf, a senior lefthander who's committed to play college baseball next spring for Huntington College, in Indiana, threw his latest gem against MAC challenger Marion Local, a one-hitter over six innings while striking out seven and walking two.  Only one Marion runner so much as reached second base off Middendorf – Matt Link, in the second inning – and he was thrown out at third trying to advance on a wild pitch that catcher Darren pounced on and threw a seed to third baseman CJ Billing for the third out of the inning.
Beyond that, it was routine – like watching birds build a nest – as Middendorf mixed a low-80s fastball with a 12-to-6 curveball, threw strikes with both pitches, and had the Flyer hitters totally flummuxed to the tune of eighteen routine outs in an hour and twelve minutes.
In the meantime he got all the offensive support he needed in the bottom of the first when the 4-0 Redskins scored a pair of runs  off Marion starter Aaron Brunswick, who had the misfortune of taking an inning to acclimate himself to game conditions.  While he did that Carter Mescher and Devin Wehrman sandwiched a walk to CJ Billing with a pair of base hits to take a 2-0 lead and effectively turn the lights out on Marion.  For the next three innings Brunswick nearly matched the efficiency of Middendorf, but unfortunately he started one inning late.

Loramie would add a pair of single runs in each of the fifth and sixth innings for insurance, but with Middendorf on the mound and closer Griffin Meyer waiting in the wings to pitch the top of the seventh, the two additional runs amounted to selling insurance to a dead man. What's the point?
"He was really good today,"  said Loramie coach of Middendorf, who already has a no-hitter to his credit this year, against Russia. "When Jared can throw ahead in the count like he did today, and when he can throw both pitches for strikes like he did today, he's really tough to hit.  He's worked hard in the off-season, and when he does what you saw him do today it really expands the possibilities for him on the mound.  He's throwing more strikes early in the count and it leads to hitters trying to guess what's coming next.  They just can't sit on the fastball if he gets behind.  What you saw today was him pounding the zone, and when he can do that he's pretty lethal."
There aren't a lot of college baseball programs on to Jared Middendorf because he doesn't throw 90-plus miles per hour.  But what he does is effective at any level of baseball because his curveball, a pitch he describes as the "knuckle" curve, is so devastating it makes his fastball (low to mid 80s) look like it's 90 miles per hour.
"I did work really hard in the off-season," said Middendorf, who would much rather pitch than talk about it.  "I took good care of my arm since last year arm care is important to me…and now I'm throwing a lot more strikes.  Last year I walked a ton of people and my first-pitch strike percentage was barely 50%.  During the off-season I really focused on getting the first pitch over, fastball or curveball.  That was my main goal and I've learned to throw the curve (the knuckle curve) where I can get a lot more rotation on the ball, and when I get that pitch over it's really good."
When we first saw Middendorf as a sophomore three years ago he barely threw the ball 65 miles per hour.  Now that he's added 20 mph, and with that breaking pitch, he's no match for a lot of high school hitters…when he throws strikes.  And Tuesday was one of those days as the Redskins collected their fourth win of the year, and their third quality win in a row (Coldwater, Wheelersburg, and Marion) on 4 runs, 7 hits, and they played error-free baseball.
Marion had no runs, just one hit, and committed two errors.
"We're really good defensively,"  Jeff Sanders was quick to note afterward, and the importance of that in support of pitchers like Middendorf and fellow lefthander Nate Raterman.  "The thing is we have kids who have played three and four years now at the same position – CJ Billing (third base), Eli Rosengarten (shortstop), and Shane Hilgefort (second base).  It's hard to beat that kind of experience."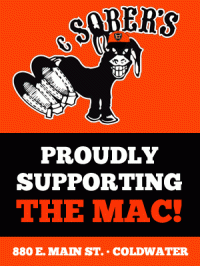 And, it's hard to beat the kind of pitching that Loramie has shown thus far, and in addition the effort for the second time in four days by closer Griffin Meyer, who quickly dispatched the final three outs Tuesday by throwing hard, and throwing strikes.
"I feel like I've got an extra gear now," added Middendorf before he left to do his post-game running in the outfield.  He was smiling ear-to-ear.  In fact they were all smiling ear-to-ear for having played just four games.  And for good reason.
For now the Division IV title is firmly anchored in west-central Ohio, and specifically in the Shelby County League.  Anything can happen, of course, and there's a lot of baseball to play.
But if Jared Middendorf stays healthy and throws strikes as he did against an athletic group like Marion Local…Loramie has a big leg up.  In his coach's words, he's that lethal!