You want to know how to shorten baseball games, make them more interesting to watch, and more fun for kids to play?  I'll tell you how.  But first, a word about the Final Four…and justice served.
Hey there…and did you enjoy your Sunday? Huddled inside by the fireplace, or wrapped in your blanket on the couch watching the Reds lose to the Pirates…and play like they were frozen in ice?
Did they remind you any of the the Reds of 2016, '17, and '18.  Too early to tell?  Or did you see Robert Stephenson fire that pickoff attempt to second base into right center field – when there was no chance of picking off Starling Marte, anyway.  And yes, I'll give it to Sonny Gray that anyone can have a case of the nerves, or just a bad day.  Even major league pitchers.
What I won't give major league baseball, though, are those awful alternate jerseys that teams wear on Sunday (at least in the Reds' case).  Horrible!  The Cubs have them, and the Pirates wear them, too – nearly every team has an alternate jersey because it's one more thing to sell fans who can't say 'no'.  It's another $159 dollars in the coffers of major league baseball with its $400 million dollar contracts.  Yes…HORRIBLE!
What's not horrible is Auburn beating Kentucky in the Midwest regional to get to the Final Four.  This is nothing against the state of Kentucky, or even the University of Kentucky, but when it comes to Kentucky basketball I don't profess to root for John Calipari.
For one, he's has left two previous schools on NCAA probation because of his recruiting practices.
And second, his 'one-and-done' policy of bringing top recruits to Kentucky as a stopover on their way to the NBA simply sends the wrong message about the value of a college education…which still means a lot to a lot of kids who won't make $100 million dollars playing professional basketball.  Frankly, it sends the wrong message about the University of Kentucky and its reputation as an academic institution;  because when you mention Kentucky all you think about IS basketball…and 'one-and-done'.  It's kinda' like what some think when you mention Ohio State, and football!
Call me old-school, but's that OK.  But you'd better be able to live with the percentages of inner-city kids who go to schools like Kentucky as a conduit to the riches of the NBA…because only about 2% of them ever get there and cash in.  Some end up in Europe and make peanuts, comparatively.  And many others end up wherever they end up because…they don't have adequate education to fall back on.  I call people like John Calipari a wolf dressed up in sheep's clothes – sending the wrong message about what college basketball can do for you, Johnny Dunkmeister.
But what I really want to share with you is how to save the late, great game of baseball, that game that Rob Manfred and his calculating minions have no idea about outside the value of the next TV contract and the next collective bargaining agreement with the player's union.
People say the game is slow, it's boring, it takes too long, and that it's out of step with football and basketball, sports that offer more action and interest.  They blame it on changing pitchers.  They blame it on the amount of time between pitches.  And they blame it on the number of times the catcher walks to the mound.  In short, they blame it on everything but the most obvious upgrade of all.  And here it is.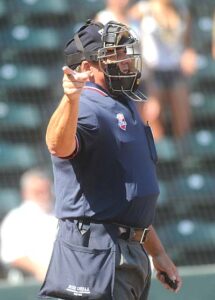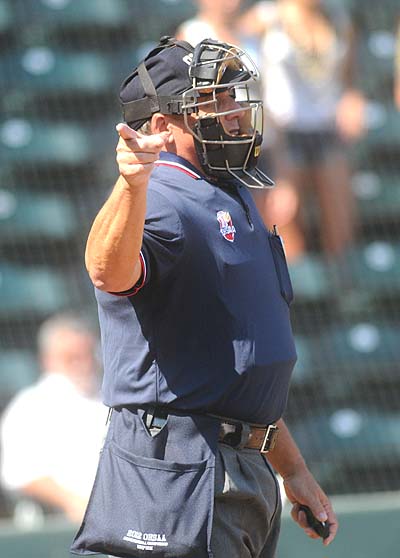 CALL MORE STRIKES, for God's sake.  There, I put it in red for emphasis.  Expand the strike zone, up, inside, and outside, and you'll speed up the game and make it more interesting.  As it is, I watched the first three innings of the Reds game Sunday and watched Eric Cooper call a pitch one inch off the plate a ball – over and over.  And he did it to save his job.  Umpires get evaluated in the major leagues by cameras that record every pitch for post-game evaluation of accuracy.  In the meantime Sonny Gray walks four and doesn't last four innings.
But worse, college and high school umpires have this same hard-headed obstinance about calling strikes with 15, 16, and 17-year-olds, determined to make them thread a needle that's 17 inches wide and at the most, two and a half feet high – the strike zone!  Trust me, I've had this conversation with major league umpires, past and present, and they look at me like I'm condemning Christianity when I say…CALL MORE STRIKES.
Saturday afternoon I had the pleasure of watching Anthony Sheets, from Jackson, Ohio, work home plate during the Fort Loramie-Wheelersburg game in Chillicothe…and he did a wonderful job because he called the inside strike, the outside strike, and the strike that was right across the letters on the front of the shirt.  In short, he forced hitters to swing, put the ball in play, and make the game more interesting to watch and quicker to play.
"I call strikes,"  said Sheets afterwards.  And Sheets, by the way, worked four years of minor league baseball (as high as Double A) before coming back to Ohio to teach school.  He also works at the collegiate level, and during the summer he umpires in the collegiate Prospect League.
"You call strikes and you make it a better game for everyone,"  he insisted. And he's right.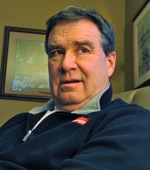 But if you're one of those umpire types that say that you can't be 'consistent' by expanding the strike zone on your own…then it's time to do it officially by expanding the width of home plate to 20 inches.  That's right, rip up home plate and put a new one down that's bigger and easier for adolescent pitchers, and pitchers at every level to locate…about 20 inches wide!  It'll mean more strikes, more action, quicker games, and better games.
It'll also mean fewer war stories by umpires I've known that sit around and spit Copenhagen in a cup, talking about how accurate their strike zone is.  But that's not going to save baseball.  Calling more strikes…will.