The defending champs played perfect baseball – good pitching, defense, timely hitting, and a surprising closing performance in beating Div. III Wheelersburg Saturday in the Chillicothe Classic.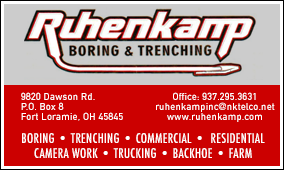 Chillicothe, OH – Fort Loramie coach Jeff Sanders wore a smile as broad as if he'd just won the Power Ball drawing.
His Division IV defending champ Redskins had just knocked off three-time champion, and Division III power Wheelersburg Saturday afternoon in the Chillicothe Classic played at Veteran's Memorial Stadium, home of the Prospect League Chillicothe Paints.
Even the cool temperatures and intermittent rain could not dampen his energy, his enthusiasm, and his delight with the way his team had played – 4 runs, on 5 hits, playing error-free baseball behind stellar pitching by Nate Raterman and Griffin Meyer for a 4-2 win in front of a handful of hearty souls that made the two-hour drive down from Shelby County.
"That team (Wheelersburg) was really, really good,"  said Sanders.  "Their pitcher (senior Jalen Miller) was flat-out dealin', and we had to make adjustments.  A couple of breaks went our way, but we executed when it was critical and we picked up momentum late in the game.
"They bunted with a runner on third and no one out in the second inning, scored that runner, and I got the guys together and challenged them.  I told them 'they don't think we can score more than one run on them, so we have to grind it out, stay the course,' and man…we did."
Wheelersburg scored that run off starter Nathan Raterman, who felt his way through the first three innings before settling down in the fourth and fifth, limiting Wheelersburg to just 2 runs on five hits – the second run coming in the top of the fifth when Raterman balked in what was at that time the go-ahead run – 2-1.
Loramie had scored their lone run to that point in the bottom of the third on a strikeout and passed ball that allowed #9 hitter, catcher Darren Hoying to reach first base.  One hitter later, Carter Mescher rifled a Jalen Miller 82-mile-per-hour fastball to left center field that one-hopped the wall, driving in Hoying from first with a double, the first hit of the game for Loramie.
"That hit kinda' opened their eyes, I think,"  said Mescher.  "We hadn't had a hit to that point and I think he (Miller) was getting comfortable on the mound.  I think that hit showed them that we could catch up to his fastball.  From that point on we were more aggressive and things just worked out.  This was a good team win."
'Burg retook the lead in the fifth on the balk by Raterman, but that lead did not hold for long.  In the bottom of the inning Eli Rosengarten reached base on a one-out hit.  Hoying then put down a sac bunt that Miller fielded and threw wildly to first base, allowing Rosengarten to move to third.  Carter Mescher then delivered his second hit of the day, an infield hit to short that he outran to first, scoring Rosengarten from third, and allowing Hoying to continue to third base.  One hitter later, Hoying scored the go-ahead run (3-2) on wild pitch.
Reliever Griffin Meyer took over the mound for Raterman in the top of the six inning.
"Nate really hasn't thrown that much because he just got in from basketball, so we had him on a limit of about 70 pitches,"  said Sanders.  "But he's a strike thrower and you saw today why we had him relieve last year in the state tournament.
"Griffin had shown us in the gym this winter that he could throw strikes, and throw hard, and we told him…you're going to get a chance to pitch for the varsity, even though we have six other pitchers…because we NEED you to pitch."
He didn't disappoint, retiring Wheelersburg in order in the top of the sixth and quickly bringing his own bats back to the plate to try and add an insurance run in the bottom of the inning.
Of all people, Meyer led off the inning a double off Wheelersburg reliever Connor Mullins.  By now the rain had returned and reached its apex in density, making it difficult to see, to pitch, hit and throw.  But somehow Jared Mittendorf wandered into a Mullins fastball and drove it over the head of the right fielder for a run-scoring double and that badly-needed insurance run – 4-2, Loramie.
More importantly, Meyer went back to the mound for the seventh and coolly retired the first two outs…before the game's final batter, Jarrett Stamper lifted a pop foul outside first base.  Jared Middendorf laid out for it, and caught it just before hitting, and crushing the restraining fence for the final out.
Meyer, who plays football in the fall, was the coolest of all the Redskins in appreciating their win.
"I was a little nervous at first,"  Meyer admitted.  "I just buckled down and tried to throw strikes.  The defense made a couple of plays behind me.  It was a long way down here, but gettin' this win sure made the trip worth it."
Which pretty much summed up the feelings of both teams…for the fact of their appreciation for good competition, and good baseball played.  Loramie won it with 4 runs on five hits.  Wheelersburg lost it with 2 runs on 5 hits.  And neither team committed an error.
"We want to win every game, but when you can play the defending champ in Division IV like we did today…that's good for us,"  said 'Burg coach Derek Moore.  Moore, by the way, holds a unique OHSAA distinction in high school baseball during his days as a pitcher for Wheelersburg.  His career record over four years was 36 wins…and no losses…pitching the Pirates to back-to-back state titles in 2012 and '13.
"We play our district tourney games here in Chillicothe, so to have a tournament-like opponent like Fort Loramie, and a tournament-like atmosphere like today, you can't ask for more than that.  All credit to them.  They executed better than we did, and that's what good teams do.  Hopefully, we can arrange to play them again sometime because it was a good experience for us."
And Jeff Sanders pretty much echoed Moore's sentiments, appreciative for the opportunity to play outside his district, and to see his team step up to the challenge of playing up a division and against a former state champion.
"I told the kids that today we played the Coldwater of southern Ohio.  And this may say something about the quality of baseball in our area,"  Sanders concluded, still wearing that broad smile.
As if there was any doubt, anywhere,  about Loramie, Minster, St. Henry, Coldwater, Fort Recovery, Versailles, Anna, Russia…and the list goes on!