Buckeyes junior second baseman makes up for throwing error in 9th inning with a winning 2-run single in 11th.  Buckeyes open Big Ten play with Friday win over Rutgers.
Piscataway, N J – There was a lot of muttering and crying out loud on a little pit of a baseball diamond on the edge of the Rutgers University campus, and only some of it dealt with pitchers, batters and coaches wondering whether plate umpire Michael Sadowski's strike zone was on wheels.
Pitches just above the ankles might have been an emphatic strike call during one at bat, but an inning later that same pitch was called a ball. Inside and high fastballs that even bad ball hitters spit at were strikes.
Scarlet Knights coach Joe Litterio was given a stern warning and written up by Sadowski for making critical comments, and he spent the rest of the day talking into a towel or burying his head in that towel in the dugout.
Throw in some chill, gray skies, steady rain during the meat of the game and teams that turned their backs on prosperity time and again and you have a hard-to-watch Big Ten opener between Ohio State and Rutgers on Friday at high school-like Bainton Field.
The Buckeyes were within one accurate throw to first base by second baseman Matt Carpenter from wrapping up victory in the ninth, but wound up getting a two-run single by that same Carpenter to bang out a 5-3 victory in 11 innings in the first of a three-game series.
As one veteran baseball man said: It's not how you win, but if you win.
Ohio State (15-11) left 11 men on base, committed two errors and played two innings longer than it had to, but continued to be a team on the move in winning for the seventh time in eight games.
"That's the critical thing, getting the victory in the Big Ten opener,'' coach Greg Beals said.
None of the players was sheepish about how the game was won in walking to the bus for the short ride back to the hotel in New Brunswick.
"This is big,'' said Carpenter, who went 4-for-6. "It's important to get the first win in the Big Ten. We're finding ways to win games, and we kept the string going.''
It appeared that three runs would stand up when Ohio State scored a run in the first inning on a double down the left field line by Carpenter and two in the second on a bunt by freshman third baseman Nick Erwin and an infield single by Dominic Canzone.
That's because freshman right-hander Garrett Burhenn was dealing to the tune of six hits, one earned run and two walks allowed and five strikeouts in seven innings. He threw 103 pitches.
But Rutgers (6-16) scored a gift run in the ninth off reliever Andrew Magno when Tim Dezzi hit what should have been a double-play grounder to shortstop Zach Dezenzo with one out. Carpenter took the relay throw and threw at least 6 feet over the head of first baseman Conner Pohl for an error that made it 3-3.
"That was a fluke play on that double play in the ninth inning – Carp has been really solid defensively – and I think he wanted to rush one and win the ballgame,'' Beals said. "He airmailed the throw. We get that double play there in the ninth and execute that throw and it's a much different day.''
Carpenter was up front about the play.
"Everyone is going to make mistakes, and you have to find a way to file and forget it,'' he said. "The pitching staff did a phenomenal job, and we should have made that play at second to end the game. I think I just didn't pick up my target, and that's a little sign of when things go wrong.
That's when Carpenter showed why he has been a cog for this team for years. He led off the 10th with a bunt single up the first base line, but the rally went kaput when Dillon Dingler hit into an inning-ending double play.
Carpenter got another chance in the 11th, and he ate that up like a post-game pizza.
Kobie Foppe walked on a full count and Ridge Windland on four pitches to open the winning. All hands were safe when first baseman Chris Brito couldn't glove a throw from the pitcher on a bunt by Nick Erwin for an error.
Dominic Canzone hit a grounder to second that was turned into a force at the plate, but Carpenter took an easy swing in putting an outside fastball just out of the reach of diving left fielder Kevin Blum in left-center to plate two runs.
"With two strikes you have to put the ball in play and just get a run on the board,'' Carpenter said. "I was just trying to get one guy in. It was a fastball up. The guys getting on base before had great at bats and made it easy on me. It's much easier to bat that way. I knew that ball had a shot. With the infield in you had to find a way to put the ball in the air.''
Carpenter, Beals said, was an advertisement for the Buckeyes credo of coming back from bad things.
"It was maturity and competitive toughness,'' he said.  "Competitive toughness is one of the core values in our program, and Matt Carpenter certainly showed competitive toughness.''
The bullpen has been a focal point in that it has turned three leads into defeats after the seventh inning. That never happened last season behind the great Seth Kinker.
Magno, a junior left-hander from Dublin Scioto in northwest Columbus, was nasty in the Kinker mold by throwing 44 pitches in three innings to get his first college victory. He gave up a four-pitch walk with one out in the 11th, but got a pop-up to short right field and groundout to short to end the game.
"It's a fun one to get, but I would have taken the save over the win,'' Magno said, holding a game ball. "That's all right because we got it done. You can't try to do too much in that situation just because of one error. You trust your infielders because they've done it for you so many times, remember what you've been doing and continue to execute.''
There was nothing cute or fancy in the way he worked.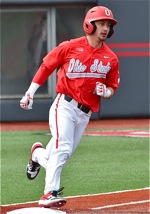 "When I can locate with my fastball, it's usually good,'' Magno said. "My velocity was good from the middle of the plate down. I threw quality curveballs in the zone. It was a lot of fun getting the first one of the weekend.''
The ball could be heading to his father's trophy case.
It's hard to believe, but Magno said he'd be ready to go an inning today.
Beals smiled hearing that bravado.
"Mags throws every day – every day – and will he be ready to go tomorrow? I don't know,'' he said. "We'll see where he's at.''
Carpenter saluted the pitchers. They gave up eight hits, walked six and struck out 10.
"The pitching staff was outstanding,'' he said. "What Magno did was outstanding. We needed that. Garrett had a great start and Bayden (Root) and Thomas (Waning) were good. I can't say enough about our pitching.''