Senior Cole Brogan earned his first win of the year – and he 'really' earned it – with a little help from some early offense.  Troy holds on for a win over defending champ Chaminade-Julienne Thursday at Market Street field.
Troy – To say that Cole Brogan 'earned' his first win of the year is an understatement.
He pitched well enough, yes.  But he also pitched longer than even he anticipated, the Troy senior throwing 113 pitches in a complete game seven-hitter Thursday to beat Div. II champion Chaminade-Julienne, 5-4, at Market Street Field.
"We would rather he had thrown 75 pitches,"  smiled Troy coach Ty Welker afterwards.  "But you have to credit CJ.  They really battled the last couple of innings and that got the pitch count up."
Still, the diminutive Troy senior was having no part of coming out of the game, or even giving in, even after giving up a two-run double in the top of the seventh to opposing pitcher Andrew Simones.  Instead, he knuckled down to eventually strike out the side and preserve his own win, and trust it…the last thing on his mind was how many pitches it took!
He got most of the offensive help he needed in the bottom of the first inning.  Second baseman Austin Kendall singled to lead off the game, Brogan then hit a ground ball to third that was booted for an error…and then shortstop Jacob Adams picked on a high fastball from Simones and tomahawked it into a crosswind and out to right field for a three-run homer.
"That's a great feeling when you can come up and give your pitcher a three-run lead like that in the first inning,"  said Adams.  "On a scale of 1 to 10, that's about 11."
They manufactured another run, an unearned run in the bottom of the second, and then scored their fifth and final run in the fourth on a leadoff triple by first baseman Braedon Snider, who scored one out later on a sac fly to center by left fielder Nathan Henderson.
CJ, for their part, was having trouble just reaching base.  Brogan came out firing strikes and retired nine of the first ten batters he faced…and would not give up a hit until the top of the fourth when Simones poked a single to right to lead off, and then scored two outs later on a double by first baseman Seabastian Gongoro.
It stayed 5-1 until the top of the sixth as Brogan was cruising, throwing strikes and pitching to contact.
But in the sixth CJ would dent the plate again on a walk to Simones, a stolen base, and a throwing error by Adams at short that allowed Simones to score an unearned run from second on the overthrow at first – 5-2 Troy.

In the top of the seventh Brogan came out to finish what he had started.  And after surrendering a flaired singled to center by Jack Huffman to start the inning, he struck out the next two hitters for his fourth and fifth punch-outs of the game.   But with two outs CJ third baseman Cameron Benoit then singled, and Simones, who was on base three times for the game, hit a ringing double to left center to score both Huffman and Benoit to make the score 5-4.  Second baseman AJ Soloman then came to the plate.
Soloman worked the count to 2-2, and fouled off three pitches in the process.  But on the final pitch of the game Brogan buzzed a fastball in under his hands and struck him out swinging for his third strike out of the inning, securing the win…and ending a much longer day's work than what it appeared it would be in the fifth inning.
"I'm a competitor,"  said Brogan later.  "And as long as I'm out there and I can do what I do I'm going to compete.  And give it to CJ toward the end, they really battled me.  There were a couple at bats with a lot of pitches, but I wasn't going to give in.  In the seventh I was just trying to be in the zone, I knew my fielders were behind me, and the strike outs just happened."
Troy improved to 2-0 after a Wednesday win over Wayne, and did it with 5 runs on 5 hits and committed one error.
CJ dropped to 2-1 with 4 runs on 7 hits and committed two errors.
All in all, a very tidy game, despite the drama in the seventh, and one that Ty Welker will relish.
"We work hard all winter to get ready for games like this,"  said Welker.  "We like to prepare for every game the same way, and you try not to think about who's in the other dugout, but today we knew in the back of our minds that we had a good team coming in that were defending champs.  We wanted to put up our best game and with Brogan on the mound we knew we had a shot at it.  Offense and defense, I thought we did a real nice job."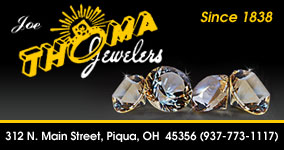 They also got the advantage of a reasonable day weather-wise, temperatures at 5 pm being in the low 60s.  But they may not be as fortunate on Saturday, when the Trojans are scheduled to travel to Graham for noon game with the Falcons.  The forecast is for intermittent rain on Friday…and 100% chance for more on Saturday.
Still, nothing beats the feeling of having a well-played game, and a win, to tide you over until you DO play again.
"This sets a really good tone for us,"  added Brogan before grabbing a rake for post-game mound maintenance.  "It showed people that we can compete with anyone.  As long as we can come out and do what we do we'll be a good team."
Translation:  They're a pretty good team…any time Cole Brogan's on the mound.