Through the team's first 24 games senior Brady Cherry has undergone a metamorphosis, delivery his best numbers in four years, with consistency, and the hope of a destination that's better than the  journey.
Columbus – Every conference has one on a yearly basis, it seems. In one degree or another most teams have one.
It's the comeback story, an account of the athlete that has withstood hardship, frustration, even scorn in some instances, or the temptation to actually quit – to finally deliver on his or her potential, the dreaded 'noun' of doomed promise.
In Columbus, and happier than the next hundred ballplayers you're likely to meet…its Ohio State leftfielder (and occasional relief pitcher) Brady Cherry.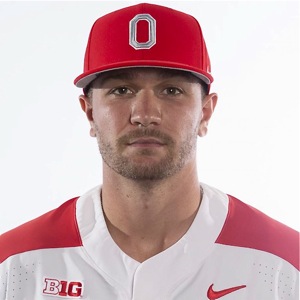 Currently riding the best, and most consistent, streak of his four years as a Buckeye, Cherry enters Big Ten play this weekend at Rutgers with a team, and league-high batting average of .387, with 6 home runs, and 22 runs batted in.
More, his slugging percentage of .677 ranks in the top three of the Big Ten.  In the recent series with Hawaii he drove a pitch over the batter's background in center, an estimated 450 feet!  But what makes Brady Cherry's turnaround rank among the best of feel-good stories is what he's been through to get here.
A sought-after recruit out of Pendleton, Indiana as a freshman, he came to the Buckeyes with a three-sport reputation, but in baseball the byword was his power at the plate…that, and a rifle arm that equipped him to play at about every position (except catcher) on the field. In his rookie year he showed flashes, hitting 5 home runs and driving in 23, but from the second half of the year on he became a study in frustration for his susceptibility to strike out – 43 times in a 124 at bats.
In his sophomore season he improved, predictably, to a .260 average, but with fewer home runs (4), and just 26 runs batted in. Still, though, the propensity to strike out – 62 times in 200 at bats.
"It was a classic case of him trying to do too much," said Buckeye coach Greg Beals at a point during the 2017 season. And by season's end Cherry was being platooned at third base as Beals and staff sought to find a comfort zone that would help him relax, just play, and produce with some consistency.
In 2018, his junior year, Cherry busted out of the gate in Florida, hitting over .340 for the first three weeks of the season. He was also shifted to second base to facilitate the Buckeyes having as much experience as possible on the field…and to take advantage of his cannon arm. He easily made the throws from behind second, and while his footwork would not remind you of Robinson Cano, his arm strength allowed him to easily turn the double play.
But by mid-April his batting average had begun to plummet as he pressed to deliver in a batting order averaging .300 – Dominic Canzone, Noah McGowan, Conner Pohl and Tyler Cowles. By late May and the NCAA regional tournament, his average had dropped to .226, with just one home run and 28 RBIs. Strikeouts continued to plague him…57 in 157 at bats.
"It was frustrating," he said last weekend, following the Buckeyes taking three of four games from visiting Hawaii, a series in which he collected 6 hits in 14 at bats and a pair of home runs (his 5th and 6th of the season).
"Because you want to produce and have fun with your teammates. It's more fun when you're not struggling."
And from body language alone…no one in college baseball is having more fun right now than Brady Cherry. Which begs the question, or questions.  How has he turned it around?
"Honestly, I took a step back after last season, went home and tried to relax. I really didn't even swing a bat too much. Got back here in the fall and told myself that I wasn't going to overthink things, I wasn't going to worry about mechanics, I just wanted to find a good rhythm and something that worked. I tried to stick with that every game [in the fall], and that's what I'm doing now."
It sounds simple, and that bodes well for the next two months because baseball at its best is a simple game. Greg Beals has another, similar, take.
"I think as much as anything it's Brady's ability to trust in his talent and [his] preparation," says Beals. "He's got tremendous power, obviously, but now he's seeing the ball differently, he's hitting more balls to the opposite side of the field, and he's swinging at better pitches."
"No one works harder than him, so it's good to see this,"  adds teammate Dom Canzone.  "I think what he's done is shorten his swing, and he's strong as an ox so he doesn't need to generate extra bat speed.  And there's no reason why this can't continue because he hit .430 against our pitchers in fall baseball."

Which means, too, that he's striking out less. Through 24 games and 93 at bats he's struck out just 14 times.
"Anytime you can hit with an average like this (.387) I've gotten some seeing-eye hits, and I've had some good luck,"  he admits. "It works that way.  Like Dom, he's been crushing the ball, but a lot of his hits have been at people.  I'm not amazed at how I'm doing because I always knew it was in there, but to be able to play at this level and help lead the team…it's just relieving for me."
And to do it without the bad at bats and strikeouts has to be a relief, as well.
"Yeah, but like I said, I just try to do the same thing everyday." he smiles. "In the past that's really been an issue. I've been up and down through so many bats, changes in swings, trying to find something different that works with each at bat. Now I think it's being able to have a good rhythm and lookin' for the pitch I like to hit.  I'm taking a longer time to see the ball now. I'm always thinking up the middle, and then if I get the inside pitch I can react to it."
It's largely gone unsaid, but having a position in the field that's comfortable for him has to portend comfort when he comes to the plate, as well.
"I'm enjoying it (left field) a lot, actually," he says. "I'm having fun, relaxing, and trying to be athletic without thinking too much. It's helped me at the plate because all I have to do is make catches and make throws. I don't worry about what I'm doing defensively now."
All of this is obviously working for Brady Cherry as his time as a Buckeyes begins to wind down with one immediate goal left to attain.  He'd like to win a Big Ten championship this spring. He'd like one more shot at an NCAA bid.
If all of this can continue, he still harbors hope of playing at the next level. But you'd be amazed at his inner resolve to simply enjoy each day as it comes – his peace with accepting whatever comes after Ohio State, and baseball.  He has a different view of baseball, and life, than he did during the down times.
"Whatever happens, I'm content with whatever comes after baseball," he insists. "I've had a great time.  Of course I'd like the chance [to sign] and play at the next level, but right now I'm not thinking about that at all. If it happens, it happens."
Brady Cherry may finally be experiencing some happiness…having fun playing college baseball at the highest level – gratified to be playing well and fulfilling expectations.
"But I also know that things can turn quick, and it's happened to me before," he says. "So I'm not getting too high right now. I'm just trying to keep the same mentality everyday, do the same things, come in and just enjoy the game and the guys. I want to think about winning and enjoy my teammates."