They were projected to be good, but no one really knew that they would be that good in November…only coach Eric Rosenbeck, who guided the St. Henry Redskins to within one game of bringing the 2019 Div. IV title back to the MAC.
On a wet, miserable Friday night last October St. Henry basketball coach Eric Rosenbeck shared a prophecy with me on the football sideline during the Redskins' game with Minster.
"We're going to be good,"  he said matter-of-factly.  "Everyone expects Marion to be back, but I'm telling you…I like our chances.  We're going to surprise some people."
Well, fast-forward three months to the end of February and Rosenbeck made good on that prophecy.  The Redskins were good, ranked #3 in the state in the final polls, and good enough to wrestle the MAC title away from Marion Local by a game.  They would beat the Flyers twice during the year, including a knock-out 52-40 win in the district tournament.
They followed that with a pair of equally impressive regional wins over Springfield Central Catholic and Jackson Center to stretch their season record to 28 wins and just 3 losses…and advanced for the first time in a generation to the state Final Four last Friday, facing Berlin Hiland in the semi-final round.
No one plays harder, or with more competitive intent, than Rosenbeck's Redskins, but basketball is a game of shooting.  And against Hiland, a team known for its ability to put the ball in the hoop, St. Henry came up just marginally short – 5% short in fact, in a 57-50 loss.  For the game Hiland shot 47.4%.  St. Henry shot 42.5%.  Even the three-point percentages were separated by just one made shot.
In a year where there were a number of candidates for our area Coach of The Year honor – Scott Elchert at Jackson Center, Nate Barhorst at Anna, and even the job that Nick Fisher did in getting Coldwater to the regional final, none of them got over the hump that so many coaches call the toughest achievement in a coaching career.  That is, how do you even get a group of high school boys to the state tournament, much less win those final two games?  And for getting there…Eric Rosenbeck garners the distinction of being our 2019 boys 'COTY'.
His teams are a carbon copy of his competitive zeal, commitment, and dedication to working harder than an unsuspecting opponent.  None of his starting five are likely to be recruited to play college basketball, but because of Eric Rosenbeck they beat teams with players that are ticketed for the next level.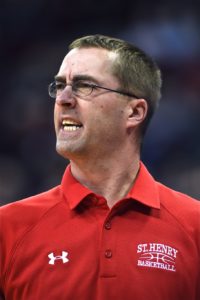 "I rarely find fault with our effort,"  Rosenbeck shared with me after a win early in the year.  And even that occasional player that leaves St. Henry and does play at the next level reflects his influence – Ryan Mikesell, for instance, at the University of Dayton.
"But I'm proud of our guys and I'll take them over any others,"  he would say, and he said those same words again after Friday's disappointing loss to Berlin Hiland.  They weren't expected to actually beat #1-ranked Hiland, because Hiland had that reputation for being a superior shooting team;  and St. Henry is a team that often wins off turnovers and points in transition.  But the Redskins' commitment to tough, physical defense kept them close, and they had their chances.  They just didn't make enough shots…about three, in fact, at critical points of the game.
"Can't fault our effort,"  said Rosenback afterwards.  "But for whatever reason with basketball, it just didn't go our way…and I guess that's life."
But like life, success in basketball often follows the sheer will of one, or a group, to be successful, and this is what Eric Rosenbeck gave the 2019 Redskins.  In fact, he gave them everything they needed, except a touch more of what every coach says it takes.  You gotta' be good, sure enough, but then they ALWAYS say……..
"You gotta' have some luck, too," Rosenbeck finished on Friday, able to muster a smile even in the face of obvious disappointment.
But there's no luck involved with our choice of Eric Rosenbeck as Press Pros' 2019 Coach of The Year in boys basketball.  He and his team clearly earned it, and with our congratulations on a memorable season.