Is it coincidence that the area team that won back to back state titles in Division IV basketball would also have a coach that earned similar recognition for taking them there?  We think not, and proudly tab Minster's Mike Wiss as our 2019 Coach of The Year.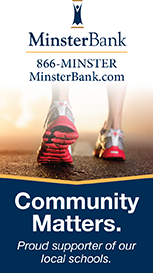 Minster coach Mike Wiss is too cool to get caught up in accolades and recognition.  What gets him hot is simply the thrill of competition and  seeing hard work pay dividends.  It's such a valuable teaching tool;  and Mike Wiss 'is' a teacher.
It happened this past week as his Wildcats won their second consecutive Division IV girls basketball title, 53-37, over Ottoville, which ironically is the same team he beat last year for the 2018 title.  So, back-to-back deserves back-to-back, don't you think?  And as we honored him last year, we proudly recognize Wiss in that fashion again this year as our area Coach of The Year in girls basketball, and likely without argument.
"Beating Minster (and Wiss) is like beating the New England Patriots,"  said Ottoville coach Dave Kleman following last Saturday's Division IV title game.  "Maybe if we get them (him) out of there someone else can come here (Columbus) and win."  He said it with a smile, and with quantum respect for the coach of the Wildcats.  You have to…for someone who's as committed to doing things right as Mike Wiss.
"This wraps up about 110 days of hard work," Wiss said of Saturday's title, his fifth as a head coach since 2011 – three in D-IV baseball and back-to-back in basketball.  In addition, it makes six state titles for Minster going back to the spring of 2017 when he won the third of his three baseball titles (over Russia).
"But that's what it takes (hard work) because a championship in anything doesn't come easy,"  he told me after that 2017 baseball title.  "You know you're always going to have a good opponent on the other side of the field."
Ironically, he said almost those exact words on Friday last week when he talked about facing Ottoville in the D-IV final for a second year in a row.
"It really doesn't matter,"  he said.   "We have to prepare and play our best basketball."
And preparation probably characterizes Wiss more than any other attribute you can list.  Even though he had won over Ottoville by 20 points during the regular season, he left nothing to chance.
"You respect every opponent," says Wiss.  "And you never take anything for granted."
Many thought that the 'Cats semi-final win over Cornerstone Christian would be their stiffest test in Columbus.  Cornerstone, a team that had buzzed through their district and regional, had athletes and more motivation than the average group making a trip to the Final Four.  Their boys team had lost the previous March to another MAC team, Marion Local, for the Div. IV title.  And their impressive 23-4 record had come against the likes of bigger schools, and tough competition – Youngstown Cardinal Mooney, Elyria Catholic, Gilmour Academy (former state champ), and Akron St. Vincent-St. Mary, a 2019 semi-finalist in D-II.  Wiss and his team never blinked, or hesitated.
"We executed what we had talked about with Cornerstone really well," added Wiss. "And defensively, we took their penetration game away for the most part.  They got in through the elbows some, but they never got all the way to the rim…not much."
Simple as that.  He and his team focused on playing their game – execution!
And, he'll do that come two weeks when the start of baseball season gets here.  It's rare when someone doesn't have to go through Minster to qualify for state in baseball, like last year, but in those odd years Mike Wiss simply takes notes (mental and on paper) and goes back to work.  No one dies when you lose, he's fond of saying.  So really, you only have one other option.  Work, and get better.
For the sake of his working, and their getting even better (because two titles in a row are better than one) we congratulate Minster's Mike Wiss for a second year in a row – Press Pros' Coach of The Year in girls basketball!