They didn't start the best, but they finished like champions.  The Minster Wildcats repeat as Division IV champs in girls basketball…and show plenty of foundation for yet another run.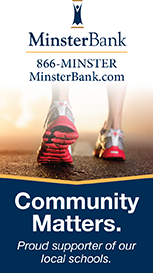 Columbus – They did it.  It was anticipated.  A thing of beauty – like a Norman Rockwell painting.
The Minster Wildcats repeated as state champs in girls basketball Saturday with a 53-37 win over Ottoville in the Division IV title game.
In fact, the game was a near copy of their outcome during the regular season, and last year's title game – about the same margin of victory, and about the same pushback from a competitive Ottoville group about which coach Dave Kleman says, "We kinda' like the Minster kids off the court, but on the court is a different matter."
They actually led Minster after Saturday's first quarter, 13-9.
"Ottoville came out with an edge, maybe more than we had,"  said Minster's Mike Wiss.  "They really came after us.  It took a break between the first and second quarter, a couple of TV timeouts, and then a good halftime before we really got going."
But when they got it going in the third quarter, the 'Cats pretty much made it academic.  They scored the first six points of the half in less than 90 seconds, turned Ottoville over twice and scored on both, forced a timeout from Kleman…and the 'Big Green' never was the same after that.

"Playing Minster is kinda' like playing the New England Patriots,"  Kleman cracked afterwards in the post-game press conference.  "If we could get them out of here someone else would have a chance to come here (the Final Four) and win.  They're just bigger…I don't like to talk about girls' weight…but they're probably ten pounds bigger per spot than our kids, and that just wears on you over the course of the game.  They're good, they're well-coached, and they play like champions."
And, they're deep enough talent-wise where you cannot focus on just Ivy Wolf or Courtney Prenger and hope that gets it done for you.  Saturday was the prime example as a different standout, sophomore guard Janae Hoying, scored a game-high 19 points, canned 3 of 4 attempts from behind the three-point line, had a couple of assists and 4 steals.  Not a bad day's work.
Courtney Prenger certainly had her day, as well.  The Xavier-bound senior scored 16 points and was nigh on unstoppable in the second and third periods when Minster opened up a 15-point margin and effectively put its foot on Ottoville's throat.  Forced to change defenses, Kleman did…and Minster adjusted.  Nothing worked.
"They were scoring against our man, so we went zone,"  said Kleman.  "They they started hitting the three's and we had to go back to man and Mike (Wiss) just started feeding the ball inside again.  He's not stupid.  He's a good coach.  I know, because I'm a good coach and that's what I would have done."
Trailing 13-9 after the first quarter, Prenger and Hoying went to work in the second, outscoring Ottoville 16-6 – Prenger attacking the rim from the paint, and Hoying dropping some long-range mortars that found nothing but net.
After the halftime break, they picked up where they had left off, scoring those first six points on their way to an eventual 17-7 run.  Ottoville did make a run late in the fourth, and cut the margin at one point to ten.  But forced to foul, Hoying and company ran the deficit back up to 16 (with the help of popular sub Lauren Mox, who hit a pair of free throws).
"The last two years I honestly think we've played pretty good basketball on this floor,"  said Wiss in his post-game remarks.  "I'm really pleased with how our girls handle these weekends.  It's a lot of fun, but they really know when it's business.  To Ottoville's credit, we had to stem the tide after the first quarter and fight through some things, so there's a lot of fight in our kids, too."
And, besides the fight…it was emotional.  Courtney Prenger goes out a two-time state champion, and struggled to characterize just how much means when the reality finally hits.
"For anyone in the state of Ohio to be playing here today, you really can't ask for more than that,"  she said simply, matter-of-factly.
For Hoying, who sat wide-eyed in that same post-game session, she would much rather have been on the court, still playing.  She'd rather do it, than talk about it.  Asked about the satisfaction of hitting the biggest three point shots of her young career on the day when they mattered the most, she simply answered, "Yes."
"I really don't like to talk,"  she said later.
They are the champs, and they played like champs – convincingly.  After a slow start in the first quarter Minster came on to shoot 47.5% from the floor, led by Hoying's 19 and Prenger's 16 points, respectively.  Ivy Wolf added 9, Daniell Barhorst had 4, Demaris Wolf had a quiet championship with 3…and oh yes, Lauren Mox had her 2 at the end.
For Ottoville, Haley Hoersten led them with 10, but Minster did a good job on Kasey Knippen, defensively, holding her well beneath expectation with 9 points.  Quinley Schlagbaum had 7, Nicole Knippen had 6, Brynlee Hanneman had 3, and Alexa Honigford had 2.  For the game Ottoville shot just 30%.
"We did some good things at the start,"  said Kleman.  "But we didn't make enough shots.  In a game like this you have to make more shots."
And as to what next for Minster?
Well, certainly there's the celebration to come later tonight, back in town.  There was no mention of popular watering holes in the trophy presentation, as there was last year.  In fact, deputy commissioner Beau Rugg did the honors this time as an emotional Mike Wiss stood back and took in the moment.
"I'm sure the fire trucks will meet us and we'll go around town,"  assured Wiss.  "There'll be a welcome home in the gym when we get back.  We'll do that tonight.  This is a game where it's so cool to come and watch how the small D-IV schools bring everyone in town.  It's a big deal and it'll be an outstanding get-together when we get home.  I can promise you that."
But you can still get a grilled cheese at Willy's?

"Oh, I'm sure the grills will be on for quite a while tonight,"  he smiled.
And for good reason.  Over the past two season no fewer than six state titles have come home to Minster.  And Saturday's win in basketball pushes the MAC's all-time number to something like 130, give or take one or two.
And then…the calendar turns.  Baseball starts on Monday and Wiss mentioned having a scrimmage.  But in true competitive form, even while celebrating one championship he wasn't willing to show his cards as he planned on how to compete for the next.
Who pitches come Monday?
"You're not going to get me to answer that,"  said Wiss, finally breaking into a broad grin.  Not even in a scrimmage.
Life, indeed, is good in Minster.  The champions will be home tonight about 10 pm , and the Saturday Evening Post scene will reprise.  Hometown America, and what wonderful subjects.
Norman Rockwell would have loved Mike Wiss, Courtney Prenger, and Janae Hoying – the Wildcats!