Their only indiscretion was…they could have been a little better at the outset.  But wait until you read the rest.  Minster, at its best, advances to the girls D-IV state finals on Saturday.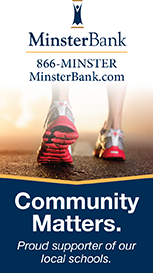 Columbus – What Minster did in Friday's Division IV semi-final against Cornerstone Christian may have taken a few of the uninitiated by surprise.
But to the three thousand or so that showed up from Auglaize County – and that representation from the rest of the MAC Conference that always shows up for these affairs – it was no surprise at all.  It was 'vintage' Minster as the now 27-1 Wildcats ripped past Cornerstone Christian (23-5) and on to tomorrow's championship round, 65-31.
It was never close, really.  Cornerstone, a team with obvious athletes (but a bit dinged up), fell behind 6-0 in the first two minutes…and even then it could have been worse.  Minster had two or three point-blank looks at the basket that simply rolled off the rim.
And when CCA (Cornerstone Christian Academy) scrapped their way back into play a bit with six first quarter points…guards Janae Hoying and Karly Richard stuck a dagger in their hearts with back-to-back deep shots on successive possessions to send the message.  This is as close as you're getting.
And it was.  The margin from the halfway point of the first half until the game's conclusion was never less than 13 points.  One writer in the post-game media room mentioned the old cartoon, where the rooster Foghorn Leghorn picks up the watch dog by the tail and reminds it of who's king of the yard.  And when Minster got it in gear at the start of the second half, that's what it resembled.
Leading 34-19 at the break, Mike Wiss's 'Cats rolled to a 14-5 advantage in the third, improved that to 17-7 in the fourth, and along the way amassed a statistical juggernaut of advantage.
The 'Cats shot 57% from the floor (40% from three-point range).
They out-rebounded CCA 36 to 14.
They scored by playing 'vintage' Minster basketball.  They shared the ball, got good shots, and made good on those shots complemented by 17 assists.  And, they outscored CCA from the paint, 42 to 12 – a 30-point differential!
"We played a good schedule to prepare for this,"  said CCA coach Lisa Stopp.  "But Minster is so deep.  They can sub three seniors, and I think they have nine.  They did everything well.  Their guards were outstanding.  Their post is a beast.  They hit those early threes (Richard and Hoying) to take pressure off their post game…and we just couldn't sub to match them.  They can come at you in waves."
In fact, they did do everything about as well as you can hope for in a game of this magnitude.
They had balanced scoring – Ivy Wolf with 12, Hoying with 7, Richard with 8, Demaris Wolf with 9, Danielle Barhorst with 4, Courtney Ernst with 2…and Courtney Prenger, that "beast that she talked about" had a game-high 18.  And they all came from within six feet of the rim.  There was nothing that Lisa Stopp could do to stop her.
"If there is such a thing as a loss that's worth it, this is it,"  said Stopp.  "We're young and we'll have nine back next year.  We'll learn from having played a team like Minster.  They're impressive, right down to their coach.  I met him this week and was really impressed with his humility and how he runs his program."
And of course how Mike Wiss runs his program is always predicated on defense – an effort that limited CCA to just 30.3% shooting for the game (10 of 33) and just 8 points off the offensive boards.  But more, Cornerstone Christian had averaged 61 points a game during the year…and they managed barely half that on Friday.  Kaily Tyna was the only CCA player to score in double figures (13), while Madison Cloonan had 6, and Riley Stopp and Lauren Harris each had 3.
"I was really proud of our efforts on the boards,"  said Wiss, with a smile, a man of understatements.  "And the shots that Janae Hoying and Karly Richard made in the first half…Karly hit one of those the other day against Loramie.  To have the confidence not to hesitate as a sub coming off the bench is big.  Her (Richard's) confidence is growing everyday.  And when your subs can give you points and good minutes on defense it can be really good."
Yes, it can be, and it was…really good!
"We executed what we had talked about with Cornerstone really well," added Wiss.  "We had some patience.  Ivy handled the ball really well against their pressure, and we found Courtney inside with cuts from the high post to the low post.  And our offense went through Courtney, as it should.
"But defensively, Cornerstone prides themselves on penetration, and we were able to stop that for the most part.  Yes, they got in through the elbows some, but they didn't get all the way to the rim.  And the rebounds were 36 to 14.  Our bigs inside did a great job on the boards, and our guards helped out, too.  We make the comment that on a scale of 1 to 10 we have to be a 13 on defense, and a 4 on offense.  And that means you have to make the offense uncomfortable and create turnovers.  And on offense you have to have patience to do the right things with your possessions."
No argument from Cornerstone, and it's rare when almost nothing goes wrong on a stage this big.  Wiss was asked the question by one reporter, "Can you pinpoint at least one thing that DID go wrong?"
"Yeah, there were, but I'd have to look at the film," he smiled.  "But I know there were some times in the second quarter when they got some run-outs off their pressure."  Beyond that, he didn't have a lot else to say.
Mike Wiss has won four state titles at Minster – three in baseball and last year's win over Ottoville in basketball, 63-48.  But that said, he takes nothing for granted and is the master of caution and preparation.
"One of the things we'll do now is talk about the mistakes that we made,"  he concluded before going out to watch Ottoville play Shadyside, one of which the Wildcats will play in Saturday's final.
"The only way you get better is to learn from your mistakes.  I know that it's easy to feel good today about the positives – the points, the assists, and winning on the boards by 20.  And we'll smile for now and have a good time about that.  But I can tell you…there's going to be a good opponent tomorrow."

It'll be Ottoville – again – who beat Shadyside in the second semi-final, 50-43.
And hearing that is no surprise to those who know Wiss – and those who know women's basketball in the MAC.
But trust it.  It might be shocking to Lisa Stopp and Cornerstone Christian.  Friday they saw vintage Minster, and by her own admission…they won't soon forget!