In a tale of two games, and two fortunes, it was a Wednesday split for area boys teams in Division III.  Versailles fell to Purcell Marian, but the Anna Rockets powered past Stivers to earn their first regional final berth in a decade.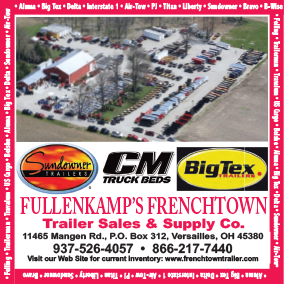 Kettering, OH –  They say good things happen to those who wait…or maybe it's good things happen to good people who wait.  Whatever, it happened to Anna coach Nate Barhorst Wednesday as his 25-2 Rockets roared past the Stivers Tigers (21-5), 70-52, to earn their first regional final berth since 2008.
2008, by the way, was the year when Derek Billing became a household name in Shelby County League basketball, the Rockets beat Columbus Academy in the regional final, and then fell to Ottawa-Glandorf in the Division III state semi-final at Value City Arena.  Good times!
"I've waited a helluva' long time for this to come,"  said Barhorst Wednesday, following his team's most convincing, and most relevant win of the year.  And by the way they played, good times like those in the Derek Billing days could be just around the corner.  Just one more game, ya' know.
They played against a team that wanted to get out and run – shoot and blow you out of the gym.  Stivers served notice early that their own record was legit in the Dayton City League.  They took an immediate 6-0 lead, and turned their first three defensive rebounds into transition buckets at the other end of the floor.
But Anna was undaunted, gradually climbing back into a competitive mindset, and trailed by just a basket, 16-14, at the end of the first quarter thanks to a pair of three-pointers from Carter Elliott.  From that point on, it became a symphony in how the Rockets can play, Opus 27.
Guards Riley Huelskamp and Bart Bixler took over the game in the second quarter.  They scored just six points between them, but they ran the floor and distributed the basketball to Griffin Doseck, Elliott, and Isaac Lininger.  And before you could spell Anna, the Rockets had turned a two-point deficit into a 31-24 halftime lead…and they never looked back.
"We got the pace up and fed off that tempo,"  said Bixler.  "We slowed them down and got our transition going the way we wanted it.  You could see it in their eyes that they knew they weren't in control of the game."
But the best was yet to come.  Anna flipped the script in the third quarter, starting out with a 10-2 run and for all intents and purpose, buried Stivers with a barrage of transition buckets and three-pointers by Doseck, Bixler, and Elliott.  Elliott would finish the game with five treys (15 of his 19 points), but more importantly, he seemed to light a fire under the rest of his supporting cast.  He had 8 for the quarter, while Bixler had 7, and Huelskamp, Doseck and Kamren Steward all scored.  When the dust had cleared…it was a 23-point quarter, and a blowout in the making.
Credit Stivers, however, for stalling the 'Rockets' red glare'.  They made a run of their own to start the fourth, trailing 54-38, and actually cut Anna's lead to 13 points.  But Doseck ignited in the final quarter, scoring 6 of his 15 points.  Carter hit the last of his five 3's, and the bench contributed in the final couple of minutes to extend the winning margin back to 18 points.
"We played good," smiled Riley Huelskamp, later.  "We hit some shots there that really boosted our confidence, and our senior, Carter Elliott, caught fire and it's sweet that he did that because he's worked so hard for it."
At the other end of the hallway Stivers coach Felix Turner talked about how Anna had done what most thought improbable.  The Rockets had beaten him at his own game.
"They're a nice team," said Turner, a 30-year veteran of Dayton City League basketball.  "They're a very physical team, and they became more physical as the game went on.  And then #31 (Carter Elliott), I don't know who he is but I know he hit three or four 3's and his shooting gave them some separation and the momentum.  And basketball is a game of momentum.
"We're a very similar team to them, and we had scouted them.  But they beat us at our own game tonight.  They pushed the ball up and down the floor, they've got good three-point shooters, and they really have great guards.  #21 an #23 were very good and we respect them a lot.  There's a reason they're ranked in the state."
And the reason is simply this.  Anna has depth, they play with a mentality of interchangeable parts, and they spread the wealth offensively.  Carter Elliott and Bart Bixler each scored 19 points, but Doseck joined them in double figures with his 15, while Lininger finished with 6, Huelskamp had 7, and Steward had 2.
Stivers was led by a trio of double-figure scorers – Doug Spear (11), Allen Latimore (11), and Ja'Juan Allen (10).
"The last three days of practice we really didn't have to worry about pushing the pace of the game because we knew they wanted to play that way,"  said Nate Barhorst.  "So our biggest focus became to keep them out of the paint.  We started out man-to-man, but when we went 3-2 zone on them I think it got into their heads a bit, and they struggled with it.  Our kids were quicker, we communicated well, and we hit the backside boards pretty good and I think they rely on getting stickbacks off those offensive rebounds.'
Shock value was an issue, because prior the the game, and since the districts, many questioned if Anna could keep pace with the athleticism and depth that characterizes City League basketball.  But the Rockets opened some eyes with their play on Wednesday, especially the eyes of Purcell Marian, who had beaten Versailles earlier, and will now face the Rockets on the Saturday for a trip to the state Final Four.
"You know the media probably makes a bigger deal out of that than they should,"  answered Barhorst.  "The social media, text messaging, and stuff like that…and we tell our kids never to read that stuff.  I know they do to some extent, but they did a phenomenal job of adjusting to the game tonight, and they (Stivers) were never able to find a solution.  Our guards were so good, they've been key players for us all season, and they never give up.  They've got the guts, they really do, and you can't coach that.  And our kids have a knack for adjusting to who they're playing.  Once they get a feel they're able to make the adjustments and take it at 'em."
So now, of course, there is that one game, and one team, to adjust to if they want to reprise that Final Four appearance of a decade ago.  Purcell Marian is a team that many have believed in all along, and called the class of Division III.
But the way Anna played Wednesday should not be taken lightly, or for granted.  Marian is bigger, but Anna is quicker.  And size has never mattered in their previous 27 games.  They lost to Jackson Center and Minster, but the loss to Minster, who's bigger, was a 66-64 affair.  Nate Barhorst is satisfied they'll make the adjustment, whatever's necessary.
Good things, you know.  And good people!
In the night's other Div. III semi-final, Purcell Marian punched their ticket for Friday's final at the expense of the Versailles Tigers (15-11), who simply saw their luck, and run, come to an end by a final score of 52-37.
Against a bigger, deeper, and more talented team, overall, they simply couldn't keep pace in the second half.
However, that said, the Tigers played what was perhaps their best half of basketball in the first half, coming back from an early hole to fight and claw their way to a 23-22 deficit by halftime.
But Purcell Marian, behind Javonta Lyons' 16 points, and six others who scored, were clearly the better team in the second half, holding Versailles scoreless for the first 4:04 of the third quarter.  Junior guard Michael Stammen was the game's top scorer with 21 points…and Evan Hiestand played his heart out in his final game as a Tiger, but the challenge was like a bridge too far, to copy from the old movie title.
Marian got to the rim at will in the second half, and their defense and depth took a toll on Stammen's effectiveness, bumping him around repeatedly without benefit of a call. The game had its moments of tournament officiating.
But Travis Swank made no excuses, and addressed the facts of the game and their season.
"Their depth wore us down and we had a string of bad turnovers there in the second half,"  said Swank.  "We're not as deep as they are, but you can't fault our kids' heart.  We battled with them all night long.  They're one of the favorites to hold up the championship trophy next week, so we knew we had our work cut out for us."
Behind Stammen's 21 points, Ryan Martin had 8, Evan Hiestand had 5, and Nate Johnson had 3.
"We came together and grew as a team this year,"  Swank concluded.  "We got better each and every night with a young squad.  And when you put out the effort that we had every night you're usually rewarded in the end, and our wins in the tournament were our reward.  We made a nice little run."