Overlooked throughout the season by those preoccupied with St. Henry, Marion Local, Anna, and Jackson Center, Coldwater and coach Nick Fisher now stand on the threshold of doing what a month ago…no one dared dream!
Columbus – Had I advanced the notion in December…that the Coldwater Cavaliers 'basketball' team would be playing in the regional final on March 16, 2019 for a berth in the state Final Four…there would be some look at me like I had stayed too long at McSobers.
After all, the pre-season hype for MAC basketball centered squarely on defending champion Marion Local, pre-season favorite St. Henry, and the great expectations that have followed Minster and the career of big man, Jarod Schulze.
But here we are, on March the 15th, and Coldwater is indeed in the northwest regional final tomorrow, and with a record of 18-9 and absolutely no media hype surrounding them, they stand as perhaps the most intriguing story in these 2019 Ohio boys basketball final eight.
Because, in mid-January they were a sub-.500 team, with thrilling wins over teams like Celina and Delphos St. John, but inexplicable losses, too, against teams like Van Wert and Versailles, against whom they shot just 24%.  Their issue wasn't talent, but inconsistency.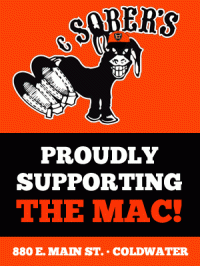 But since mid-February there have been nothing but wins, and thrilling tournament wins over #1-ranked Archbold, and Ottawa-Glandorf with the stats to back them up.   No one in Division III is more capable in their perimeter shooting, and few teams are more athletic.  So Thursday, from the Schottenstein Center itself, we called Cavalier coach Nick Fisher to get a first-hand perspective on what's quickly becoming the best story in boys basketball.
"Well, I think it really starts with how we're playing defense,"  said 'Fish', that low, coarse voice of his unmistakable.  "Right now I think we're playing defense as well as any team I've seen.  And of course, we've always been athletic and a team capable of shooting the ball.  But our defense now has made us a better, more confident team."
And speaking of confidence, there are those who advance it that basketball has always performed in the shadows of football and baseball at Coldwater – and that titles, or even competing for titles, were never expected in the manner of their other two, more notable, sports.
"If anything, I think it's the reverse of that,"  says Fisher.  "A lot of the kids play football and baseball and they're very aware of the championship expectations [at Coldwater].  Now, they're just playing a different sport, but they have the same experience and the same expectations of themselves."
Nick Fisher (who took over the program three years ago after Mike Bruns stepped down) is truly one of the best guys you'll ever meet.  Affable, gracious, and a big hulking guy that looks like he just hiked the Appalachian Trail (the full beard is his trademark), he's the last one to take any credit for their current nine-game win streak…or for their peaking at just the right time of year.
"Really,"  he laughs, "I give the credit to the kids because they go out every day and work hard at this.  They're the ones with the expectations for themselves, and they're the ones who take the responsibility."
But 'Fish', you're the X's and O's man.  They have to follow someone's lead.
"Well," he said earlier this year, "I just remind them that at one time we were a 4-7 team in mid-January."
That was then, and now they play Oregon Cardinal Stritch for a berth in next week's Final Four.  So again the question:  Is there a better story anywhere in boys basketball right now…than Nick Fisher and the Coldwater Cavaliers?