Points were at a premium, but the bottom line was winning.  And at the end of a long, rugged night of basketball Tuesday, Jackson Center and St. Henry had advanced to meet Friday for the regional title…and a trip to Columbus.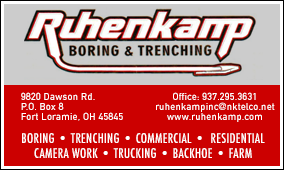 Kettering, OH – Really, it should come as no surprise.  In their two previous meetings this season Loramie never scored as much as 40 points against Jackson Center (22-5) – losing 40-34 on Dec. 14th, and 39-36 on Jan. 15th.
And Tuesday night in Kettering, when it mattered most, Jackson hit the trifecta, closing out Fort Loramie's season (19-8) with a gruesome 30-25 win that as much resembled a rugby match as it did basketball.  It was rough;  and it was rugged.  There WERE three officials present, sure enough, but they didn't do much whistling.  Not that they didn't call fouls…because sometimes they did, mostly on shot attempts.  But it was open season for hand-checking and no one made a cut to the basket without at least being somewhat steered off course.  What it looked like was one long, continuous, 32-minute massage.
Did the physical nature of the game impact the outcome?  Probably not, because it favored neither team, but a 30-25 score would lead you to believe that shooting the basketball was not unlike throwing a hand grenade.  You pulled the pin, you gave it a heave, and ducked.

"It was rough,"  said Jackson Center coach Scott Elchert, rolling his eyes to emphasize his point.  "But our kids don't complain about calls.  They just adjust and play through it and that's what they had to do tonight."
Miraculously, they shot 32% from the field.  And not surprising, they held Loramie to a couple of percentage points under that.  That's what Jackson Center does.  They make it hard to score because defense is their focus from the time they tie their shoes.  From the opening tip Tuesday they put the clamps on a Loramie offense that has athletes, and under normal circumstances…scorers.
The score at the end of the first quarter was Jackson Center 8, and Fort Loramie 2.  That's right, Loramie scored just 2 points – a pair of free throws by Eli Rosengarten!
By the half they had begun to heat up.  Nick Brandewie and Rosengarten each hit a three-pointer in the second quarter, and Brandewie's came at the buzzer.  But it wasn't enough.  Because…Jackson's Christopher Elchert trumped those 3's with a pair of his own to keep his team tantalizingly ahead at the break, 13-11.  That's also correct, 13-11, and remember those two 3's by Elchert.
Elchert and Fort Loramie's Corey Britton are two of the best coaches to be found in area basketball.  And one would have assumed that Britton, with the advantage of depth off his bench, would have solved the Elchert Rubik's Cube by the start of the third quarter.  Not necessarily.
The two teams matched each other, scoring nine points apiece – Jerron Reese and Aiden Reichert accounting for Jackson's points, while Rosengarten, Mason Kemper and Nolan Berning countered for the Redskins.  It was 22-20 (Jackson) entering the final quarter, and Trent Arena, full on both sides, waited to see if one team or the other would finally break through.
Britton would admit later.  They (Loramie) had some chances.  Even a team as disciplined, and committed to its style, as Jackson will occasionally make a mistake or turn the ball over.  And they did.  But not so you noticed.  And when they did they raced back to the other end and…what?  They defended.  Eli Rosengarten hit his second three pointer of the game, and Nate Raterman hit a pair of free throws.  That was the sum of their fourth quarter scoring.
But determined to somehow get "over the top", as Britton would later call it, Fort Loramie dug in defended right back.  Trent Platfoot and TJ Esser would each hit a layup and pair of free throws in the final eight minutes for Jackson.  That was all, but the two of them also iced the game by 'making' those fouls shots.
"When you play the style that we're forced to play,"  said Elchert.  "You HAVE to make free throws at the end of the game.  And I'm proud of our kids for doing what they did.  I never sensed they had nerves tonight, and it showed.  Like I said, they made just enough plays – and we made the free throws."
"The officials missed a good game," said one disgruntled Loramie partisan as she left the gym.
"We might have scored more if they (the officials) had blown the whistle,"  said one from Jackson.
Scott Elchert and Corey Britton said nothing about whistles, or calls.  They just talked about what it's like when Jackson Center plays Loramie.
"Actually, I'm proud of my kids' effort,"  said Elchert.  "They hung tough on defense and they made just enough plays on offense.  Truthfully, I don't think anyone thought that game would go much different than what it did.  You know, it's the third time we've played each other.  Both teams defend the heck out of each other, they know the tendencies so well, and I think that showed in the first half.  We made just enough plays and their kids gave one helluva' effort, as well.  All credit goes to them.  They played hard, and they played clean.  That's a team you can have a lot of respect for."
Corey Britton looked like he had just flunked his driving test as he emerged from the locker room.  Disappointed, you expect to do better when you know the subject so well.  But like Elchert, he knew…that Elchert knew…that regardless of what he knew about Elchert and Jackson Center there really isn't much you can do about it.  As it turned out, it was a mirror effort where one team did, indeed, make a couple of more plays that ended up being the difference.
"Any time you play Jackson Center that's how it goes,"  said Britton.  "They're so well schooled, well-coached, they make it difficult for you.  I thought we had some opportunities, but we didn't capitalize on them when we had the chance.
"This was Shelby County League basketball. We do it twelve times during the season and we do it two or three times during the tournament.  It's a grind and if you want to go where you want to go you have to go through it to get there.  Our kids are used to it.  Tonight was nothing different and I couldn't be more proud.  We just couldn't get that one stop, or that one rebound, or that one shot to go in.  We were right there after the two three-pointers before the half.  We cut it to a couple of points, we took a couple of leads, but three straight times against Jackson we couldn't get over the top.  But back in January we were 3-4, and to get to 19-8 and down here (Trent Arena) was a heckuva' run by our group.  Couldn't be prouder of 'em."
As for Jackson, it was a flip of the same script.  One might remember the two three-pointers made in the first half by Christopher Elchert (the coach's son).  And those four free throws at the end of the game by Esser and Platfoot.  And while Loramie had the luxury of playing eight, Jackson only played six and five of the six scored all the points – Esser (9), Elchert (6), Reichert (7), Platfoot and Reese (4 each).  Every point was that big.
"Honestly, he's made a lot of big plays for us this year,"  said Elchert of his junior son.  "And we actually set up a play for him this week that gets him a three-point look, and I told the coaches before the game that I wanted to get him a three early…because I felt he'd knock it down and make everyone else's job easier."
Likewise, Loramie had just five that scored – Rosengarten (10),  Nick Brandewie (6), Nate Raterman had 4, Mason Kemper (2), and Nolan Berning (3).
And asked if he'd rather win 30-25 games like that, or by a more conventional score (like 70-58), Scott Elchert took a moment to think it over.
"Tell you truth, I wish WE COULD score more with our offense,"  he said.  "But how I'd like to win is 70-25, if I had a choice."
The man thinks defense.  ALWAYS DEFENSE!
In the night's second game, third-ranked St. Henry (24-3) gave its capacity following plenty of reason to worry in the first half – a sluggish sixteen minutes that saw the Redskins misfire like an engine with a bad plug wire.
Like the Loramie-Jackson Center game, points came tough for both St. Henry and Springfield Catholic Central in the first half, both looking for whatever edge they could find.  But eventually St. Henry did find it, and won going away, 54-36.
St. Henry led 9-8 at the end of the first, and 22-20 at the end of the half with Caden and Zach Niekamp each muddling along with just 5 points each.
But unlike the first game, St. Henry's Eric Rosenbeck did figure out the Cube during the ten minute intermission, turned up the heat with their suffocating defense over the next eight minutes, and by the end of the third the Redskins led the Irish by a 37-28 margin.  They outscored them 17 to 8 in that eight minute span.
One of the Springfield fans  said it best.  "It was like playing a cobra.  They just squeeze the life out of you."
What he meant was probably a boa constrictor, but it's the thought that counts.
"If someone said that it's a pretty cool analogy,"  said Rosenbeck afterwards.  "It was like that tonight.  We just couldn't quite get our burst in the first half, and we were starting to wonder if it was ever gonna' come.  But in the third we got some stops, got some run-outs, Riley Link hit a huge three, and we were able finally to run the floor.  I know we have the Niekamps, but we really want to let Lange, Knapke, Evers, and Link get out and run.  We got some better looks and we actually shot the ball pretty well tonight."

They shot it 54%, in fact (18 of 33), while that boa constrictor defense limited SCC to just 36% (14 of 38).
Scoring-wise, Ethan Thiemann led with 14, Caden Niekamp had 13, Zach Niekamp had 11, Jay Knapke had 7, Riley Link had 4, Andrew Lange had 3, and Sam Hartings added 2.  Nine players played, and seven of them scored.
For SCC, Trey Dunn led them with 11 points, but no one else reached double figures.  Sabien Doolittle had 9, Mykah Eichie had 8, and Peyton Harris had 6.  The only other player to score was Jayden Borden, with 2.
Without question, St. Henry underachieved in terms of playing their best, but was it an omen that at this point of the season you're good enough to get by good teams without your best game?
"The first half was frustrating because it wasn't St. Henry basketball," said Rosie.  "We had seven turnovers and it was slop.  They didn't force them, we just fumbled around with the ball.  And, we didn't have any offensive rebounds.
"Those were the two categories we pounded home at the half and we stepped it up in the second half.  We got some stops, some stick-backs, and we were off and running."
Now, the matchup Friday of the irrepressible force versus the immovable object – St. Henry vs. Jackson Center – and two teams known for defense bent on making the other say 'Uncle'.
"We'll have to be mentally stronger than them,"  said Rosenbeck.  "They're going to make us work. They're going to make us grind. They're going to make us dig in.  Scott Elchert runs one of the best programs in the state.  He's one of the top five or ten coaches in the state.  They're going to have us scouted, know what we do, and they'll have a great game plan.  We'll have to be mentally stronger than them or they'll get us."
But one way or another, next weekend's state tournament is going to feature an area team that can either hold you to 2 points for a quarter…or squeeze the life out of you, like a snake.
Or both.
"Don't ever count out the Tigers,"  Scott Elchert likes to say, with a wry grin.
And don't think for a minute that Eric Rosebeck doesn't know that.