Aside from the record itself, the final southern tuneup stands as the last impression for some as to playing time when the team comes north, and in conference play.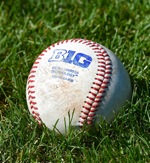 Greenville, SC – No one says as much, but this is how college baseball works.
These first four weeks in Florida, Texas, and South Carolina count on the record, yes. And a win against teams like Oregon State, or Texas A&M, or Florida are huge in terms of NCAA tournament consideration in May.
But in an even larger sense these games count hugely in the minds of coaches who are looking for consistency in performance – and getting it done when the odds are not in your favor, because, it's tough for northern teams to come south and win. The competition here is better in March because teams like Western Carolina, Furman, Florida Gulf Coast, and others have been outside since January. Ohio State has been playing inside, under Bill Davis Stadium.
And no one is saying this, either. But northern teams don't get a lot of calls from local umpires. There's no better example of that than the finish of the Buckeyes' game with Texas A&M Corpus Christi two weeks ago when a phantom home run was awarded to a Corpus Christi player…that clearly did not leave the ballpark on the fly. But that's baseball!
Regardless, these games stand as the dress rehearsal for games yet to come that are even more important – games that count in terms of Big Ten standing, a conference title, and qualifying for one of those eight conference tourney berths on the final week of May. Win that thing and you're automatically invited to an NCAA regional.
These games in South Carolina this weekend are about who can play in the cold, in the wet, and perform against good competition, notwithstanding the odds.
College baseball, for sure, is a calculated risk, based on recruiting. You bring players to campus based on what you see them do in high school, knowing that no two players will mature at the same pace between their first and final year…or with the same capacity for performance.
And to that end Greg Beals and his staff are looking closely between now and the conference opener with Rutgers on March 29 to see if their calculations are on track. But it's not an exact science.
Defensively, they're well ahead of last year when they led the Big Ten in errors.
Offensively, they're well behind last year when after four weeks of play they were hitting at a .300 clip. Currently they're hitting at a .236 clip while waiting for Kobie Foppe (.063), Conner Pohl (.200), and Dominic Canzone (.213) to heat up. As for newcomers like freshman Zach Dezenzo (.195), the sample size is simply too small after just thirteen games…the adjustment is that big.
Pitching-wise, for the most part the young arms in the rotation (Seth Lonsway, Griffan Smith, Jake Vance and Garrett Burhenn) have been impressive, but still…a work in progress. In Beals' words, they have to become more efficient in terms of pitch count, and prove that they can carry a quality start through six innings. Only Burhenn has pitched beyond the sixth inning in a start so far.
The bullpen is probably the ultimate work in progress, as Andrew Magno, Thomas Waning, Bayden Root, TJ Brock, Mitch Milheim and Will Pfennig seek their own personal solvency. Sunday's loss to Western Carolina where the late-inning wheels came off is a poignant example. But again…youth!
All this is at hand, and no loss can be dismissed as just a non-conference game because there are too many questions yet to be answered. Every pitch, every at bat, and every out matters in terms of who plays when, and where, come March 29…and even in next weekend's chilly home debut against Lipscomb.
Coincidentally, it seems a flu bug is working its way through the Buckeye roster, including the coaching staff. Which only makes for a higher degree of difficulty. Or, it could be they're just not healthy with what they see. You'd like to see better…than .236!