It was intense… it was physical… it was Minster and Fort Loramie for the D-IV regional championship. Loramie took the lead midway through the third quarter, but the Wildcats responded like championship teams do to claim their second straight regional title.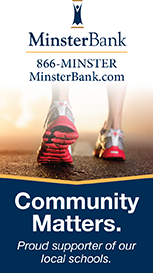 Vandalia – The Fort Loramie Redskins and Minster Wildcats met Saturday night for the second straight year for the D-IV Regional championship. And for the second year in a row, a big third quarter run decided things.
A Year ago, Minster opened up the third quarter with a 13-0 run en route to a 44-28 victory and went on to claim the state title. This time, Minster responded to Loramie's first lead of the night with a 10-0 burst that sent them to  43-29 win at the Student Activity Center and a return trip to the final four.
"I am all about the effort that we give to the sport of basketball," Minster coach Mike Wiss said while accepting congratulations from well-wishers. "We told them from day one that we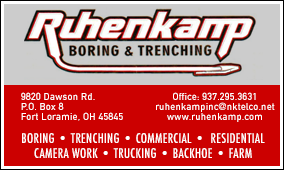 wanted an hour and a half of work every time we step on the floor. Today is our 104th day together. 104 days of hard work, 104 days of trust, 104 days of belief and 104 days of fun. This team really enjoys what it does and what they do together."
"We had chances," said a disappointed Fort Loramie head coach Carla Siegel. "We were rushing our shots, and they weren't even good shots. I think my girls were just way too nervous and I didn't expect that from them. We are a much better team than that. But give credit to Minster. They came after us and executed better than we did."
Minster started off well, with Courtney Prenger scoring the first two baskets of the game. When Ivy Wolf buried a three moments later, Minster led 11-2, forcing a Loramie timeout.
"I really needed those two baskets to go in," said a smiling Prenger after helping cut down the net. "We were all sick early in the week, and I didn't think I played that well last game, so those early baskets were really important for both me and my team."

"What a great day for Courtney," praised her coach. "We got her the ball where she needed it. She kicked it back out and then got it back, and the double teams weren't coming as quick as they have been. She took full advantage of that."
It was 16-8 midway through the second quarter when Loramie's Dana Rose hit a three and Ava Sholtis added a bucket to cut the lead to three. Minster had several empty possessions but the Redskins could not capitalize, and a Prenger basket and two Danielle Barhorst free throws restored the lead to 7. Rose struck again from the top of the key just before the buzzer, and Minster led 20-16 at the break.
Prenger opened the scoring in the second half with a drive to the hoop, and then Marissa Meiring went to work. The 5-8 junior, the Shelby County league player of the year, scored 7 straight points for the Redskins, giving Loramie it's first lead of the night at 23-22.
It turned out to be the only time the Redskins led all night.
Championship teams respond when challenge, and the Wildcats did. Boy, did they ever. Prenger, on her way to a game high 18 points, scored again out of the paint to give the Wildcats the advantage again. Ivy Wolf buried a three from the left corner, and then Karly Richard, who scored the only point off the bench in Thursday' semi-final win over Tri-Village, hit a three and scored on a drive to cap a 10-0 run. It was 32-23 after 3, and the verdict was decided.
"I could see it in Ivy Wolf's eyes when they took the lead," Wiss said of his 5-8 sophomore with a laugh. "That look said this is going to end right now. These games are games of runs and momentum, and that 10-0 run was huge."
Prenger took an elbow to the stomach midway through the third period, and was in obvious pain for several minutes. Officials called Prenger for an illegal screen on the play, and spent several minutes explaining the call to Wiss, which helped Prenger recover.
"I just got the wind knocked out of me," the 6-2 senior explained. "Coach was trying to figure out what happened, and the break helped me out. I just had to catch my breath and realize there wasn't anything I could do to change that call. We just re-focused on getting back to Columbus."
Loramie had several lengthy droughts during the game, none more critical than early in the fourth. Minster went nearly half the quarter without scoring, but Loramie could only manage a single hoop during that time. Minster scored the next 5 points to stretch the lead to 12, and the Redskins got no closer than 10 the rest of the way.
The Wildcats will take 26-1 record to Columbus, including wins over Ottoville and Carroll, which will also be in state tournament action next week.  Prenger was the only Wildcat in double figures, while Danielle Barhorst had 7 off the bench, Ivy Wolf added 6, Richard 5 and Janae Hoying with 4.
Fort Loramie, which had a 22 game winning streak snapped, got 11 points from Meiring, 6 from Rose, 5 from Ava Sholtis, 3 from Caitlyn Gasson, and 2 each from Kenzie Hoelscher and Jadyn Puthoff.

Loramie entered the regional averaging 61 points a game, but never found their offensive stride against Minster and Legacy Christian. The Redskins were 11 of 36 against Minster for 31%, 2 of 11 from long range fo 18% an 5 for 5 from the line. Minster was 16 0f 37 from the floor for 43%, 4 of 17 from the arc for 24% and 7 of 11 at the line for 64%.
Minster out-rebounded Loramie 23-20 and had 11 turnovers to the Redskins 14.
"We had a great season," Siegel said. "26-2 is one of the best records we have had at Fort Loramie. We have a lot of young girls on the team (no seniors) and things we need to work on, obviously. But it was a great year. They won the league, went 12-0 in league, and made the regional final. I'm proud of them for what they accomplished."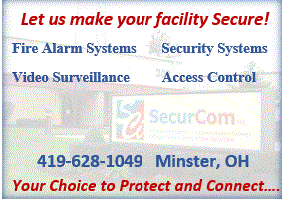 Prenger is looking forward to going back to Value City Arena.
"We have a lot of work to do. We don't play until Friday so we will have an extra day of practice, which is good. We just have to focus on what we have to do and get ready for Cornerstone Christian."
Minster dropped a 56-48 double overtime decision to Loramie back on January 12th. Wiss said that was the best thing that could have happened to the Wildcats.
"We talked about that this week. To lose the way we did—up 6 with three minutes to go, shooting 11 of 27 at the foul line, they really wanted to make up for that and get this game.
"Carla and I talked before the game. The conversation was how privileged we are to be coaching the kids that we have in two small school districts that lay it on the line as hard as they do. She said a great team is going to win this game and a great team is going to lose this game, and it's sad it has to be that way. I have total respect for Carla and what she does, and I am very happy for our kids."