They simply dug too deep a hole for themselves in the first half, and a valiant comeback effort by Versailles came up short in a girls regional semi-final loss to Waynesville.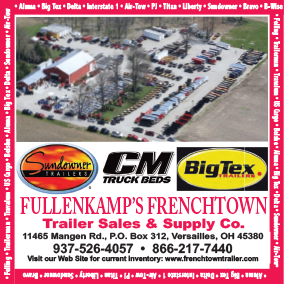 Springfield – Losses come in different shapes and sizes – for different reasons and often hard to understand.
But three things characterized the Versailles Tigers Division III semi-final loss Wednesday to unbeaten Waynesville, 55-45.
One, they simply dug themselves an early hole too deep to come back from…even though they did.  They trailed 30-17 at halftime, and those 13 lost points would come back to haunt.
Two, they ran into a whirling dirvish point guard named Rachel Murray, a superior ball-handler and penetrator that the Tigers simply could not contain, or keep away from the basket.
And three, while they staged a heroic second half comeback to outscore Waynesville 28-25, they simply didn't have enough gas left in the tank to sustain a 39-38 lead at the 7:00 minute mark of the fourth quarter…and carry off what would have been a most memorable triumph.
"You always think about it…whether we had enough left to go ahead, first of all, and then keep the lead,"  said Jacki Stonebraker afterward.  "We went ahead by one, but then we lost a couple of [their] girls and got beat down the floor.  It's a fair question (was there enough gas, or stamina, left) because we didn't go as deep into our bench tonight as we sometimes do, so our girls didn't have legs left at the end."
Fatigue, in this case, may have ruined a perfectly good comeback attempt.  From 30-17 at halftime, the Tigers stormed back in the second half courtesy of their patented full-court pressure.  Which begs the question…why not press in the first half?  Why get down by 13 in the first place?  But again, you can't play at that pace for 32 minutes, so Stonebraker picked her spots and put Waynesville's back to the wall when she had the best chance of sustaining the effort.  And as fate would have it, the Spartans just happened to have the right antidote to handle Versailles' pressure.
But to begin, they came out poorly, didn't shoot well in the first half, and played a step behind the obvious athleticism and ball-handling ability of the Waynesville backcourt – Murray and running mates Marcella Sizer and Leah Butterbaugh.  Those three routinely beat the Tigers off the dribble, got to the lane, and scored 19 of Waynesville's 30 first half points.  Murray showed skills unlike any other guard the Tigers had faced with her ability to handle the ball and escape pressure.
"She has that spin dribble that we don't play against every day and it took a while to adjust to that,"  said Stonebraker.  "But it wasn't like we took them for granted, or didn't know about them.  We knew they'd be a tough team to beat because they had a girl in every position who could do something."
And they did.  Murray ended with a team-high 17 points, but Sizer and Butterbaugh finished with 10 and 11 points, respectively, and Kenzie Purkey, Carli Brown, and Lynzie Harshorn combined for another 17 points.  And, it didn't look good – like there was any way for Versailles to right themselves – when the two teams left the court for halftime.
But pressure…that patented Versailles pressure defense that had been the foil of so many teams over the years, took its toll in the third quarter.  They turned Waynesville over five times while Lindsey Winner got hotter than a struck match, offensively.  The 6'1″ junior connected on five of seven shots from the field for 11 points in the quarter, and that effort was complemented by a Caitlin McEldowny three pointer that gave the Tigers a 19-8 advantage for the eight minutes.  They trailed 38-36 entering the fourth.
Winner continued her hot shooting with a wing three-pointer at the seven minute mark of the fourth to give Versailles its only lead of the game, 39-38.  But Rachel Murray – who else – immediately went down the floor, split a pair of defenders, and scored to re-take the lead and restore the momentum back to the Spartans.  Winner and company would try to answer, but came up empty on three successive possessions, while Waynesville (Murray, Butterbaugh, and Sizer) scored on their own three possessions to run quickly run their lead back to six points.  And from that point it became academic.
Forced to foul, Versailles sent Murray, Sizer and Butterbaugh to the line where they converted six of six attempts to close the scoring, the game, and the margin…55-45.
"They shot very well against us,"  added Stonebraker, her eyes red with disappointment for her girls, and what might have been.  "That was our biggest concern – how well would they shoot because they're a good-shooting team.
"And we rushed some shots, we didn't get back defensively a few times, and that was the ballgame.  But I was so proud of our pressure and just our will to grit it out and keep playing.  You know when you're down 13 at the half a lot of teams would have folded.  But we didn't.  We had that fire to play and win, and that's inbred in these girls, I think, from birth."
Disappointing?  Yes, of course.
But there's always an object lesson – or so the ads claim – something to learn from a trying experience, come back with a new resolve, and vow to do better.  What better time to point that out, and what better person to address it than Stonebraker to her team in the post-game locker room.
"I told them you don't take anything for granted because it can always be taken away from you,"  she said.  "I just told them that this would something they remember, but not to dwell on it.  You have to move on.  Our seniors have been great leaders, and they've grown into great leaders for us this year.  And they're going to become great people for our world someday."
Fittingly, no one appreciates an effort like their second half comeback more than a Versailles crowd.  And at the end, during the handshake line, they rose as one to applaud and pay tribute to the Tigers' 21-6 season.  The same Springfield court had been good to them over the past few years, but as Stonebraker admitted…it's not something you can take for granted.  The game giveth, and sometimes the game taketh away.
This time it was just too much, too far, and really…too much Rachel Murray.