A frightening start doomed the Minster Wildcats Tuesday in the Division IV district semi-final at Wapakoneta…and a tenacious St. Henry defense had a lot to do with it.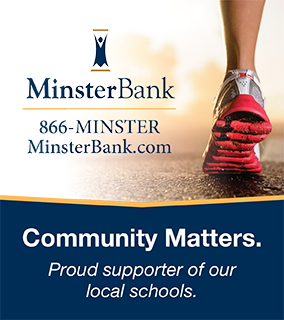 Wapakoneta – Former Ohio State coach Fred Taylor used to say, "Give me just a couple of minutes of good defense and it might be enough to win you a game."
Well, the #3-ranked St. Henry Redskins (20-3) did Taylor's prophecy one better Tuesday night on their way to a 48-41 win over Minster (16-7) in the first game of a Division IV district semi-final double-header at Wapakoneta High School.  Coach Eric Rosenbeck's determined defense gave him sixteen minutes of good defense – great defense – and held Minster to just 2 of 21 shooting for the first half (9%).  The cold-shooting Wildcats could muster  just 12 first half points and it turned out to be a fateful sixteen minutes, because that defensive start by St. Henry was enough to offset a spirited Minster turnaround in the second half.
For the sake of fairness, one could also credit Minster's defense, which held St. Henry to just 21 first half points – on 7 of 27 shooting (25%).  And 21-12 at the half is hardly an insurmountable lead.
But this is a St. Henry team that thrives on tough, physical play, contesting every possession, and little by little sapping the competitive energy and the mental state of mind of a struggling opponent.  And that start – that 2 for 21 start – turned out to be more than Minster could overcome.
"I'm very proud of our defense,"  said Rosenbeck later.  "The start that we got was phenomenal.  The guys really understood what we wanted to do defensively and they came out physical and intense.  They got out after shooters and it was as good a defensive effort as I've seen because Minster can really fill it up.  For us to hold them to two field goals is a real credit to our kids."
"That was a killer,"  admitted Minster coach Mike McClurg.  "But you gotta' credit St. Henry.  And I thought we guarded them pretty well for the most part.  But man…credit them for the job they did and the way they played.  I don't think they shot it that great, but their defense was great."
It's true.  St. Henry really didn't shoot it great, just 31% from the field for the game.

But they got big shots…at big moments…from big players.  Players like post man Caden Niekamp, who finished with 16 points and a badly turned ankle in the waning moments of the game.  Niekamp would limp to the bench in obvious pain as the game concluded, and his status for Friday's final will yet be determined.  Meanwhile, the other Niekamp (Zach) finished with 12 points, half of which came on a pair of long three-pointers.  The rest of the St. Hank lineup filled in as needed – 5 from Jay Knapke, 4 from Ethan Thieman and Sam Hartings, 3 from Andrew Lange, and 2 each from Ben Evers and Riley Link.  Every time a big bucket was needed, someone seemed to step up, notwithstanding 31% shooting for the night.
"It took a team effort,"  added Rosenbeck.  "It took mental toughness, because I don't think we shot it that well.  And for whatever reason – and I thought our kids played really hard – we couldn't get a 50-50 ball the whole fourth quarter.  Every loose ball ended up in Minster's hands and they made us pay.  But we didn't waver and ended up getting enough plays for the game to win."
At 21-12 starting the third quarter, Minster began to climb back, outscoring St. Henry 16-12 in the third quarter.  Mike Ketner hit a three on his way to a 6-point period, while Noah Enneking, Jack Heitbrink, and Justin Nixon all got on the board with two points each.  And in the fourth they continued to edge closer, closing the margin to three points twice, and Jack Heitbrink's three-pointer midway through the final eight minutes cut the St. Henry lead to a single point.
But Caden Niekamp, a 6'6″ and 300 pounds of him, came right back down on the ensuing possession and canned a three-point dagger of his own to restore the lead to four points, while Hartings, Evers, and Knapke all slashed to the paint and scored six points between them to keep Minster and its comeback attempt at arm's length.
Caden Niekamp went to the bench with his twisted ankle near the one-minute mark of the game, and with the score 44-41 Minster had the ball with thirty seconds remaining as both sides of the stands came to its feet for an anticipated dramatic conclusion.  It had been a very physical came.  Bodies flew, along with the occasional elbow, and there was a lot of banging between the two respective big men, Niekamp and Minster's Jarod Schulze.  The officials had let 'em play.
But with 20 seconds remaining and Minster's Jack Heitbrink looking to launch a would-be tying 'three' from behind the arc…a call came that changed the course of the game – a moving screen call on Minster, and one of the most subjective calls in basketball.  It gave the ball back to St. Henry, and effectively killed Minster's hopes to tie or take the lead.  Two ensuing possessions by St. Henry resulted in made free throws by Hartings and Knapke that extended the final margin to 48-41.
"I don't know who set the screen, but that call changed the game,"  said McClurg.  And that was all he had to say.  It did, in fact, change the game.
But it didn't change the fact that this St. Henry team, depending on the outcome of Caden Niekamp's ankle, is going to be a tough out for whoever they run into between Friday and perhaps Columbus in two weeks.  For the game their defense held Minster to just 28% shooting (13 of 46), and for a team that really can fill it up on a give night…only three players scored in significant numbers.  Jarod Schulze had a team-high 15, Mike Ketner had 11, and Jack Heitbrink had 9.  The only other players to score were Cody Frericks with 4, and Justin Nixon with 2.
And one cannot overlook the degree of difficulty with playing in, and surviving, this Division IV district.  After all, the defending champ, Marion Local, is in it, along with Lima Perry, who knocked out St. Henry a couple of years ago.

"The physicality, the intensity, and the desire in this district, to me, is unmatched,"  added Eric Rosenbeck.  "Y0u have to experience it to understand  It's a high, high level of basketball, but obviously I'm biased."
And the object lesson for all who see tomorrow's box score is this.  When you play St. Henry you're going to get defended – tough, physical, intense defense where every possession is tightly contested, and open shots, along with oxygen, becomes scarce.  Go in knowing, or simply ask Minster.
If you start out 2 for 21…it can get you beat!