Fort Loramie won their 24th district title Saturday in girls basketball, and did in customary fashion.  They're simply too deep, too athletic, and too good for the 'average' Division IV basketball team.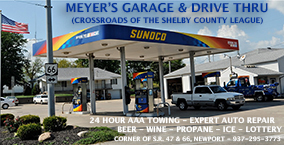 Troy –  What someone described midway through the regular season as the "whirling dirvish" – the Fort Loramie girls basketball team – rolled on Saturday to its 24th district basketball title at Troy High School, taking down a game, and athletic, Cedarville team, 49-21.
And fans, believe it.  Those 21 points came hard as Loramie won in their customary fashion – pressure defense for 32 minutes, patience in their half court offense, creating turnovers and scoring in transition, dominating the boards…and depth off the bench the likes of which the average team cannot compete.  There's simply too many of them, and they're too good!
Not my words, but the words of Cedarville coach Josh Mason, who had prepared for the worst, then saw his team hang gamely with Loramie (25-1) for the first eight minutes.  But eventually, the size, the skill, the speed, the pressure, and the depth simply took its toll.
"They're really good, and their depth…it's incredible,"  said Mason, still red-eyed from his post-game meeting with a disappointed basketball team, and a team that won 19 games this season.  "I just told the girls in the locker room…that we probably got beat today by the state champion, there's a really good chance of that and I think everyone in this gym knows that.  I think they (Loramie) know that.  When you have nine and ten deep and you can sub like that…it's just hard to beat them.  It's hard to get a rebound against them.  But I thought we played with them for the first half."
In fact they did, trailing by just 11-7 at the end of the first quarter, but the margin grew to 27-13 by halftime.  Cedarville, a hustling and athletic group behind senior Maggie Coe (who would finish with 16 points), gave it their best shot.
But Loramie's customary pressure, their ability to disrupt, the commitment to shutting down the passing lanes – making teams handle the ball more than they can – began to wear on the Indians by the mid-point of the game.
Their ability to run the floor, score in transition, and their patience to run offense in the half court, get the shot they want, and make a good percentage of those shots…became the omen of doom for Mason's team.
"I really believed that we played with them the whole first half,"  he said.  "But we missed some layups, and that hurt us, and when you can't sub another 6-footer in like they can that's a huge disadvantage.  But my girls didn't quit, and I was proud of them for that.  They've been running through the tournament beating teams by 50 and 60 points, and it's a testament to my girls will that they didn't do that today.
"But at the end of the day their transition is just incredible, their patience is so good, when you've got nine that all guard the ball like they do…you just can't attack any one player.  And then Carla…she's so good at bringing a team to this point of the season.  Beating her is like beating Geno Auriema [and UConn]."
The scorebook bears him (Mason) out.  Behind a team-high 14 points by Kenzie Hoelscher, everyone seemed to make the most of their floor time and contributed offensively.  Ava Sholtis had 8, Jadyn Puthoff had 6, Kennedi Gephart and Taylor Ratermann had 5 each, Marissa Meiring had 4, Macy Imwalle had 3, Dana Rose and Colleen Brandewie both scored 2 – they all scored alike, because they all played alike, like interchangeable parts.
Maggie Coe led Cedarville with 16 points.  But to illustrate the dominance of Loramie, only two other Indian players scored, with 2 and 3 points, respectively.
"Josh is a very nice guy,"  said Siegel, when she heard of Mason's comparing her to the legendary coach of the Huskies.  "He's does a great job with his team every year."
But pleasantries aside, his comments about having just played the eventual state champion gave her pause as she addressed his words.
"I've never had a team like this where I can go to ten or eleven players without dropoff.  And team chemistry with the group is so good, they want everyone to excel.  It doesn't matter who scores or who's playing well, they're genuinely happy, and that's something you don't have every year.  To have all that, and the depth we have, it is a wonderful thing.
"What we saw today was a very amped up team.  They were physical, they were in our grill…Josh did a very good job in preparing his girls to play.  They did everything they could to try to turn us over.  But our length, our height, and our depth just wore them out.  They couldn't sub as much as us."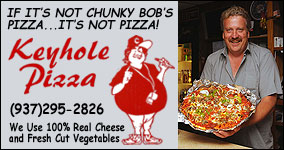 Which brings the obvious question for a coach who's responsible for so many of those 24 district wins.  Is this the best hand she's ever held at this point of the tournament, her two state titles included?
"The answer to that would probably be yes,"  she answered without hesitation.  "Because if you have seven or eight solid players you're feeling pretty good.  But to know that you have nine or ten that can play, that you have the kind of team chemistry we have, and if you can stay mentally focused.  I felt today we weren't as focused as we could have been.  Now every game gets bigger, and tougher, and hopefully we continue to respond."
And the response that everyone anticipates is the obvious matchup to come (whoops…the likely matchup to come) with Minster in the regional final.  There's still at least one team that will have something to say about that.
But unless they have Loramie's depth, and athleticism, and chemistry, and legacy (they've already beaten Minster once this year) the "whirling dirvish" is gonna' roll on to that anticipated rematch.  Like the man says…..
It feels a lot like you're playing a Geno Auriema team.