It's the biggest high school bowling tournament of the year, but what you don't know about the state tournament is…it might be the best atmosphere of all the OHSAA tournaments.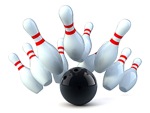 Columbus – It was 'ladies' day of the 2019 OHSAA state bowling tournament on Friday at the Wayne Webb Columbus Bowling Center, and more than 205 female bowlers from around the state were onhand to compete for the coveted title of 'state champion'.
Those girls included Elena Bulcher, from Fort Loramie, who qualified as an individual…and the Versailles girls team, who bowled well enough in the morning and early afternoon qualifiers to make the championship qualifying round later in the day.
But first, a word about the event itself, which saw nearly a thousand people pack PBA hall-of-famer Wayne Webb's 60-lane complex to create an atmosphere unlike that of any other OHSAA competitive championship you can attend.    It was loud, and it was "proud", said one coach from Cardington, Ohio.  "And that's all you can ask for on a day like this."
It is a grueling day of competition, physically.  They start around 10 am with fifteen minutes of practice, then roll three qualifying games, then three 'Baker' games to sort out the contestants for the afternoon's championship 'best of five' 'Baker' round.
"If you make it all the way to the end it may not end until 6 or 6:30,"  said Versailles coach Tyler Phlipot.  "That's a long day of bowling."
And in the end…the day may have taken its toll on the girls from Versailles, and Elena Bulcher.
Bowling individually, Bulcher did not contend for the title, finishing with a 501 three-game series.
And bowling as a team, the Versailles girls qualified to bowl in the championship qualifier, only to finish 5th out of 16 teams in the 3:45 pm round, and were eliminated from contention for the team title.  The top four of the sixteen teams bowled for that distinction.
However, Versailles Morgan Heitkamp did distinguish herself, bowling a 524 series in the qualifying round, including games of 200 and 204.  And individually, she placed 12th, overall.
"We would like to have done better,"  said Phlipot, afterwards.  "But overall, we had a pretty good year.  I'm very proud of these girls for finishing 5th out of the sixteen best teams in the state.
He'll get another crack at it tomorrow, as Phlipot and the Versailles boys will be back at the Wayne Webb center to compete for that title.
And unique to the day's activities was the presence of the proprietor himself.  Wayne Webb, PBA hall-of-famer and owner of 25 career PBA titles (20 on the regular tour and 5 as a senior) was onhand to work, of all things…the concession stand.  His job was that of popping the popcorn and running the cash register, and business was brisk.
For those who recognize his name, Wayne Webb was unique for two things during his time on the PBA tour.  His hair (back then, long and wild), and his one-hand style where he never touched the bowling ball with his off-hand.  He was right-handed, held the ball by his side, and threw it without ever bringing to his chest, or without touching it with his left hand.
"It was something I saw when I was young, back in the day,"  Webb explained Friday.  "I saw Carmen Salvino (another PBA hall-of-famer) do it, thought it was cool, and I tried it.  I was kind of muscley back then, it helped me relax my arm.  I liked it and stayed with it."
But on this weekend Wayne Webb smiles as he watches what OHSAA commissioner Jerry Snodgrass calls "the next level of athletes".
"It makes me happy to see bowling this popular at the high school level,"  he explained.  "In the past few years the only growth in the sport of bowling was that of high school and college bowling, and hopefully this enthusiasm continues.  Hopefully it helps sustain the sport with these kids going on to bowl as adults."
The boys will take center stage on Saturday, with several area teams and individuals competing all day for the right to claim the most enthusiastically claimed OHSAA trophy of them all.
Friday's official attendance of 719 was announced as the largest Friday crowd on record, so get there early on Saturday if you want to go.
That's the only bowling tip that you're going to get this weekend from the host – the hall of famer – Wayne Webb.