Fort Loramie continues its roll – a perfect 4-0 run through the Piqua sectional for its seniors, and another trip to UD Arena next week for the Division IV district round.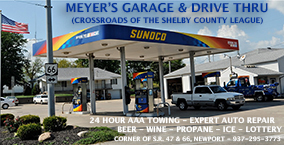 Piqua – When the high school boys basketball season started the Fort Loramie Redskins had two players with significant district tournament experience.
That changes next week.
Fort Loramie held off Ansonia's spirited rally in the Division IV sectional final Friday, winning 33-23 for the Redskins' fourth straight sectional championship. The Redskins knocked off the Tigers 47-24 in last season's sectional final, too.
The win capped a perfect four-year run through the Piqua sectional for Fort Loramie's seniors – Nathan Raterman, Eli Rosengarten, Carter Mescher, Mason Kemper and Jake Ratermann. Raterman and Rosengarten both saw quality playing time last season. Mescher played sparingly and Kemper and Ratermann were both junior varsity a season ago.
All played a role in getting the Redskins back to the University of Dayton Arena for next week's D-IV district final. Fort Loramie plays the winner of Cincinnati Miami Valley Christian Academy and Lockland at UD next Friday at a time to be announced. MVCA and Lockland play their sectional final Saturday.

"I'm extremely happy for our seniors," Fort Loramie coach Corey Britton said. "I don't think at the beginning of the year there was a whole lot of belief in our basketball team. Our seniors get all the credit in the world."
On Friday, Fort Loramie sprinted to a 9-0 lead and 12-5 advantage after one quarter. The Redskins pushed it to 17-7 at halftime in a defensive battle. Loramie led by as many as 16 points in the second half, leading 25-9 with 55 seconds left in the third quarter.
The lead was 28-14 with 5:03 left in the game. That's when Ansonia threw a scare – as well as a few successful jumpers – at Loramie.
Ansonia's Matthew Shook hit a three-pointer then scored on consecutive drives down the lane for a personal 7-0 run. That pulled Ansonia to 28-21 with 2:36 remaining. After Fort Loramie turned the ball over on a charge, Ansonia's Hunter Muir made it 28-22 on a spin in the lane.
The front end of a bonus free throw and Kemper's fast-break layup, started by an outlet pass from a missed Ansonia three-pointer, put the Redskins up 31-23 with 57 seconds to play. The Redskins closed out the win scoring the final five points.
"They're a good basketball team so you knew they were going to make a run. We were able to withstand it," Britton said. "There's been times this year we haven't withstood those runs. To see the maturity of our kids – sort of grow a little bit – and finish that out was a good thing."
The district tournament appearance is Fort Loramie's sixth in the last seven seasons. Friday night's tense finish should help the Redskins' younger players as they adjust to the increased pressure that comes with each tournament win from here on out.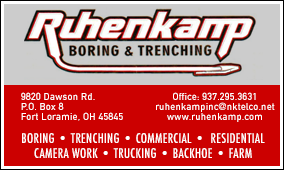 "For some of those guys it was their first big tournament game in a big atmosphere," Rosengarten said. "It's pretty awesome winning this last one."
Fort Loramie (18-7) started the season 3-4 before rattling off eight wins in their next nine games to improve to 11-5. The Redskins have won six straight after beating Ansonia.
Entering Friday, the Tigers (14-11) last five games had been decided by single digits, including their 37-36 sectional upset over Botkins. They again whittled the deficit to single digits Friday before running out of gas.
"That's kind of how our season unfolded," Ansonia first-year coach Devin Limburg said. "When we felt like we were out of games we kept battling. We found ways to stay in games and make it close at the end. It seems like we were always playing close games this year.
"Their defense was really good. They bottled us up probably better than we've seen all year. Their No. 1 through No. 5 guy are all kind of the same size and same versatility. They're able to switch and don't lose anything in length and quickness."
Britton threw Rosengarten at Ansonia's Hunter Buckingham on defense. Buckingham broke the Tigers' career three-point record earlier in the sectional tournament when he hit his 74th. On Friday, Buckingham went 0-for-8, all on three-point attempts.
"I thought early we set the tone with our defense," Britton said. "I thought we made it extremely hard."
Ansonia shot 9-of-35 (25.7 percent) overall and 2-of-14 (14.3 percent) from three-point range. Shook led the Tigers with 13 points.
Fort Loramie shot 12-of-40 (30 percent) overall and 2-of-11 (18.2) on three-pointers. They did force Ansonia into 15 turnovers while committing seven. Rosengarten scored a team-high 12 points to lead a very balanced scoring effort. Eight other players scored between six and one point for Loramie.
"To come here and get out of this sectional is a feat in itself," Britton said. "For our seniors to continue to this tradition and get out four years in a row, all the credit in the world to those five seniors."
They weren't necessarily counted out, but this year's Redskins team was younger and less experienced after graduating four starters from a season ago. They still ended up at UD.
"We're Loramie so we're going to be good every year," Rosengarten said in a confident but not cocky way. "The last team through was special. It'd be hard to come back and be better than that team. We're just fighters. We play hard and we share the ball. … I'm glad I can make it to UD for the last time. I'm glad the sophomores can get the experience to go to UD."