They used clutch first half shooting and a stifling defense to do it…Franklin Monroe repays Covington when it hurts the most, knocking the Buccaneers out of the Division IV sectional finals.
Brookville – It was William Shakespeare that wrote it into his famous play, "Beware the Ides of March."
And Wednesday night, in Brookville, Covington coach Jim Meyer and his Covington Buccaneers must have felt like Julius Caesar, as on the last day of February the Ides of March became manifest at the hands of the Franklin Monroe Jets.  FM used some clutch three-point shooting in the first half and a stifling defense throughout to knock the 20-4 Buccs out of the Division IV tournament, 42-34.
In capsule, the Abby Moore's Jets simply outplayed Covington on both ends – denying all-state guard Sammi Whiteman open looks at the rim, denying Covington rebounds off the offensive boards, and on top of this Covington shot a simply miserable percentage from point-blank range for the duration of the game.  Shot, after layup, after stickback, after tip simply rolled off the rim for Covington, one of the worst shooting nights in Meyer's memory as a head coach.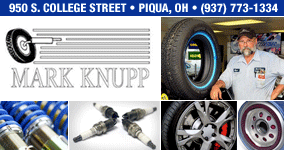 "The only night I can think of was the regional semi-final last year against Fort Loramie,"  said Meyer afterwards.  "We left a lot of points on the floor and lost that game by five points.  But in a game of this magnitude you have to be on, and our shot chart says that we missed 18 point-blank shots at the rim.  And against a team like Franklin Monroe, in a sectional final, you can't do that and expect to win.  If we make just half of those [shots] we win the game."
Covington was not only cold from the floor, they were arctic, shooting just 21% (14 of 66) against an FM defense that was out to avenge an earlier regular season loss (Dec. 20, 59-47).  And to do so they made it a point to take Sammi Whiteman out of the game.  They did it with a junk defense that made the Buccs senior star play against a double team at all times – and allowed the rest of Covington's lineup to beat them if they could.  And they couldn't.
Shot after shot from the perimeter either went short, or long;  and shots from the paint from Lauren Christian, Morgan Kimmel, Lillian Hamilton, Mackenzee Maschino, et. al…simply rolled off the rim or got blocked by the Jets' inside size.  They trailed 13-8 at the end of a quarter, and were fortunate the deficit was still manageable by halftime – 22 to 14!
"Our kids battled, but FM defended us well,"  added Meyer.  "We just couldn't convert."
Franklin Monroe, on the other hand, made some big shots in that first half that gave them a cushion they'd ultimately need.  Chloe McGlinch, a 5'6″ sophomore, who wore the unlucky #13 (at least for Covington's sake), sunk three long ones from behind the arc on her way to a 14-point first half, and by game's end, a game-high 19 points.  And to Meyer's frustration, those shots were largely uncontested, as Covington was unable to close out on the Jets' perimeter shooters.
"We had a good game plan on both ends,"  said Abby Moore.  "And we were able to execute.  The three-pointers from Chloe were huge, and we worked on that all week – til the girls' arms got tired from shooting.  But we knew that Chloe was going to be open with the defense their triangle-and-two defense, and for her to execute and hit those shots was huge.  I'm so happy for her and proud of our effort."
Still, Covington fought their way back into contention, twice cutting the Jets' deficit to three points in the final quarter.  But both times they could not come closer, bitten by a turnover on one occasion…and five successive misses off offensive rebounds at the rim's edge on the other.  FM would go down and score to extend their lead both times, and sealed the win at the foul line in the final minute.
McGlinch led the Jets' effort with her 19 points, while Corina Conley would score 11, Stella Shellabarger had 5, Skylar Bauman had 3, and Belle Cable and Chloe Peters each had 2.
For Covington, their struggle to score was painful.  Whiteman, who had averaged as much as 25 throughout the year, would finish with just 11.  Morgan Kimmel added 6.  Freshman Claudia Harrington, who had shown throughout the season the ability to sizzle from three-point range, hit just one in six attempts and finished with 5 points.  Lauren Christian added 6, Morgan Lowe 4, and Lillian Hamilton had 2.
It was shocking, given the credentials of Sammi Whiteman as one of the state's best Division IV scorers, but Meyer took Wednesday's outcome it with an experienced perspective.
"Franklin Monroe did a heckuva' job,"  he said.  "They scored when they needed to, they defended when they need to, and maybe our youth caught up with us.  We tried to prepare them, but the only two that had not experienced a game like this were our two freshmen (Harrington and Maschino).
"We talked all week about being mentally prepared.  Physically we were fine, and we practiced well, but regardless of how well you prepare you never know how 14, 15, and 16-year-old kids are going to be able to focus and play.  It's not an exact science."
FM will move on to play in this weekend's district round, while Covington, for the second year in a row, goes home with a 20-win season.
"I told the kids that I'm so proud of us going 20-4 in a season when people thought we'd be OK, but not 20-4.  So for us to have a season like we've had…I'm just proud of what they did.  I'm proud of our four seniors (Whiteman, Christian, Hamilton, and Leah Poling).  They've been with me the longest, and we've kinda' grown up together here.  They're great kids and they're all gonna' go on to do good things with their lives."
And for Sammi Whiteman – she finishes as the all-time leading scorer in Covington basketball (1,893), boys and girls.   Her hoops career will continue come fall as a freshman at Trevecca Nazarene University, in Nashville.
It's always a sad time – the final game of the season when you don't win it.  And fittingly, in basketball it comes during the part of the calendar that Shakespeare wrote about – when teams from all over the state take the floor with a foreboding that the end can come in an unexpected fashion.  But…..
You're never ready for 14 of 66.