A year ago this time no one had heard of him.  Now, after two weeks it's hard to talk about Ohio State baseball without mentioning him.  Welcome to the unlikely, whirlwind story…of catcher Brent Todys.
Corpus Christi, TX – Up until the present…he's been the pride of parents Bob and Wendy Todys, of Westerville, Ohio.
That was pretty much the official bio of Ohio State catcher Brent Todys, despite one season of baseball at Andrew College, somewhere down in Cuthbert, Georgia (ever heard of it?), where he batted .353 with 39 runs scored, 20 doubles, two triples, six home runs and 46 RBI as a sophomore for the mighty Tigers.
And prior to that he was a two-time all-conference player at Westerville North High School where he hit .398 with 2 home runs his senior year – the pride of coach Sean Ring.  That was pretty much his story.  Good enough to be a footnote in the yearbook, or program, but hardly a topic of conversation.
No more!
After two weeks of the 2019 baseball season redshirt sophomore catcher Brent Todys is suddenly the first words out of anyone's mouth who either writes, or talks logically about Ohio State baseball.  Filling in for catcher and co-captain Dillon Dingler, who broke the hamate bone in his left hand on opening day against the Seton Hall Pirates, Todys has found himself thrust into the role of playing one of the most important positions on the field.
And O-H…he's been anything BUT a fill-in.
In his seven games since he's hit .346 (tied for second best on the team), with 9 hits, a home run, 4 doubles and 2 RBIs.  He has the second-highest slugging percentage on the team (.615), he's accounted for 54 putouts defensively, and is fielding his position (the toughest position on the field) at 1.000%!
"It's like my dream coming true,"  he said Sunday, after the Buckeyes' 8-3 win over Oral Roberts University, a game in which he went 2 for 3, was hit by a pitch, and scored a run (his third of the season).  "To grow up in Westerville and you want to be a Buckeye, and to finally get that chance…", he says with a reflective pause, "It's taken a while to get here."
This story starts not so long ago.  After graduating from Westerville in 2016, he found himself with no place TO play.  He used his imagination…that and the influence of friend and teammate Noah West to keep his hand (literally) in the game.
"Noah's dad helped me get a catching gig with the Columbus Clippers, catching the guys in the bullpen, and I got to see day in and day out what players were doing at that level.  It helped open my eyes and see what kind of routine I needed to get for myself if I wanted to get to this level.
"I got in the weight room, I started taking care of my body, and I developed a plan for each day.  I started to think about what elite preparation can do for you.  I was a late bloomer and didn't know it, but I began to see the possibilities.  It just took me longer than some others."
His plan started with enrolling at Mount Vernon Nazarene College that fall.
"My experience around the Clippers helped drive my confidence,"  says Todys. "And after a semester there I hooked up with a coach down South that I had known during travel ball in high school.  He told me about a JUCO named Wallace Community College (Dothan, Georgia) and I transferred there after a semester at Mount Vernon.  But I was ineligible because I had played four games for MVNU in the fall, so the coaches at Wallace helped me find another JUCO that needed a catcher.
He landed at Andrew College, in Cuthbert, Georgia, and played well enough last year (his one year there) to catch the eye of OSU coach Greg Beals, who knew of Todys because of Noah West, whom he had recruited from Westerville.
"I got on an airplane and flew over to Washington, DC, and drove over to New Market, Virginia to see him play in the summer.  And I saw a kid who prepared at an elite level.  That was the thing that I liked about him.  I knew he could really catch behind home plate, and I saw that he was a tough competitor."
The dream began to materialize.
"I started paying attention to Division I schools who had catchers that might be getting drafted last year, or were graduating, so I sent out my numbers from Andrew,"  says Todys.  "And when Jacob Barnwell was taken by the Rockies, and Keegan Fish (OSU recruit from Cincinnati) was drafted last June Chris Holick (former OSU assistant) called me.  Beals came to see play and I was pretty nervous about it because Ohio State was my dream school.  I grew up in Columbus.  Getting that call from them was pretty crazy, but….."
He immediately made an impact in fall baseball at Ohio State – catching, throwing…and his hitting.  He made consistent contact, and he made HARD contact!
"I'm not gonna' lie, this is my fourth school now so I've taken bits and pieces from each coach I've been around.  And the time I spent around the Clippers really helped me because I would sit with their coaches and players on the bench and listen to their approach to hitting, and just playing the game. I've picked everyone's brain and that's helped me with the mental approach…and Beals, Matt Angle, and Kirby Pellant really helped me a lot in fall baseball with the transition to this level."
His .346 average is testament to the value of his having paid attention, that and 'elite' preparation.
"They make a big deal out of that here (preparation),"  says Todys.  "The mental part of the game is so important.  But really, it's a matter of being fastball-ready, and being confident that you're going to hit.  For me it's see-the-ball, hit-the-ball."
His is literally a story of what opportunity and preparation thrust together can mean.  Fate knows no favorites, certainly, but it does seem to smile upon those who are ready.  And when Dillon Dingler went down, Brent Todys was ready.
"He really doesn't play, or think of himself as a back-up,"  says Beals of his JUCO gem.  "He prepares himself very, very well.  He came here thinking of himself as a really good catcher and a guy who's ready to play, and he's proven that."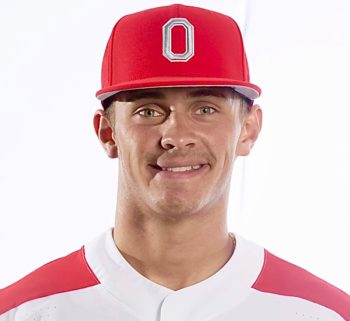 "This is what I dreamed about in high school,"  he admitted Sunday, with a smile.  "Being a part of the Ohio State University baseball program means so much.  I always read about it on social media, wanted to be in those shoes.  It's like something I can cross off my bucket list.
"Now I have family and friends watching, but in the end it's really the same game I've always played.  I don't have the jitters that I had in the fall anymore.  That's long gone.  I just go out and play.  I know my role and I'm excited about it every day."
And until Dillon Dingler is available again to play, fatigue, or hitting the wall, is the farthest thing from his mind.
"Oh no,"  he says.  "Those guys with the Clippers catch every day in 95 degree heat, week after week without days off.  Catching's a grind, for sure, but it's also a mental thing.  With our schedule we get three days off every week, and there is no 95 degree heat.  I'm gonna' be fine.
"This is such an honor."
To be a Buckeye.  To fulfill the hometown dream.  Where preparation and opportunity have come together for Brent Todys – the pride of Bob and Wendy!