Fort Loramie's second-quarter surge helped the Redskins build a lead that the Covington Buccaneers' couldn't overcome in the Division IV sectional tournament.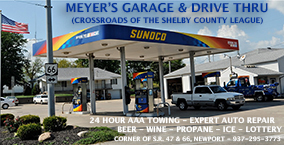 Piqua – The Fort Loramie Redskins have won three straight Division IV sectional titles. And while this year's team might be less experienced than those title teams, they've still shown flashes that they can get there, too.
On Friday night that spark came in the second quarter. Second-seeded Fort Loramie – holding a slim four-point lead over No. 11 Covington after one quarter – struck again and again from three-point range. The scoring blitz established a double-digit lead that remained there in the Redskins' 73-47 victory at Piqua High School.
Fort Loramie hit four of its 11 three-pointers in the second to outscore the Buccaneers 24-7. Up to that point the Buccs had clamped down on the Redskins offense – keyed by a dominating rebounding effort – to have the Covington faithful pondering a potential upset early on.
"Massive second quarter. And that's kind of been our Achilles heel all year, is having trouble at spots through the game where you go through a drought," Covington coach Matt Pond said. "Against a good team like that you have to match that."
Fort Loramie led 12-8 after the first quarter. It gradually went to 20-10 midway through the quarter before the Redskins took control. Eli Rosengarten knocked down a pair of three-pointers and Jake Ratermann and Nolan Berning each had one. Loramie led 36-15 at the half and never looked back.
"The more balance we get, the more options we have the tougher we are to guard," Fort Loramie coach Cody Britton said. "When we share the basketball the ball goes in the basket. I told our kids at halftime when we play hard (on defense), offensively it got a whole lot easier for us. We're just trying to get a little bit better every game."
Rosengarten finished with a game-high 15 points and Ratermann added 12. Carter Mescher and Nathan Raterman both scored nine points. In all, eight different players knocked down at least one three-pointer for the Redskins.
"I was nervous coming in," Britton said. "Covington has some big, strong kids and they're good athletes. We've got a bunch of guys who have never played on this floor before. I was curious to see how we would play and we looked like we were a little tight early. We didn't have good energy. It's something we can learn and move on from. Hopefully we can grow and get a little better in that area."
Fort Loramie (16-7) plays No. 9 DeGraff Riverside (8-13) at 7:30 p.m. Tuesday at Piqua. A win moves the Redskins into the sectional final.
The Redskins returned three letterwinners from last season's team with Rosengarten, Nathan Ratermann and Nick Brandewie. Brandewie missed Friday's game with a nagging injury that needs rest. His status for Tuesday is questionable.
Eleven different players scored for Loramie. That's a nice balance that makes it difficult to defend the Redskins. Loramie led by as many as 29 points in the second half and never let the lead fall below 18.
"Their size was a concern for us," Britton said. "We talked about rebounding and taking care of the basketball. We were terrible on the glass tonight. We won't win many tournament games getting outrebounded, so that was disappointing.
"The biggest thing is we played better defensively. I thought we were extremely passive at (the offensive) end of the floor. If you don't rebound the ball you're playing defense longer. That's what they did to us."
Andrew Cates scored 13 points to lead Covington (5-18). Chad Yohey added eight and Spencer Brumbaugh seven.
The Buccs graduate four seniors from this team with Gray Harshbarger, Tyler Fraley, Jack Shell and Yohey. They combined for 19 points, but did a few things on defense that don't show up in the scorebook. The Buccs just needed a little more offense.
"We did not feel we could sit there and go toe-to-toe with them," Pond said. "You've got to be able to score. Getting 47 against them is great. But we gave up 73. I can't take away from my kids' effort. We fought the whole way. My seniors – Harshbarger, Fraley, Yohey, Shell – those kids have led us emotionally all year. We scrapped and we fought.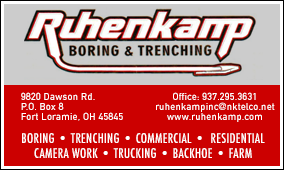 "We've had trouble getting over the hump. We had a great week of practice and our kids believed in themselves. They believed in what we are trying to do. It just didn't work out tonight. We were hoping (Fort Loramie) would have some first-game jitters shooting the ball. We said make them hit a few. They hit 11 three-pointers. That's a credit to (Fort Loramie)."
Fort Loramie is a win away from reaching another sectional title game. Still playing on the top half of the bracket is No. 4 Botkins and No. 5 Ansonia. Those teams play 6 p.m. Tuesday at Piqua. The winners from those two sectional semifinals return to Piqua at 7 p.m. on March 1 for the sectional championship.
"It's always good to have guys who have been here and done that before," Britton said. "We need all the experience we can get. It's always a learning process and hopefully we're a little bit better in game two."