If you wonder why college sports teams travel so much, and so far (even baseball), the answer lies with simple marketing concepts of extended profile and visibility.
Corpus Christi, TX – If anyone who read our coverage of Ohio State baseball last weekend took the time to wonder why the Buckeyes travel so far to play, there's certainly more to it than just finding good competition, warm weather and welcoming facilities.
Weather was certainly a comforting issue in Fort Myers, where the daytime temps were in the mid-80s and the Bermuda grass fields were coming to lush green life after the dormant months of December and January.  That won't happen for another two months around here.
But there's another reason why schools like Ohio State, Michigan, Minnesota – and even Seton Hall – take the time and makes the investment in extended travel for the sake of three weekend baseball games. It's a good thing for the kids, yes.  But in a word…it's also visibility and the importance of having a recruiting profile outside of your home state.
Yes, there's that 'RPI' thing and NCAA ranking, but there's also the fact of the farther you cast your net (or your brand), the more fish you catch.  It's called corporate marketing to would-be student athletes from other parts of the country.
It's working for Ohio State, which in recent years has drawn players like Noah McGowan (Houston, Texas) and Kobie Foppe (Phoenix, Arizona), both of whom came to OSU via the JUCO route – McClennon JC and Mountain Community College, respectively.  And first baseman Bo Coolen, who graduated last spring, was a native of Hawaii.  Two years ago L Grant Davis came to Columbus from Los Angeles.
And not surprising, Ohio State has traveled to Arizona the last two years to play Utah and Oregon State – because it's good baseball to be sure, but also because it's good business to be seen by players like Foppe (who hit .335 last year),  especially when your brand is the Ohio State University.
But Seton Hall, a small Jesuit school in the Big East Conference, from South Orange, New Jersey?
Yes, even Seton Hall, known for its basketball and former coach and CBS analyst Bill Raftery, but hardly for baseball. The Pirates game #2 starter against the Buckeyes last week was 6'6" Noah Thompson, a hard-throwing righthanded junior who struck out 10, and gave every appearance of being a draft prospect come June. His home…is in Frisco, Texas, a Dallas suburb.
"I guess they needed a pitcher and I needed a school," says Thompson, of how he found his way from Texas to South Orange. "Once I saw it (Seton Hall) I just liked it."
And that's how marketing your brand, and recruiting, work together. If they see you they might like you!  And not coincidentally, over the weekend our Buckeyes coverage and feeds on Facebook and Twitter attracted readership and response from high school and elite travel baseball programs from everywhere on the map – from Ohio, Indiana, Kentucky, West Virginia, and even Sarasota, Florida.
The hope is that once a prospect actually sees a school, or reads about it, they might develop a fascination and eventually buy, like Noah Thompson.  Proctor and Gamble figured it out years ago, and now everyone uses Tide. Greg Beals is hoping to clean up the same way in baseball. He wants more Kobie Foppes to buy…Ohio State!
If you think the old baseball adage about how good pitching beats good hitting every time isn't true, check out the numbers from the Buckeyes' three-game set with Seton Hall last week.
For those three games the Buckeyes collectively hit .270, with 4 home runs and 14 RBI – a slugging percentage of nearly .500.  Brady Cherry, himself, went 7 for 15 with two home runs (.466).
Meanwhile, their pitching held the Pirates to an average of just .196…which translated into 1 home run, 5 RBIs, and a slugging percentage of .289.  It also translated into getting swept!
This weekend's schedule will offer an entirely different look in competition, as the Buckeyes travel to Corpus Christi, Texas to hook up with Brigham Young University, that took 2 of 3 games from Northwestern in Mesa, Arizona over the weekend…Texas A&M (Corpus Christi), that took 2 of 3 from UT-Arlington…and Oral Roberts University, which swept three games from Murray State, of the Ohio Valley Conference.
BYU is coming off a 22-28 season in 2018. Corpus Christi played to a 30-26 record last year, and Oral Roberts, which has an excellent tradition in baseball, won 38 of its 58 games played a year ago, finishing 24-6 in conference play (the Summit League).
By the way, Oral Roberts is named for the former television evangelist Oral Roberts, who used to close each of his broadcasts with the statement, "Expect a miracle….".  Not to be irreverent, of course, but after their past weekend's success in Florida, all Greg Beals and the Buckeyes are expecting in Corpus Christi is more good baseball.
And a word about Corpus Christi before we go.  Never been here before, but it's a place that you come to do your business and leave when you're done – a big oil refining community on the Gulf Coast of Texas.  My cab driver told me all about it on the three mile drive from the airport to the Radisson Hotel on the beach.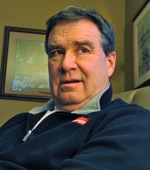 "Lot of money here if you're into the oil,"  said Diana.  "The big boys tip the cabs a hundred dollars just to drive 'em across the street to the steak house for dinner.  A lot more going on here than you might think, too.  How about you?"
"There's a lot less going on here than you might think,"  I said, alluding to myself and a weekend of writing baseball.  I'll probably just eat at that Arby's over there.  And I'll walk."
You can follow the action and the results from Corpus Christi, Texas on www.staging.pressprosmagazine.com.