The Buckeyes are in Texas with a four-game win streak and a new air of difference in how they've played so far.  So far, so good, but is there any reason that they can't continue?
COLUMBUS — There is something different about this year's Ohio State baseball team, something new. They carry themselves with an easy confidence—a calm that can't be taught. Plain and simple, they look like a real comfortable bunch.
It's an invaluable quality, generally the stock and trade of teams that have made the rounds, and grown accustomed to winning—what it takes and what it costs. Usually, this quality comes with age and more battle scars than battle stars.
Yet, these Buckeyes are young—15 freshmen and five sophomores—many asked to assume vital rolls aside proven players like outfielder Dom Canzone, catcher Dillon Dingler, first baseman Conner Pohl and shortstop Noah West.
Thus far, four games into the season, they have not flinched. The Buckeyes opened last weekend taking three straight from Seton Hall and capped it off with a 2-0, two-hit shutout against Florida Gulf Coast, their second shutout of the trip.
In four games, the Bucks outscored their opponents 17-to-6. They allowed five earned runs, posting a 1.25 ERA. They struck out 38 hitters and walked five. They committed only two errors. They were not tight. They weren't cocky. They forced nothing.
"There is a difference," West said. "There's no doubt. It goes back to fall practice. Things just changed. It's really hard to explain…everybody out there's just going about their business, doing his job…each guy doing what he knows he can do and, you know, believing in himself.
"It's a different approach, I guess. We are kinda letting the game come to us and playing pitch-to-pitch. We don't dwell on the negative. There were times (last year) when we worried about what had happened, an error or a bad at-bat and it carried over.
"Now, we are trying to stay relaxed and have some fun playing the game. It's (a matter of) trusting our abilities, being more confident, not worrying so much and knowing the coaches trust us to get the job done."
Buckeye Coach Greg Beals is pleased with what he sees, though, at this early juncture, he's taking a "so far, so good" position.
"We got in the first blows," Beals said, "but we're still in the middle of a fight. We showed we can do all the things it takes to win. We answered a lot of questions.
"Now, the key is to continue to execute and show consistency. The measure of a young team, any team, is consistency…We played really, really good this weekend, but before I say we are really good, we have to do it again and again."
Surely, this team will have its growing pains and breakdowns over the course of the season. All teams do. But this new air, this easy carriage about the team and its early success, has definitive roots.
In part, it goes back to OSU's early—two and out—exit in last year's NCAA Regional.
"We were not happy about being in the regionals and losing like we did," Beals said. "There was a taste and a sense that, 'Hey, guys we could have won that thing.'"
As it was, OSU lost the opener, 8-3, to South Carolina. The following day the Bucks were eliminated, losing, 4-3, in 13-inning to UNC Wilmington, a team they had defeated twice during the regular season and in convincing fashion, 8-3 and 8-1, on the road.
"Even though we didn't win and we lost a couple of tough games," Beals continued, "I think it helped everyone in that locker room believe that we are capable of doing something great."
When the incoming class arrived, they were met with that belief as well as significant changes in the coaching staff and a philosophical shift that came with those changes.
Former OSU standout Matt Angle, who spent nine seasons in professional ball, was elevated to assistant coach, replacing Chris Holick.
Together, Beals, Associate Head Coach Mike Stafford, Angle and the staff went to work on adjusting the culture.
"There was a time," Beals said, "when it was: 'Don't do this. Don't do that. You can't do this or that.' We changed the focus to: 'You can do this. You can do that. You've proven you can do it. So, go out and do it.'"
During the off-season, the Buckeyes worked hard on preparation, yet, all the while stressing the fact that baseball is not a game that can be "mapped out", as Beals puts it. There is no way to foresee every thing, all things that may occur in a game. Essentially, it comes down to reaction, having a good knowledge of the game and a "feel" for it.
"The question is, 'How do you teach feel?'" Beals said. "You can't, right? So what do you do? You prepare them as best you can, and then you trust them to go out and play, and you give them room to play the game and grow…to do the right thing at the right time."
In the season opener, a perfect example of "doing the right thing" took place. Redshirt freshman Seth Lonsway was cruising along with a three-run lead. Seton Hall had a man on second base and was in position to rally. Lonsway threw a curve ball that got away from his catcher, Dingler. The runner broke for third. Dingler got to the ball and attempted a throw to third. The throw was wide and past third. The runner made the turn but had to hold up because West was in perfect position, backing up the play down the line.
The run was saved. There was no error. The Buckeyes got out of the inning. There was a time when things might not have played out just this way.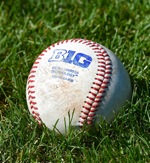 West says the players "trust one another" and "believe in one another." He says the coaches have placed their trust in the players.
He says something else that may be most important of all: "We believe in ourselves."
NOTES: Sophomore catcher Dillon Dingler had surgery Wednesday to repair a broken hamate bone in his hand. He suffered the injury in the first game of the season. The timeline on his return is uncertain, Beals says. In the most extreme cases, it can take six to nine weeks to recover from the injury…NEXT TEST for the Buckeyes this weekend at Corpus Christi, Texas…The Bucks play Brigham Young on Friday, Texas A&M-Corpus on Saturday and Monday, and Oral Roberts on Sunday.