Versailles' boys and girls bowling teams took different paths to qualify for the state tournament. As for Fort Loramie junior Elena Bulcher, she blazed her own trail as district champ.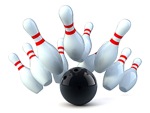 Beavercreek – The Versailles High School girls bowling team, a veteran group of standouts, met their expectations.
The Versailles Tigers boys, an inexperienced group and often an after-thought to opponents, exceeded theirs.
And Fort Loramie junior Elena Bulcher? Well, she put on a striking display of talent that topped the girls field – and nearly the boys, too – at the Division II district bowling tournament at Beaver-Vu Lanes in Beavercreek on Thursday.
The bowling house was packed with fans, many standing on the step ladders they'd brought from home to get a good view over the crowd. It was at times boisterous with bowlers cheering and chanting. And for the Tigers and Redskins it was a day worth remembering.
Both the Tigers teams finished third in the district field to qualify for next week's D-II state tournament in Columbus. Bulcher became the Redskins' first state representative when she topped a field fo 96 bowlers to win the girls individual championship.
In the morning's individual competition, Bulcher rolled games of 259, 226 and 222 for a career-high series of 707. It was 37 pins better than runner-up Megan Fricke of Springfield Northwestern. And, has her score rolled over to the boys competition, she would have finished second behind boys' champion Peyton Lesson of Mechanicsburg, who finished with a 719.
"I definitely didn't know I had a 700," Bulcher said. "I did not think I had that at all. I was just bowling and happy I was doing so good."
Bulcher credits her success to practice, practice, practice. She's a regular at McBo's Lanes in Versailles when she's not practicing with her team at Community Lanes in Minster. She's gone from averaging 140 as a freshman to 148 as a sophomore to 186 this season.
"She probably put in more frames than the rest of the team combined during the summer," Fort Loramie coach Doug Thomas said. "She'd go bowling (after the district tournament) if we'd let her. … We were hoping for a low 600. That would've been awesome. Here today she didn't leave any spares. Everything she threw went in the pocket. It was fun to watch."
With a solid core back from last season's state qualifying team the Tigers' girls were expected to make another run at Columbus this season. They didn't disappoint to qualify for the fourth time since 2013. The Tigers also qualified an individual in 2015.
As for the boys? Their starting five on Thursday consisted of one sophomore and four freshmen. The Tigers failed to get out of the sectional tournament last season, so it's understandable why expectations were tempered even for a team that has qualified for state four straight times from 2014-2017.
"We've been underestimated all season," Versailles boys coach Chris Mumaw said. "They take one look at us and say it's just a bunch of young kids on that team. We've heard coaches talking about how young we are. … I've underestimated them all year, really. They've outdone our expectations for being so young.
"I told my assistant coach we can just go have fun at state. We've more than met our goals this year. I think we can go there and be relaxed and have fun. We'll see what happens."
Freshman Justin Heitkamp earned a spot on the All-District team with his 667, good for runner-up honors. Sophomore Tyler Gehert (612), freshman Jay Mumaw (579), freshman Landon Henry (551) and freshman Matthew Francis (550) got the Tigers to state.
Heitkamp was playing basketball at this time last season, so he's a relative newcomer to bowling. That he finished second in the district came as a surprise.
"No, I was not expecting that. At the beginning of the season I was … no, I was not expecting that at all,' Heitkamp said. "I was just hoping to make the tournament team. I've been bowling pretty good the last few weeks and it paid off."
The morning session had each bowler roll three individual games. The afternoon session included six Baker games. Versailles finished with a total pin count of 3,958. Five pins separated Versailles from Benjamin Logan for the third and final qualifying spot.
"It's kind of hard to believe a bunch of young guys can make it to state," Heitkamp said. "We work together. We build off each other. We bring each other up when we're down."
The Tigers' girls grabbed one of the four qualifying spots and another Heitkamp … Morgan … made the All-District team by finishing sixth in the individual competition with a 590. She'll be joined at state by senior Haddi Treon (530), senior Morgan Barlage (525), junior Kalysta Thobe (493) and junior Natalie York (one-game total of 178).
"I'm looking forward to the atmosphere," Morgan Heitkamp said. "Just knowing you're in the top 16 in the state is awesome. We're going to work together and hopefully win a state championship. Coming from a small town and going to represent Versailles at state we're super excited for that. … It's so awesome. It's exciting we'll both be there together."
Versailles finished with a pin total of 3,592. The Tigers had a 26-pin cushion in qualifying for state.
"They bowl real well as a team. They pick each other up," Versailles head coach Tyler Phlipot said. "The leadership and the experience being here might have helped with the pressure. I'm proud of them. I was a grind all day.
"It's stressful. It's a lot of pressure on the girls and the coaches to prepare the girls for the last shot. We battled all day. It wasn't easy. We got ourselves in a hole … and got up into the top four where we wanted to be."