The coaching carousel is in full spin, with Matt Burgbacher leaving Troy to go back to Tipp City…and the Versailles Tigers surprised MAC followers Tuesday by announcing their new football coach.  Some words on both!
Like you, and everyone else, I was surprised when I heard while traveling last week that Matt Burgbacher had left the Troy head football position to return to Tipp and coach the Red Devils.
And on a different trip this weekend, I was similarly surprised to hear that the Versailles Tigers had taken their own leap of football faith by hiring a new coach from outside the comforts of MAC football familiarity and success.  More about that in a moment.
Surprised in Burgbacher's case, because on no less than a half dozen interview occasions over the past four years Burgbacher had assured me that he was happy in Troy – "a dream job", he once called it.  Great facilities, great kids, a great culture of football, and the full support of administration.  Translation:  He had everything he needed to be successful and compete for GWOC titles and beyond.
But…..
There are dynamics with every coaching job, and reasons why coaches suddenly have a change of heart.  In Burgbacher's case, that's exactly where it came from – his heart.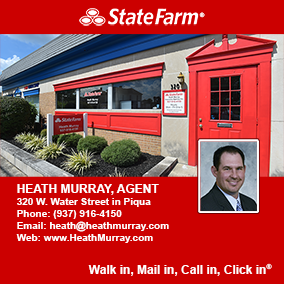 "It's always been there, I think,"  he said by phone a couple of days ago.  "There's always been this pull to go back to Tipp one day and coach where you went to school, where you played, coached, and where it feels like home.  And Tipp just felt like home to me."
And if that's the case, he leaves a pretty empty living room in his old home at Troy, where the Trojans now have precious little time to find the right replacement for a man that oversaw playoff appearances in three of the last four years with the Trojans.  Matt Burgbacher proved, in very short order, his worthiness to the claim of being one of the area's best young coaches at any division.
"The kids were great,"  said Burgbacher.  "And I'm not going to lie to you, it was tough to tell them that I was leaving.  And I'm always going to be thankful for the opportunity I had to coach at Troy.  But this is different. I have the chance to go back to my home school and rebuild and I'm looking forward to the challenge.  That's what football is about.  It's one kind of a challenge or another every week, every season."
Besides the obvious question of why, the next question was about 'Charlie', Burgbacher's father and assistant at Troy, for whom he played and coached during Senior's long and successful tenure as the Red Devils' coach…before retiring four years ago to follow 'Junior' to Troy as defensive coordinator.
"Dad said it was up to me, that he'd support whatever my decision was,"  added Burgbacher.  "And if you're asking if he'll come back and coach with me at Tipp he said he'd go wherever I decided to coach if I wanted him to help.  And I don't think there's any question about that."
Whatever you want to think about why Matt Burgbacher left Troy – and there will be speculation, because there's always some with any job – one thing stands regarding Tipp football.  Three years into their having joined the GWOC North under coach Joel Derge, the Red Devils' had fallen to the level of sub-par in each of the last two years – 4-6 in '17, and 5-5 in '18.  And there is the interesting argument that ONLY the Burgbachers have the best chance of reviving that school's chance of football success in short order – to that of pre-2106 when Tipp was routinely winning and nine and ten games a year and going to the playoffs.

Inarguably, Matt Burgbacher is a 'pied piper' of football, and able to sell the sport in a day where the sport is having its issues with selling itself.  He did that at Troy, sure enough, taking over for a flagging program after Steve Nolan's retirement and Scot Brewer's brief tenure as his replacement.  And Tipp was long known as a basketball school before Charlie Burgbacher was able to at least level the field of popularity between the two sports as a member then of the Central Buckeye Conference.  Now 'the Burgbachers' have that chance again.
"I'm anxious to get started,"  said Matt before our conversation ended.  "There's a lot going on in Tipp with the new field surface and the plans for facility upgrades.  And there's always been great kids and great athletes.  I know because I grew up there."
And he also knows the climate going forward in the new MVL conference that will begin play in next fall.  He's coached against Piqua, Sidney, Butler, and Greenville, and won.  Only then, he was coaching at Troy.  Now he's coaching at Tipp.  Now he has to beat Troy, and that won't be easy – wherever you call home.
…………………………………………..
Versailles surprised a lot of people on Tuesday night when they announced that former Troy Christian coach Ryan Jones would be their new football coach for the fall of 2019.  Jones, who has past experience as a grad assistant at Miami University, and as an assistant at Case Western Reserve, then coached at Dayton Christian before coming to Troy Christian six years ago to serve as an assistant under head coach Steve Nolan.  When Nolan stepped down four years ago, he assumed the reins as head coach of the Eagles, amassing a record of 22-8 over the last three season with the Eagles.
If this is a surprise to MAC followers, consider.  Ryan Jones is not your average football coaching candidate.  I found that out in 2016 during a First Person interview on Press Pros – a guy that followed the disappointment of Nolan's departure at Troy Christian by convincing the kids there that the football program COULD move on to the next step, and do it with success.  He impressed me during that time together – in just ten minutes – that he's a builder.  He's gonna' need to be at Versailles.  That's the expectation.
He went 9-1 in his first year, playing in Division VII, then went up to Div. VI and fell back to 5-5 playing in the Cross County Conference in 2017.  He rebounded last year to 8-2 as the Eagles bounced from the CCC back to playing what amounted to an  independent schedule – and bigger teams like Ponitz, Lima Central Catholic, Northridge, and Dayton Christian.  He went 8-2 while playing with just 25 boys!
Will he have success in the MAC?  Time will tell – time and rival coaches like Brad Luthman, Chip Otten, Tim Goodwin and Geron Stokes that maintain the MAC standard.  But the one thing that stands out about our conversation in 2016 is this.  "I like a challenge," he told me then.  "You only get better by playing better teams."  I still have my notes.
And if he can do that in Versailles – if he can make the Tigers better – they'll probably name something in his honor someday, as they did for Al Hetrick.  Nobody knows at this point, except….
He's gonna' get to play better teams.